At Genpact, digital transformation is a way of life. For more than a decade, the lean-obsessed professional services company has used data and analytics to help their clients reimagine processes and drive end-to-end improvements within their businesses.
Today, their highly-skilled workforce is 80,000 strong and spread across more than two dozen countries. This gives them a wide reach into various markets and an impressive global footprint, but it also brings its challenges. Specifically, the challenges of recruiting bi- and tri-lingual candidates across the globe in an efficient manner.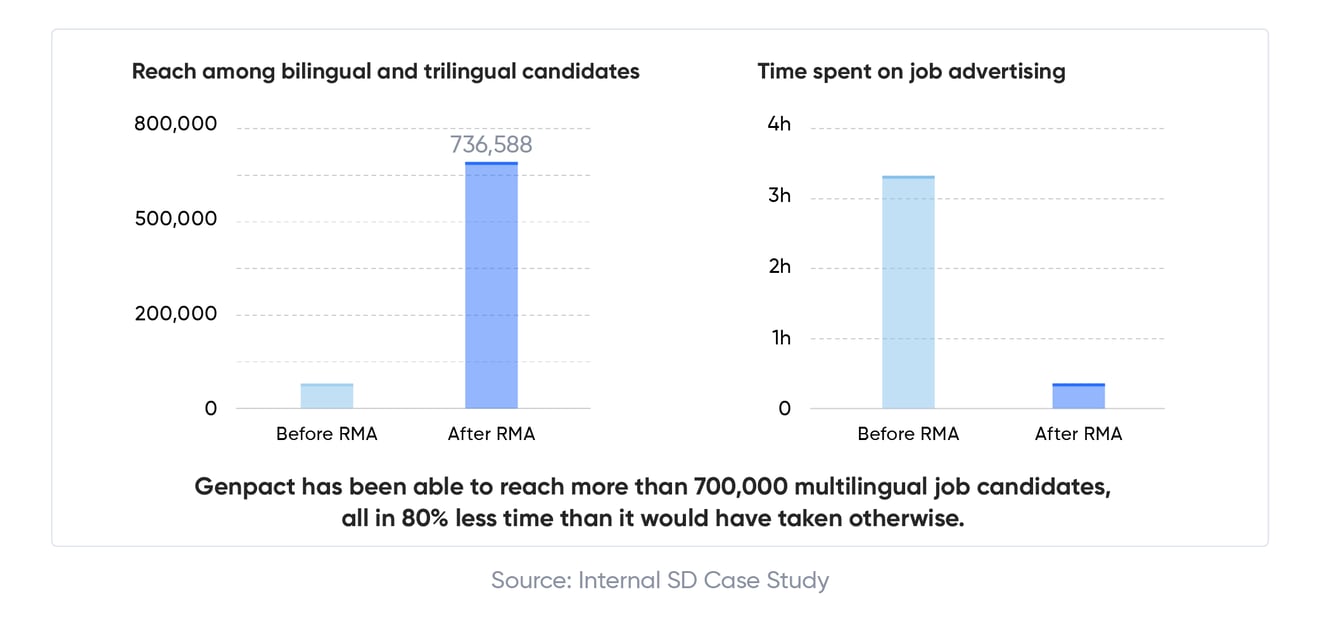 Running campaigns targeted at passive job seekers in one language or region is hard enough, but when you begin to incorporate more languages and a much more specific target persona, the complexity can begin to feel insurmountable. This challenge certainly isn't unique to Genpact, but they've taken a proactive approach to solving it by partnering with SmartDreamers to automate their recruitment marketing activities.
In this way, they've been able to reach a wide variety of multilingual candidates across a whole host of social media channels and niche web platforms. With just a few clicks, their recruiters can now push out multiple different recruitment campaigns spanning multiple continents and languages. In the last year or so, the results have been extremely promising: Genpact has been able to reach more than 700,000 multilingual job candidates, all in 80% less time than it would have taken otherwise.
We were able to conduct a Q&A with Genpact's regional marketing manager for recruitment, Paula Fratila, about how Genpact approaches the task of attracting and converting passive job candidates across multiple countries and languages.
Q: Talent acquisition is getting more competitive every year, and skilled job candidates have more leverage over potential employers than ever. How has Genpact's recruitment strategy evolved for the past few years to deal with this change?
A: With the increasing availability of data on candidates, as well as the macroeconomic factors that impact hiring, our entire hiring strategy has become a lot more sophisticated. Data will continue to help us to hire the right people, at the right cost, in the shortest possible time. So, the entire exercise is becoming far more focused and effective than it used to be when data was not as exhaustively available and scientifically managed as it is today.

Q: How do you approach the challenges that face you as a global, multilingual employer? Who are you primarily targeting and what channels are you utilizing to do so?
A: As we continue to evolve as a digital organization, it's very important for us to ensure that we continuously push ourselves to become better digital employers. And one of the ways we do that is by understanding ourselves better. By doing so, we can work at defining the attributes that differentiate us from our competition—all while staying aspirational enough to challenge ourselves to constantly improve.
The targeted talent pool for our industry consists mostly of Gen Y and Gen Z folks. We had to build a new employee value proposition (EVP) focused on learning, growth, and success. We also did extensive research on markets across generations, and we concluded that technology plays an important role in for this demographic—meaning that the social media presence that we've consciously built over the last couple of years had to cater to those technological needs.

Now, our employer branding campaigns highlight our work culture as authentically as possible. Because the brand itself has been targeted and refined so carefully, we mostly see the same conversion rates across the various channels we've chosen for distribution. Of course, there are some differences across different markets. Google Ads campaigns bring us the best conversions in all markets, but there's plenty of variation in how well other channels play in different markets. For example, Facebook still brings us conversions in Romania; while in Poland, YouTube brings us better results. In Hungary, I bet on Instagram. And no matter the country, the main social media platform making targeted searches easier and more practical is, of course, LinkedIn.
Q: Can you talk a little more about how you redefined your EVP to attract bi- and tri-lingual candidates? What specific element or elements of your company culture did you emphasize?
A: To continue attracting top talent among multilingual speakers, Genpact adopted a global work orientation—increasing location-based flexibility, redesigning employee training strategies, and strengthening company culture across countries and continents.

On top of that, we've also innovated in some of the technology we use to engage our potential applicants. For instance, we've been introducing video job descriptions and using holograms and robots at job fairs. For leading the charge on this front, I was actually nominated for the TOP 25 Most Innovative Marketer in EMEA by The Holmes Report.



Q: How would you describe your employer brand as it's being implemented now? How does it serve your ideal job candidates, and how does it help your business to grow and thrive with the right people?
A: With a startup spirit and 80,000+ curious and courageous minds, we have the expertise to go deep with the world's biggest brands—and we have fun doing it! Genpact's employer branding campaigns aren't just designed to cause a stir, they're meant to be a manifesto for potential new hires. At Genpact, we want to demonstrate that our brand revolves around the personality and ambitions of our employees. Since we're repositioning ourselves as a digital company, we need to attract the kind of talent that will make this sort of transition possible. All of our employer branding campaigns revolve around our passion for technology and today's digitally-led lifestyles.

Q: What's the most important tip you can give recruiters who are trying to attract foreign language speakers?
A: If you're planning on hiring a high volume of multilingual staff in the near future, you need to be innovative, optimize your website, create attractive content, focus on online campaigns, analyze reports, and measure performance until you get a high conversion rate and a minimum cost per hire. Multilingual candidates are an in-demand resource, so make sure you do your best to attract and retain them!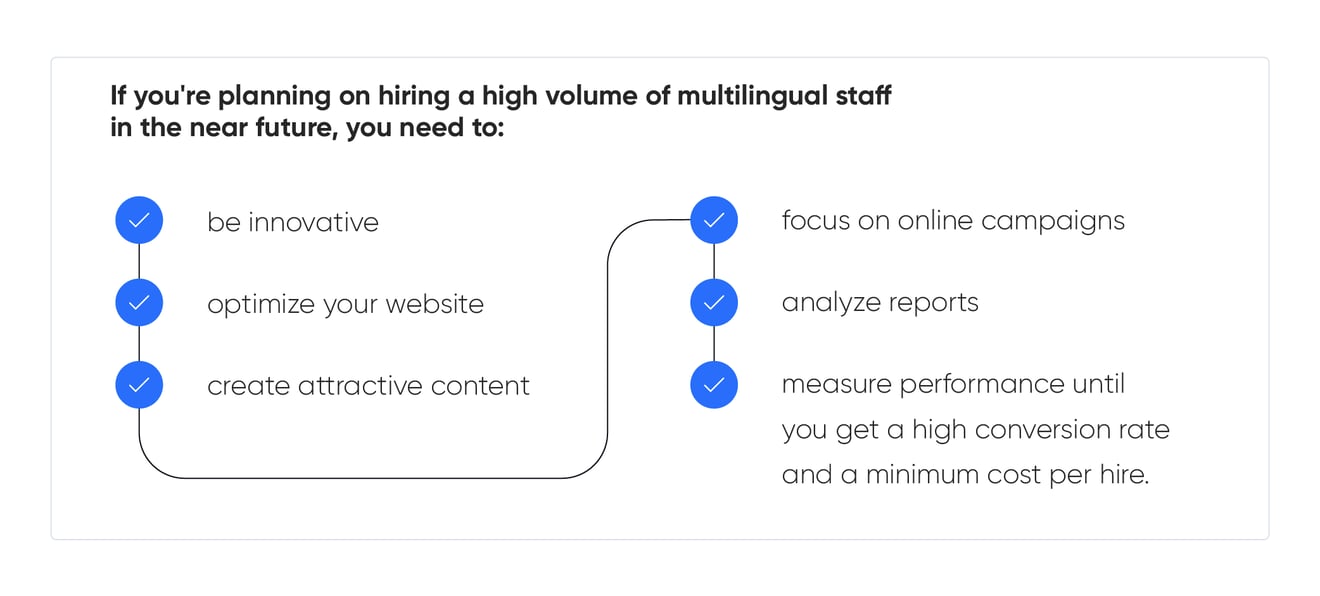 Paula Fratila is a digital marketing strategist with over 15 years of experience in marketing management and significant knowledge of business development, advertising of products or services using digital technologies, mainly on the Internet, mobile phones, display advertising or any other digital medium.