The automotive industry provides a fascinating canvas on which to experiment and test out different recruiting techniques and tactics. With its unique mix of blue-collar, white-collar, creative, and scientific all in one place, the automotive workforce is one of the most diverse out there.
Additionally, there are some specific aspects of the automotive sector that make it especially challenging for recruiters: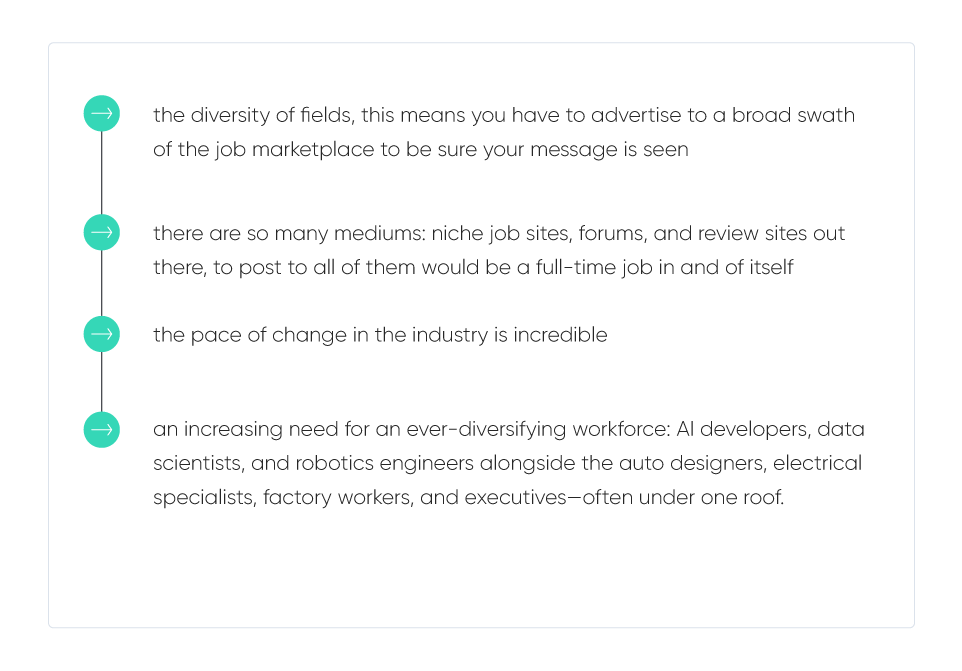 Past, Present, Future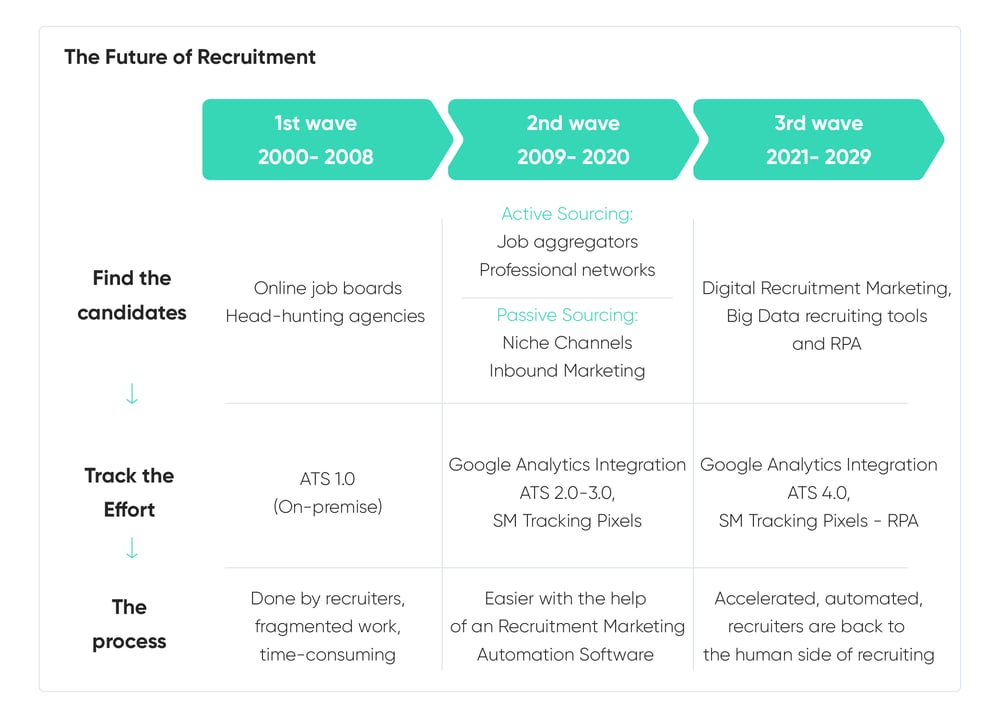 Past
In the recent past that meant posting jobs in newspapers, factory bulletin boards, online job boards sites, job fairs, and more. All to ensure the right people saw your openings.
• a lot of legwork involved in that style of recruiting, not to mention the ensuing downtime while you waited for applications to come in;
• there was no effective way of marketing your company so that passive job seekers would also see your messaging;
• there was no community around your company - a pool of talent who already loved your EB just waiting for the right opening to be announced.
Present
• with the ubiquitous nature of the internet, social media, mobile devices, and so on recruitment has moved online;
• most of it can be automated, leaving you and your staff free to handle the more creative and intuitive human-centric aspects of recruiting;
• recruitment marketing revolutionized the HR world by taking the concepts and tactics of inbound, or content marketing and adapting them for the current candidate-centered labor market.
Future
We've moved farther in that direction with the addition of RMA, or recruitment marketing automation. This is the next exciting step in the progression of recruiting in the automotive industry, as it allows you to advertise your employer brand to all of the disparate sectors of the marketplace at one time, without losing hours and hours of time in the process.
There are 5 primary ways we see the current crop of RMA solutions being helpful specifically to the auto industry:
1. Employer Brand Reach
By automating your social media posts with RMA, you're able to get your messaging in front of users across platforms from the big players like Facebook and Twitter, to the niche forums for auto engineers or designers. RMA software lets you schedule posts in advance, and post the same message to multiple channels at one time. This sort of reach was never possible before, and it can be a huge boon when you have a hiring run coming up that encompasses all of the various divisions across the organization.

2. Automated Workflows Guide the Candidate Journey
With RMA, you can also automate the emails, update messages, and other stages of the candidate journey. With more touchpoints automated, your team can get back to the human side of recruiting, coaching pre-interview jitters, responding to DMs and fielding incoming emails that require the human touch. All of this combines to mean that no matter how you're connecting with your candidates, they all receive the same personalized attention.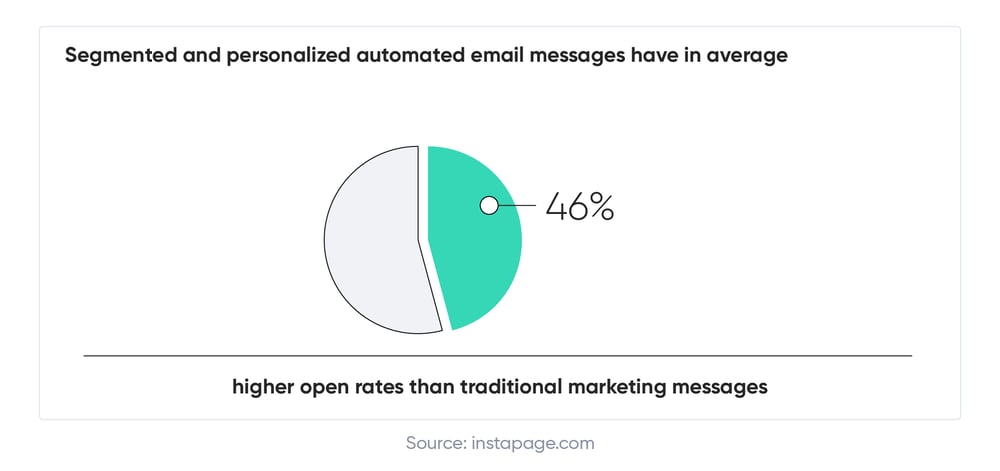 3. Stay on Top of Social Media Updates
As mentioned in #1 above, you need to get your EB out there across many channels to reach everyone you need to fill your automotive talent pool. RMA allows you to schedule your social media, job listings, and forum posts days, weeks, or even months in advance. That means your message will be seen, no matter what else you have on your plate. And when you're talking to a factory worker on Facebook messenger, and a battery technician on chat, you need all hands on deck.
4. ATS Integration Further Automates the Application Process
The increasing use of Robotic Process Automation (RPA) in RMA solutions means that rote tasks like transferring candidate information from a just-received application into your ATS and CRM tools can also be conducted automatically. This allows for even the highest volume of applications you see during hiring pushes to still be processed quickly and efficiently. And that means you can focus on keeping everybody updated, schedule interviews, and communicate to candidates across specializations so everyone is in the know from day 1.
5. Data Management
A robust RMA solution can help maintain your database as well. Keeping it free of candidates who dropped out of the process, or those who already converted to employees after a successful interview cycle off the wrong email lists. This does several things for you, it keeps the right people from receiving the wrong information, and it keeps everybody in the know. And when you have candidates who can only communicate via WhatsApp in the evening because they're on the factory floor all day, and others who can chat anytime via phone only, you need your data to be up-to-date to keep all that straight.
The automotive industry is changing. Fast. Battery technology, autonomous cars, and other technological advances mean the workforce at your average car company is also changing fast. If your recruiting strategy is stuck in the last century, or even earlier this century, you're going to feel it. To keep that from affecting your company, it's key to develop an RM plan that includes as much automation as your infrastructure can handle. That is how you'll be able to pivot your strategy to adapt to the mix of audiences you're now working with, as well as keeping your team flexible so they can use their people skills to keep your candidates happy as well.