The talent acquisition industry is changing at a rapid clip. And as recruitment marketing becomes more and more like traditional marketing, it's important to consider the broader marketing trends that might apply to talent acquisition. This is where remarketing comes in: it's been one of the hottest trends in advertising in recent years, and it's only getting hotter—trust us!

At this point, you might be wondering, "Why is remarketing so popular?"
Simply put: because it does wonders! When it's deployed correctly, it can hugely amplify your message among the right audience segments, increase your employer brand recall, and generate qualified applicants. Who can argue with results like that?
Now that we've piqued your interest, let's dive a little deeper into how, exactly, talent acquisition pros can leverage remarketing to hire more, better candidates.
What is Remarketing?
In a nutshell, remarketing specifically targets the audience that you've already engaged with your brand. Why is this important? Because nearly 98% of all web traffic fails to convert. Most visitors will leave your career page without applying to any of your jobs, and to add insult to injury they usually won't even follow you on social media.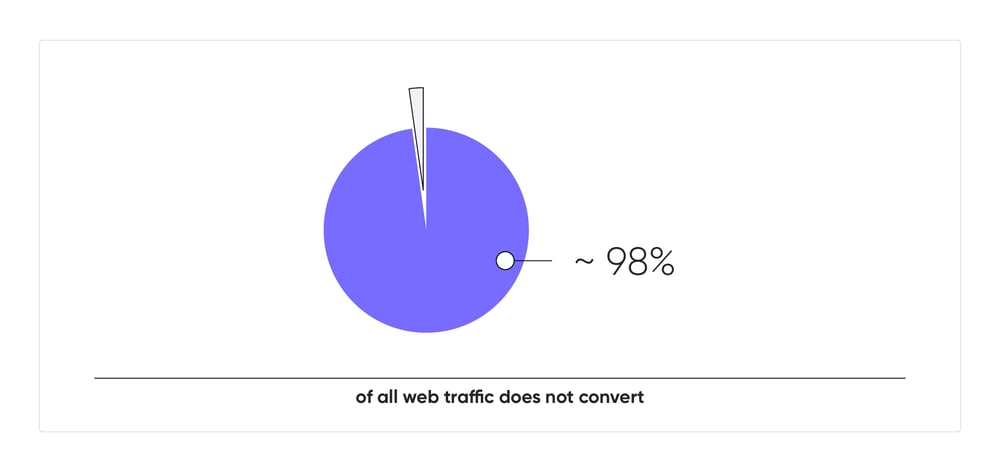 That's just sad. Isn't it?
Not at all if you see it from a slightly different angle. Even though most visitors don't convert the first time around, there's a ton of untapped potential there for winning back users who have previously interacted with your career page. After all, they showed some interest in your company, and if you make sure your employer brand stays highly visible to those people, soon they might be ready to take the plunge. But you have to be in it for the long haul.
Why Is That Important for Talent Acquisition?
In simple terms, because a job is not a fast-moving consumer good. It's less like a box of cereal and more like a house. Most people avoid making snap decisions about their place of employment.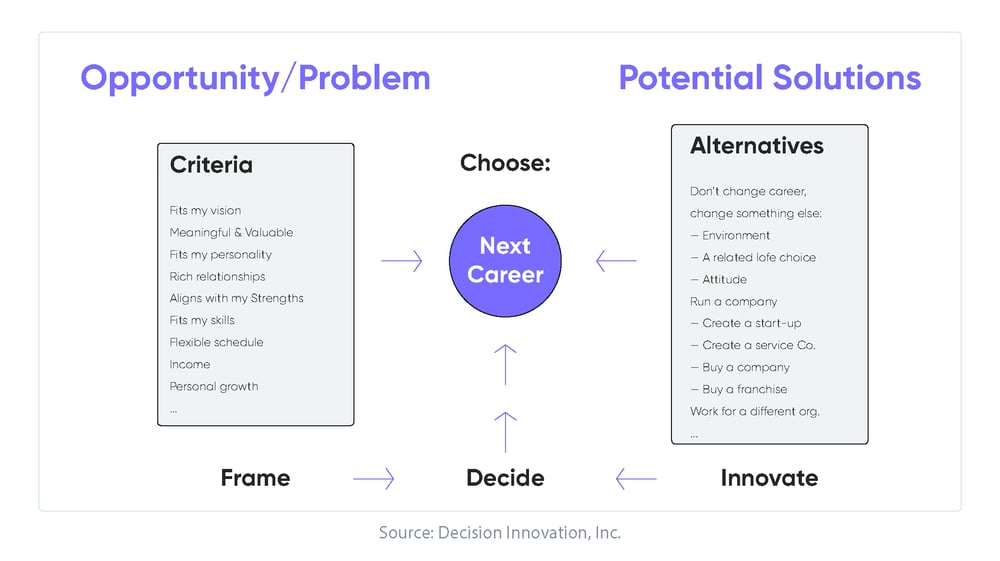 Taking on a new job is an important commitment, and it takes more than one brief interaction with your brand for a qualified candidate to make that kind of decision. Odds are, every submitted application is the result of real consideration and research into your brand and your business. Thus, even when someone applies directly to your career page, there's a good chance that they've already scoped out the rest of your web presence, looked you up on Glassdoor, and done some major soul-searching.
For users like this, not all ads are created equal. People are great at blocking out content that's not relevant to their lives, but candidates are generally receptive to ads that speak to their career goals. As such, they'll show more interest when being targeted by ads that are carefully aligned with their online behavior and browsing patterns.
The Magic of SmartDreamers Remarketing
We know a winning trend when we see one! That's why we decided to bring retargeting to the world of talent acquisition. By pulling a few strings, we've been able to make this cutting-edge tactic available to everyone. Now, you can use social media to remarket to your previous visitors, without incurring a host of technical problems and other headaches.
How does it work?
Potential candidates who didn't apply after their first visit on your career page will see job adverts or employer branded content when they're surfing the web. By targeting lost career page users in this way, you keep your EVP top of mind among job seekers and nurture them with new content until they're ready to convert after all.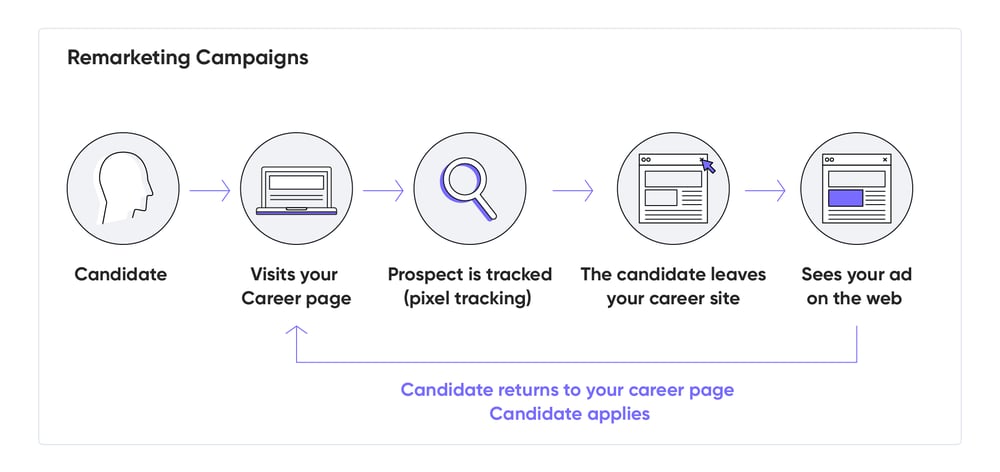 The trick here is that in order to learn and understand these behaviors, you'll need to keep track of the candidates' activity when they visit certain relevant URLs. Luckily, you can accomplish this easily by tagging your visitors' browsers and installing tracking pixels.
By using this functionality in the SmartDreamers Remarketing feature, you can easily create audiences that will automatically retarget website visitors.
When can potential candidates be tagged by tracking pixels?
• Visiting a specific page (i.e. you could go after users who have visited the jobs section on your career page);
• Completing an application or form (i.e.targeting or excluding users that have already finished the application process);
• Clicking on a specific call-to-action (e.g. register for an event, download an eBook, etc.);
• Reading an article or blog post.
Measuring Recruitment Marketing ROI
At this point you might be thinking, "That's all well and good, but is remarketing really cost effective?" As it happens, there is a wealth of data on the efficiency of remarketing in driving talent acquisition and recruitment. You can find a few of the most important statistics below: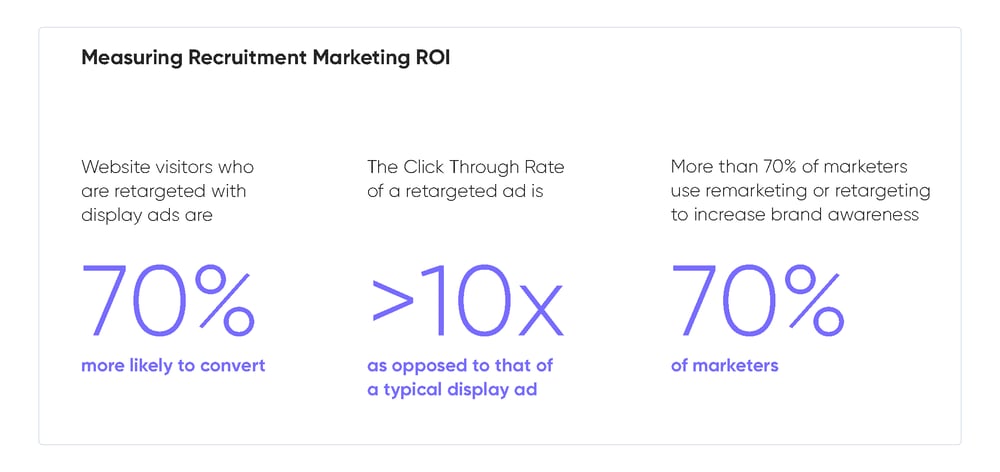 Part of the reason remarketing has such a high ROI is that it's a fundamentally data-driven process. As such, we make sure to give you the tools to turn data into actionable insights. SmartDreamers Reports will give you access to the data you need to make smart, data-driven decisions—which means improved recruitment marketing efforts going forward and a better ROI in the long run.
The relevant performance metrics for every remarketing campaign you run (CTR, invested budget, clicks, views, applicants, etc.) are automatically imported in the SD Reports module, where you can create your own personalized dashboards using the optimized command center for monitoring your company's talent acquisition flow.
All in all, while remarketing can seem like a somewhat daunting concept, it can offer a huge boost to your recruitment efforts in the long run. So, don't let yourself be intimidated—just give it a try!