Everyone wants to be more data-driven, but when it comes to talent acquisition, that's not always as easy as it might seem. Social media, peer referrals, job board postings, internal job listing pages, blog readers who inquire directly—these are just some of the myriad sources you may be dealing with, and it can get difficult to answer even basic questions: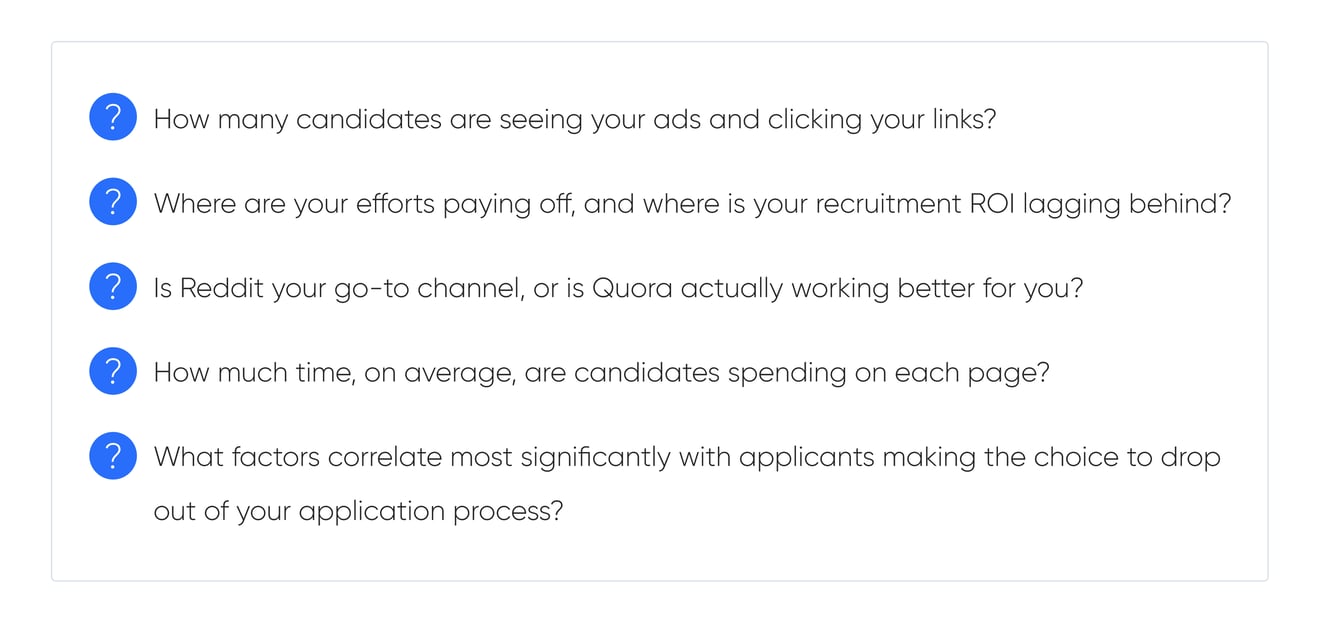 For many or even most recruiters, the knee-jerk reaction for how to answer thorny questions like these is: "Google Analytics." But this, too, can be deceptively complicated.
Even after you've worked with your IT team to get access to your company's Google Analytics account, the most likely outcome is that you'll be inundated with mixed up, hard-to-parse data, from which you'd be hard-pressed to gain any actionable insights.
Luckily, when it comes to figuring these things out you're not on your own. In fact, SmartDreamers Reports is here to help you find not just answers, but actionable insights for your recruiting strategies going forward.
In this way, we're making data-driven talent acquisition an attainable reality for recruiters, all while providing answers to your most pressing questions.
Introducing SmartDreamers Reports
SmartDreamers Reports is designed as both a command center and a library of customizable dashboards. It's built to be versatile and intuitive while giving you a complete overview of your entire TA ecosystem.
What exactly does this entail? Well, for starters:
- Access to real-time data that can help you optimize and refine your recruitment marketing strategy over time.
- Digestible information that caters specifically to HR users, making it easier to understand trends, track performance, and create better campaigns as you go.
- Data gathered automatically from all of your online recruitment channels—all in one streamlined interface.
- Visualizations to help you understand the entire candidate journey with attractive dashboards and reports.
- Easy ROI calculations and areas for improvement, based on where your efforts are paying off and where your recruitment ROI is lagging behind.
- ATS and CRM integration for end-to-end data tracking.
The most exciting part is that all of these features are fully modular, and they can be customized to your unique needs. This means that the data you want—with the context you need—is never more than a few clicks away.
The Joys of Customization:
When you're working with SmartDreamers Reports, you can choose predefined dashboard templates from the reporting library or mix and match datasets to create customized dashboards and charts. That means that what you see is directly dictated by your questions and interests, whether you're looking for info on channel-specific performance, career page views, or even remarketing data.
Modular Dashboards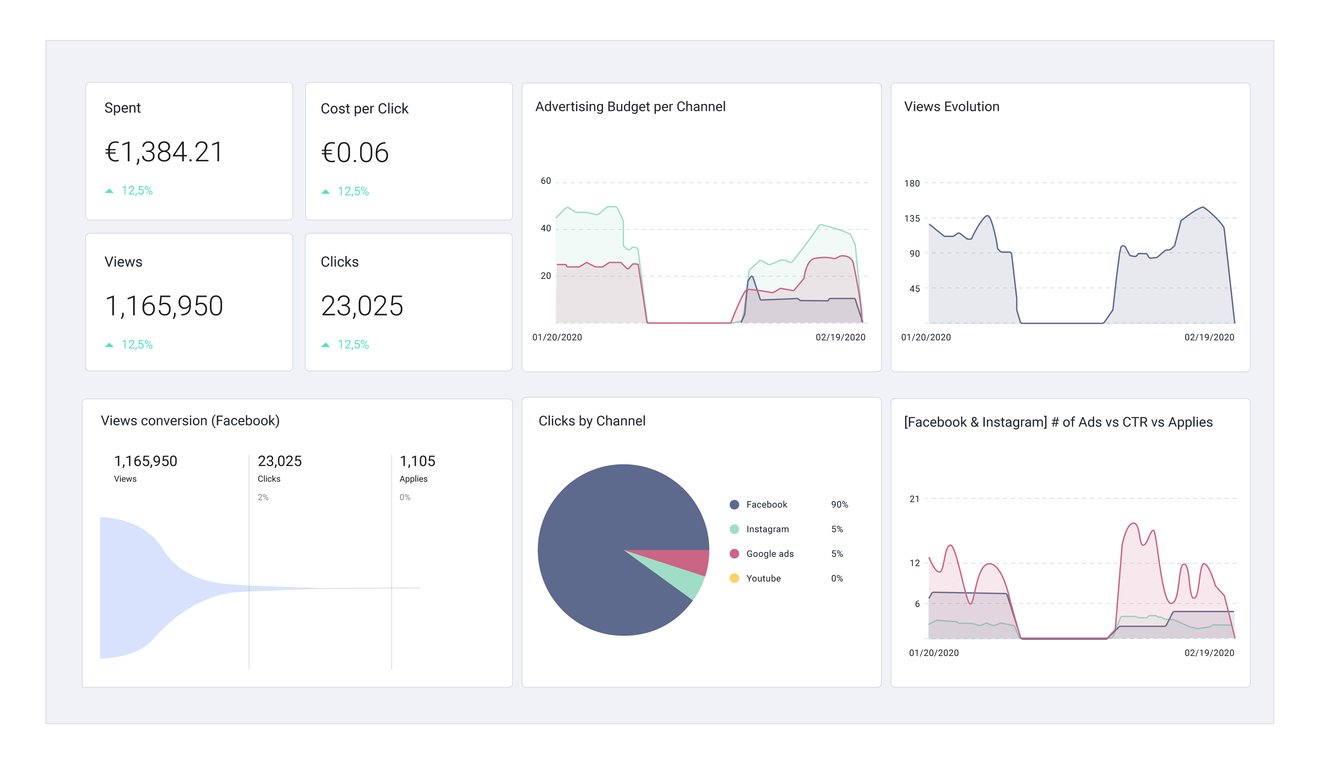 - fully customizable dashboards that can be built by combining a wide range of metrics & chart types from both advertising campaigns & career page data;
- data visualization powered by different types of charts;
- a wide library of dashboard templates that can be edited and adjusted according to your specific needs.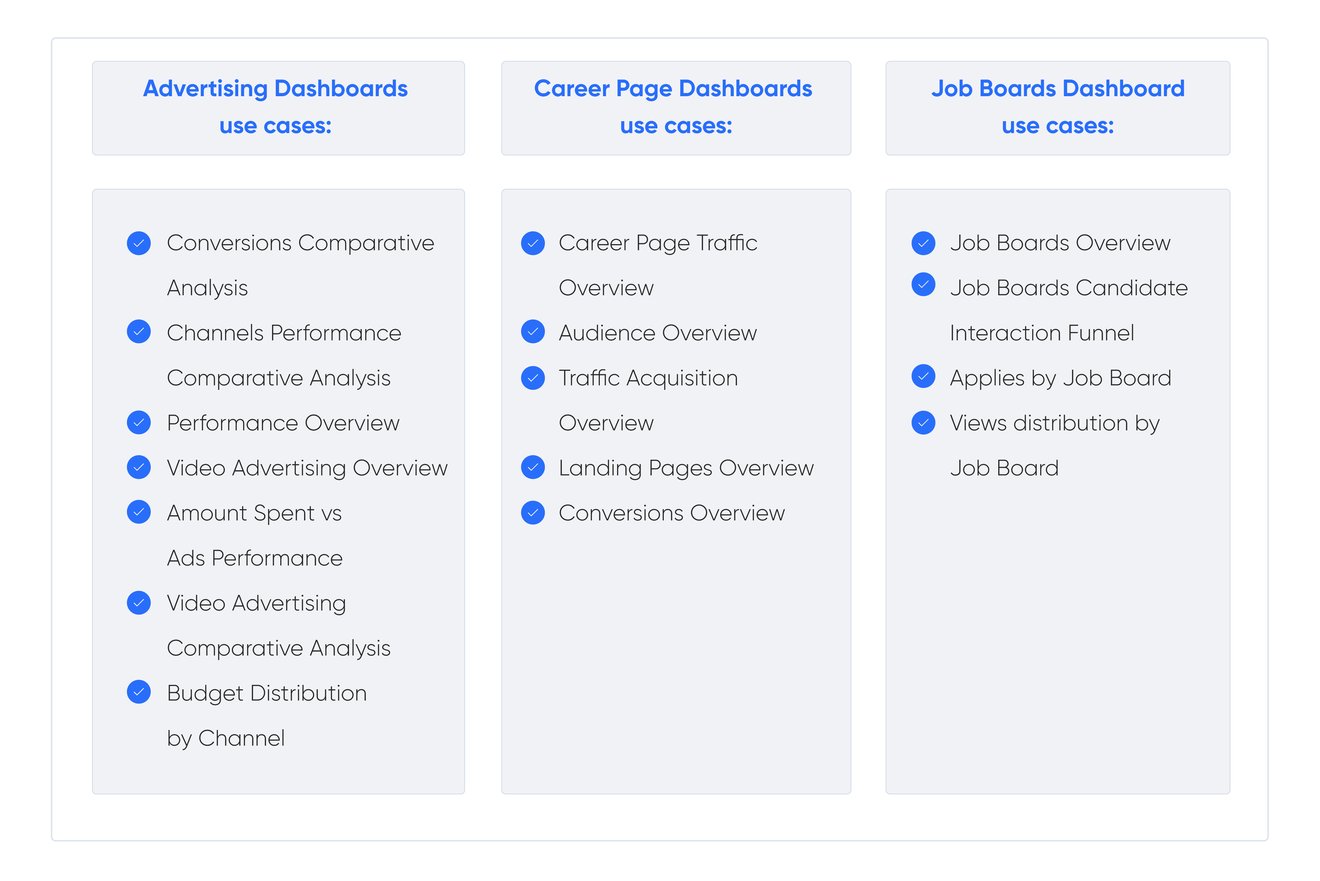 Widget Creator
- easy & intuitive chart creation process;
- various metrics combinations & breakdown options for advertising data (by channel, campaign objective, targeting strategy, etc.);
- granular levels of customization for career page data visualizations (demographics, the technology used, returning vs new visitors, traffic category, behavior, site content, & more).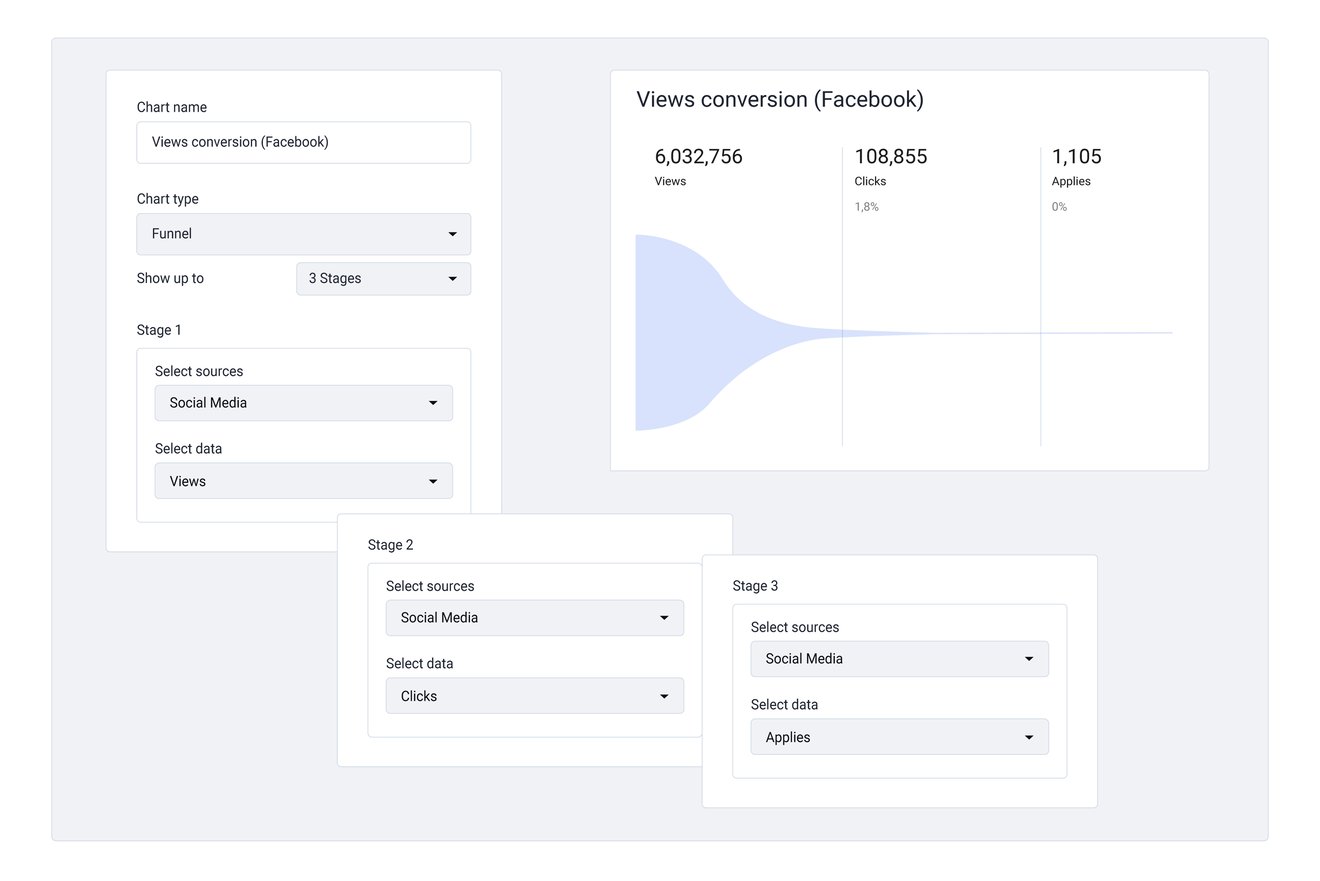 Turning Data into Insights
Now, before we get too bogged down in the technical aspects of SmartDreamers Reports, let's take a step back and think about how this functionality can help you better understand the candidate journey and any critical steps to improving your recruitment marketing over time.
As a potential job candidate moves from awareness to consideration to an ultimate decision about your company and your employer brand, they could take any number of concrete steps:
- visiting your social media profile,
- clicking on your social media ad or job board post,
- signing up for a newsletter,
- navigating to your career page,
- filling out an actual application, etc.
With SmartDreamers Reports, you can map out these steps and track the passage of each candidate from one to the other, and in that way begin to gain meaningful insights about your target personas and their behavior at every stage of your recruitment marketing funnel.
For instance, the channel performance comparative analysis that we mentioned above can give you a sense of what's working for you right now, which can tell which channels it's worth it to keep investing in.
You might notice a wide discrepancy in the outcomes between two different channels and take action accordingly. Maybe candidates who are redirected to your career page from a specific channel are less likely to stay on the career page and eventually submit an application or maybe you'll notice a preference for a particular type of content—all of which helps you to lean into what works and avoid what doesn't.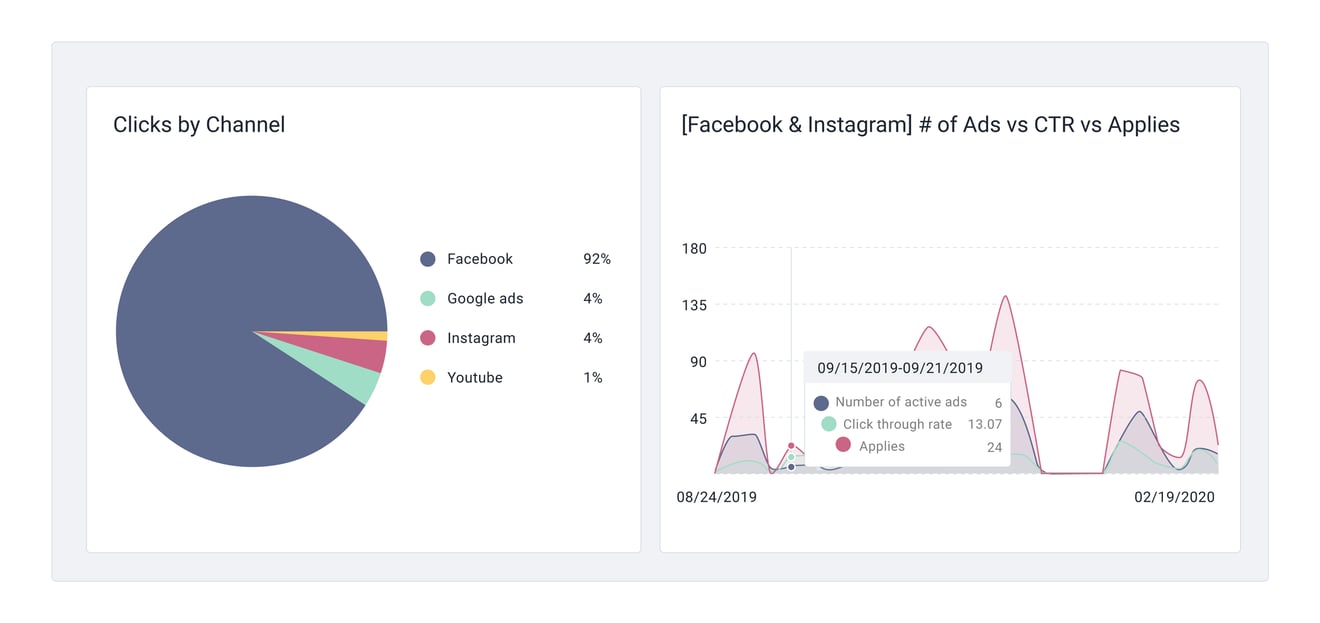 A low CTR from Instagram, for example, might tell you that either your target audience doesn't spend time there, or your content doesn't align well with this particular platform. You might consider reinvesting your budgets where you have the best outcomes or spend more time creating quality content in order to get more engagement from a specific type of user.
In each of these cases, you can find and address any weak points in your pipeline—which means improved recruitment marketing efforts going forward, and thus a better ROI in the long run.
Right now, most HR departments can only really see half of the candidate's journey with their existing analytics, which means that the kinds of insights we're talking about are hard to come by. With SmartDreamers Reports, that's no longer the case.
Drop us a line and well be happy to show you how SmartDreamers can boost your talent pipeline in no time.