It seems like the world is getting more social all the time: social media boasts nearly 3.2 billion users worldwide, representing a 13% increase year-over-year, with Facebook, YouTube, and WhatsApp leading the charge in terms of user bases. Considering that it represents nearly half the population of planet Earth, I think it's safe to say that social media is too big to ignore—especially if you're a recruiter. Taken together, all of these social media channels represent an incredibly powerful tool for your recruitment marketing. Why? Because they give you the chance to engage with potential candidates, build credibility and reputation, and gain an immediate competitive advantage.
Even though just about everyone acknowledges that social media is the holy grail for talent acquisition, not everyone has figured out the ideal way to leverage platforms like Facebook and Snapchat to better meet their recruitment goals. Suffice it to say, a poor social strategy can do more harm than good, and getting a handle on the appropriate best practices for this emerging realm can be difficult or confusing.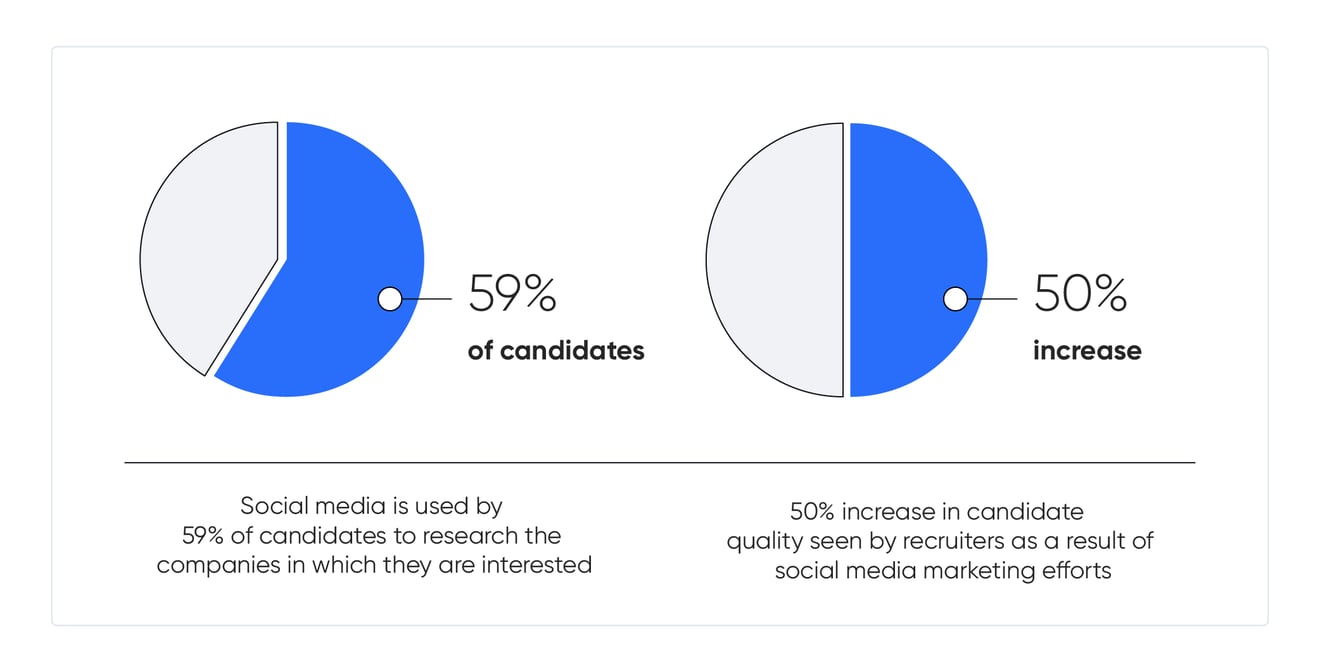 Luckily, we're here to help! Here are a few things that can make or break your recruitment advertising:
1. Audience
Recruitment is fundamentally about people. Thus, people should always be your starting point. It's important to define your target candidate audience and do your best to get to know them. What turns them on and off? Where will they be most likely to see your content? What elements of your company culture or employer brand might most appeal to them? Once you have this information on hand, you can begin to put it into practice.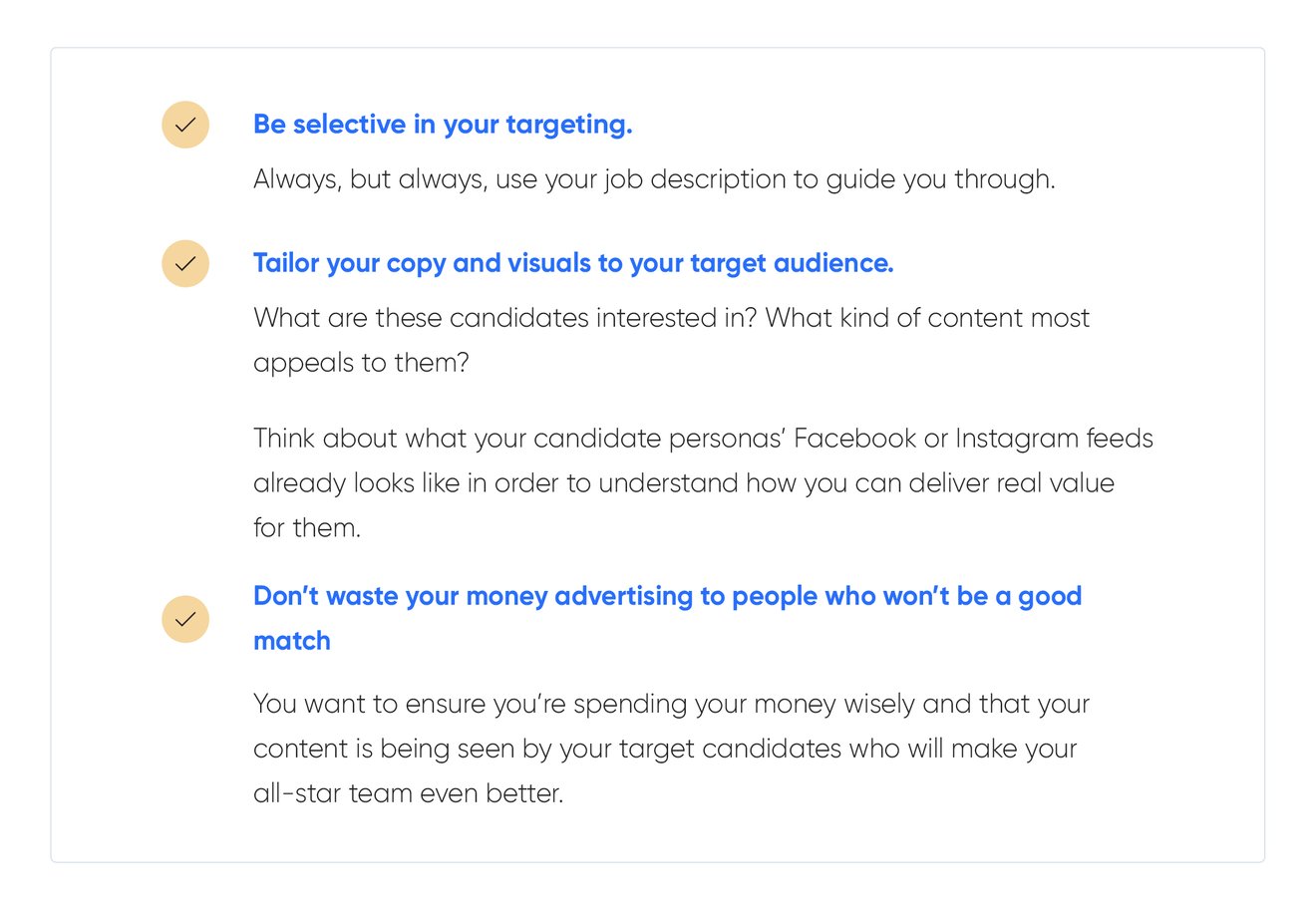 2. Visuals
Once you've selected your audience, you have to compete for their attention. Unfortunately, that means that you have to stand out from everything else that's being thrown at them on the web. Scientists have discovered that, right now, the average person has an attention span of 8.25 seconds, compared to 9 seconds for your average goldfish. So, metaphorically speaking, we're trying to attract and engage with goldfish—no wonder it sometimes feels unmanageably hard! Luckily, snappy visuals have be shown to be the best way of catching someone's attention and getting them to engage (briefly or not) with your brand.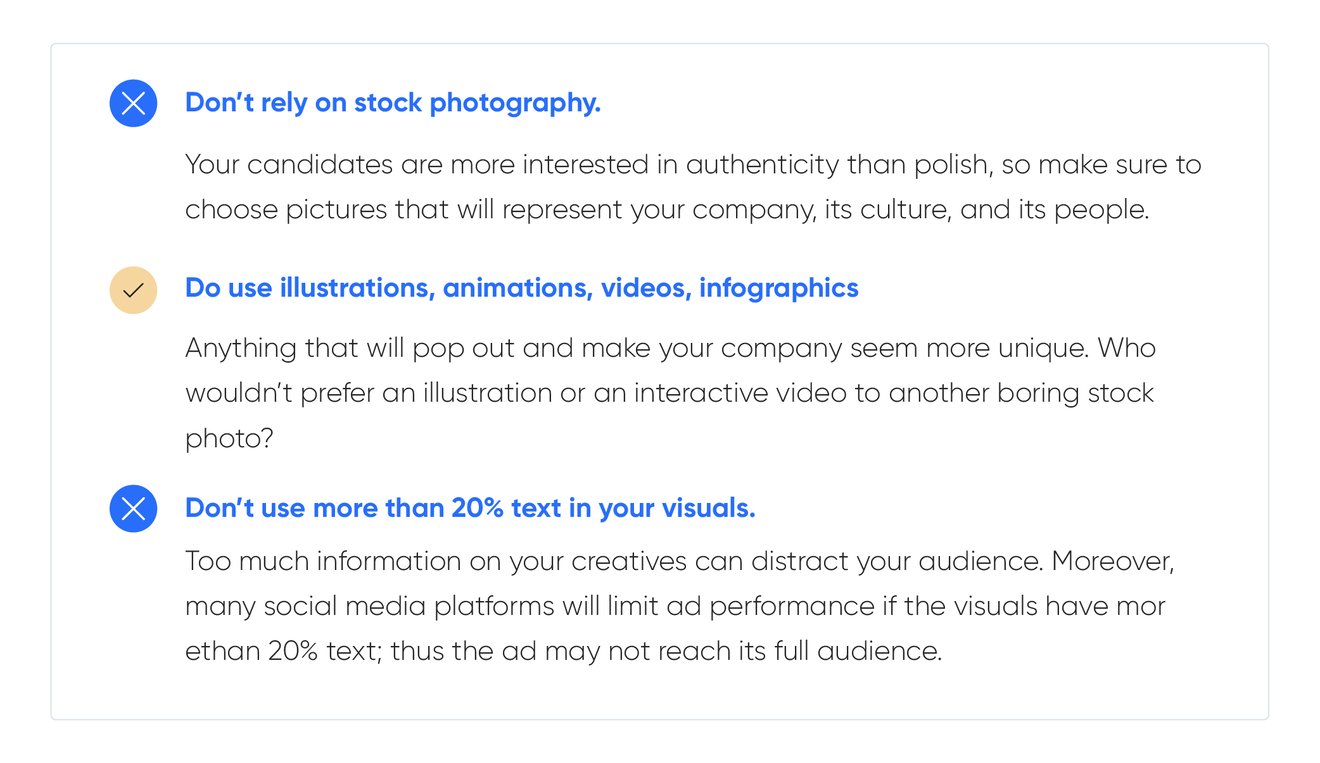 Use this tool to help you determine whether your image will pass 20% or less text.
3. Copy
Okay, if engaging visuals are really the best way to catch a candidate's attention, who cares about copy? How much effect can the text of your ad have—especially if it only takes up 20%. A lot. A whole lot. Poor ad copy can be a huge turnoff for discerning applicants (and aren't discerning applicants exactly the kind that you want?), and it can make your company seem unprofessional. On the other hand, polished, candidate-focused text can be the icing on the employer branding cake. You've already drawn users in with your visuals, and the copy is your chance to hook them. As such, it can have a big impact on your click-through and conversion rates.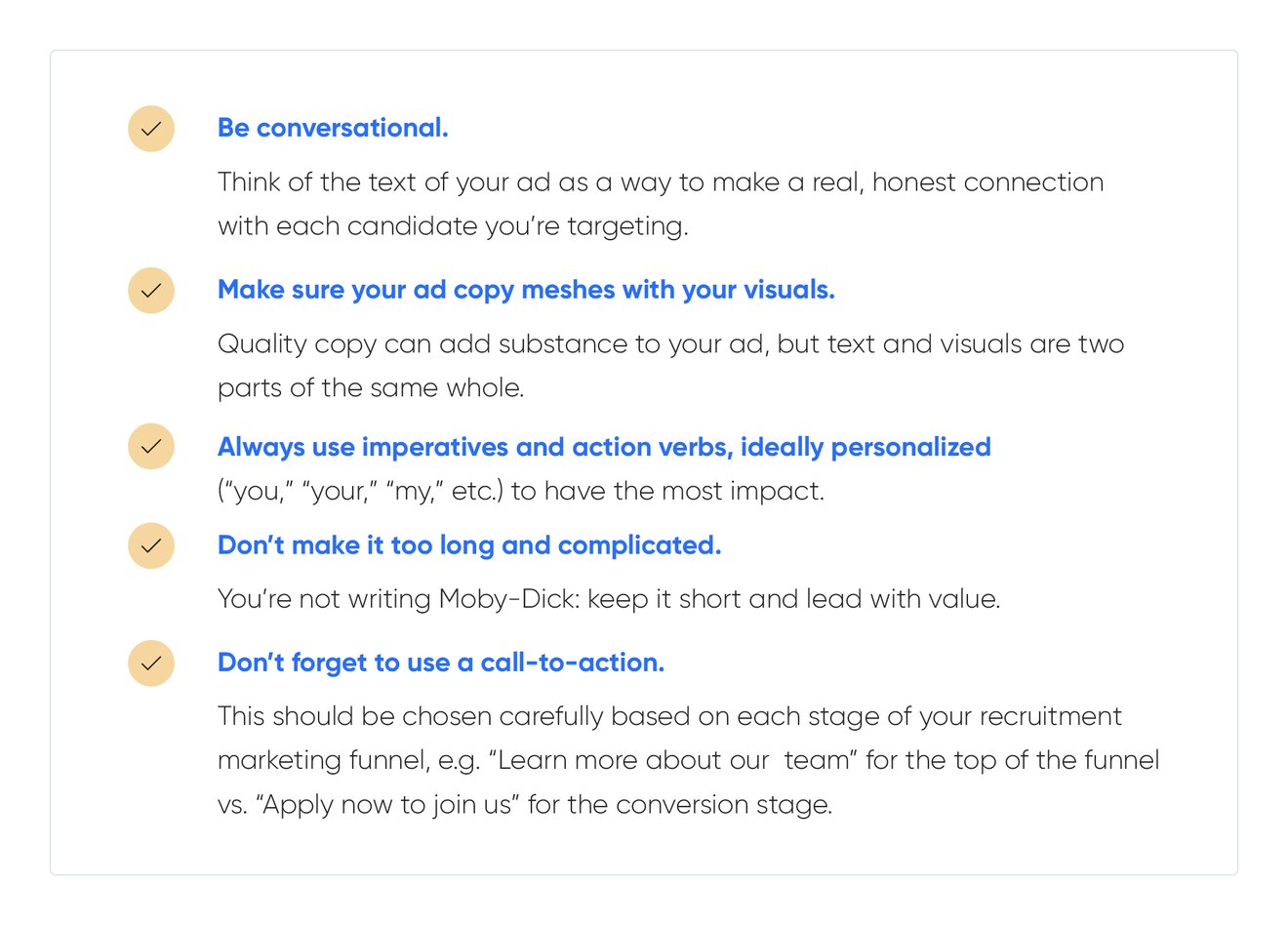 4. Headline
This could reasonably be filed under "copy," but headlines are important enough that they deserve their own section. The headline is the first text your audience sees, and it can make or break their decision to click through. They are another opportunity for you to give your audience something that it really needs or wants—whether that's information that will help them understand your employer brand or timely news about job openings.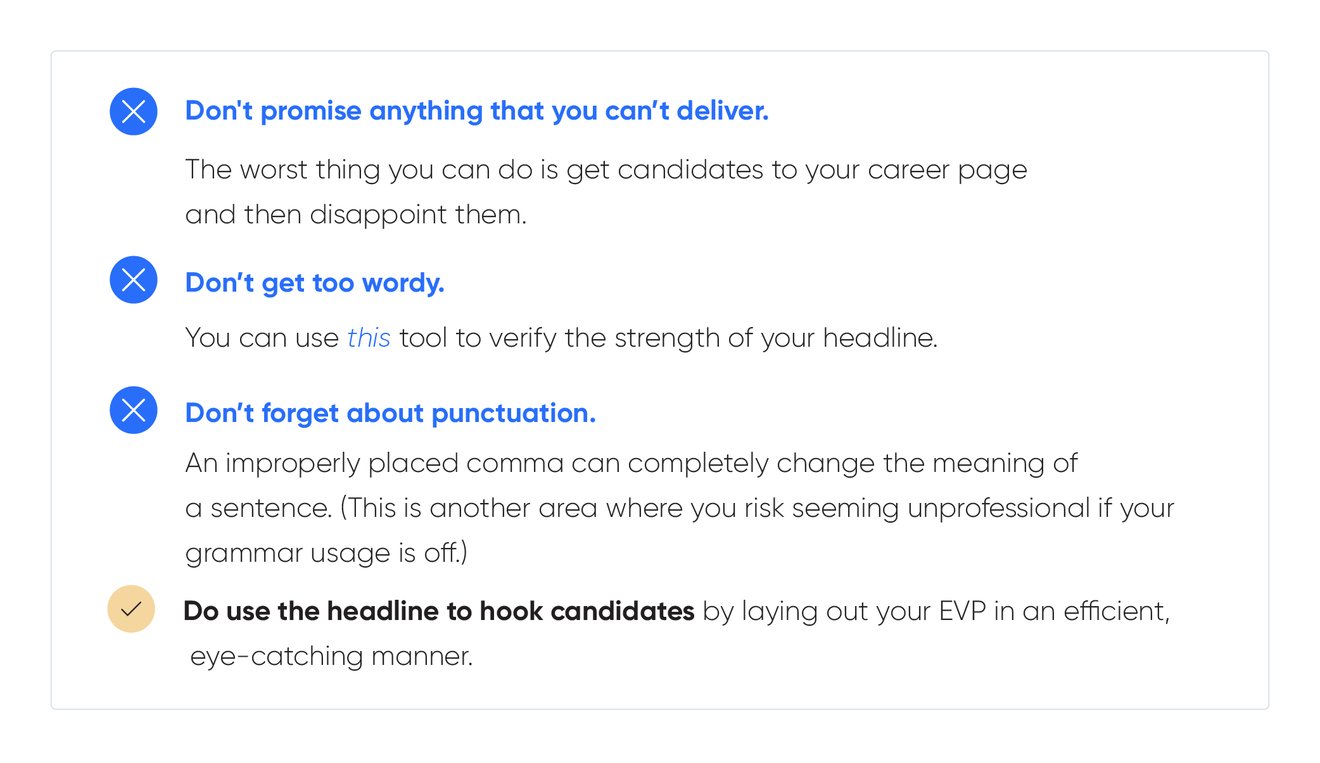 5. Channels
Now, everyone seems to be onboard with the idea that you need to promote your employer brand on social media in order to attract and engage passive job seekers. But not all channels are created equal. We know that there are plenty of fish in the sea, but as a good fisherman you have to know where to go for the best catch.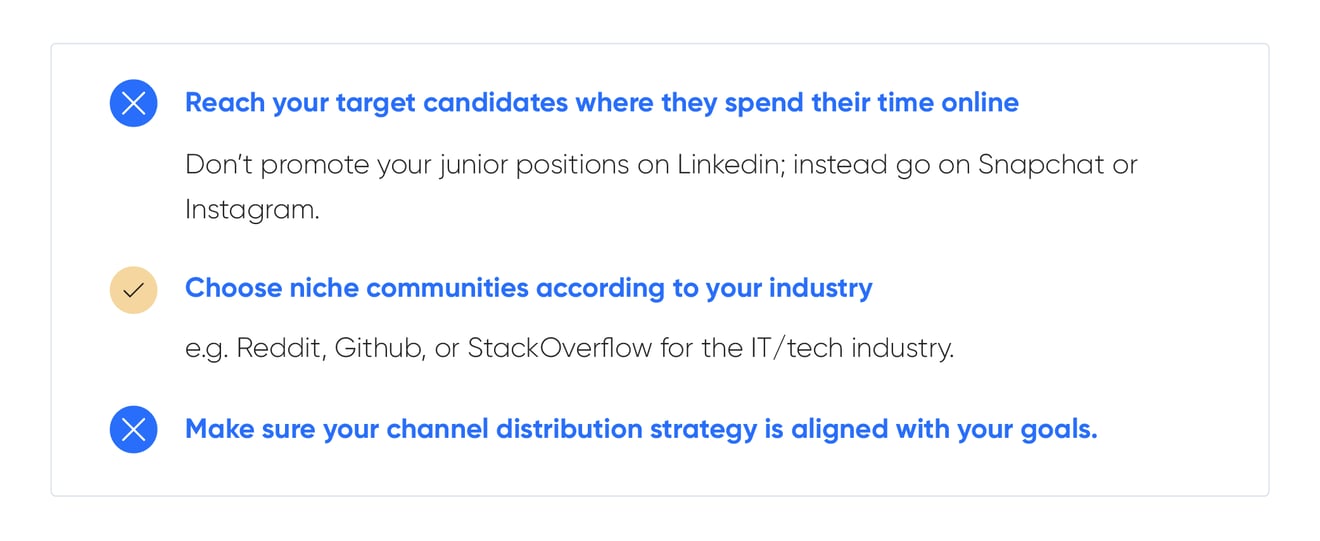 Beyond that, there's one last thing that can be just as important as the ads themselves: CONSISTENCY.
Recruitment marketing doesn't have an on-off switch—it needs to be an ongoing activity in order to be effective. If you only run these campaigns when you have a position to fill, you'll have to start from scratch every time. On the other hand, if you're advertising continuously you can grow a strong talent pipeline with qualified applicants who will already be primed to jump at any new positions when they open up. That's why you have to constantly attract, engage and convert. Then you need to measure, test, and measure all over again!