It's no secret that hiring software developers and engineers is a difficult task. As more and more businesses outside the traditional tech world start to take digital transformation seriously, the competition for technical talent feels like it's never been stiffer. And, by and large, the numbers bear this feeling out: the tech unemployment rate in the United States right now is a microscopic 2%, and things are just as dire elsewhere (in the UK, for instance, nearly 90% of companies expect a shortage of skilled tech workers in the next year). This incredibly high rate of employment means that only a small handful of developers (about 16%) are actively job-hunting at any given time.
The challenge this presents for folks in talent acquisition is pretty obvious: you need to get creative in your sourcing and find new avenues for promoting your open seats.
Crafting Your Developer Personas
It might sound like there's not enough tech talent to go around—but, in point of fact, more than three-quarters of developers are interested in hearing about new positions (which might explain why the average developer changes jobs every two years). The trick is figuring out which developers you're interested in, and where they spend their time.
So, first things first, you need a clear picture of who it is you're actually trying to hire. What you need is a candidate persona, i.e. a detailed, fictionalized version of your ideal hire.
To build a candidate persona, start by going over these five categories:
• Demographic information: Age, location, current job title, income. Bear in mind that different job titles might all refer to functionally the same position, so it's worth it to be flexible here.
• Background: Keep an eye on the performance of past hires so you can get a sense of what types of companies and colleges your best people tend to come from.
• Personal attributes: Personality characteristics, strengths, weaknesses, and other interests.
• Qualifications: Any required or preferred skills, certifications, coursework, etc.
• Web activity: Where do they spend time on the internet? Identify which online platforms they use for fun, for networking, and, of course, where they look for jobs. Where is your team finding these candidates right now? Is it LinkedIn, online forums, Twitter? How are they reaching out? Is it working?
Here is a real example for a web developer: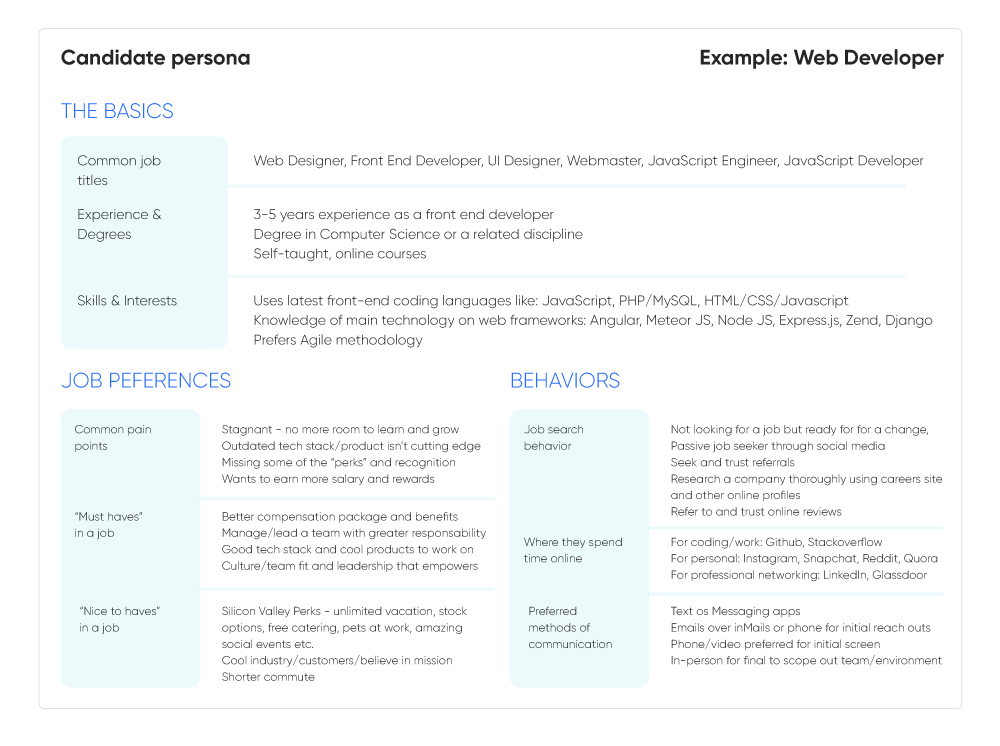 The web activity section is particularly important, as it leads us into the next part of the sourcing process: targeting your audience.
How to Target Developers
Virtually everyone you might want to hire is spending at least time on the web, but the exact location varies from person to person. For developers, when it comes to your choice of channel, you might consider adding technical platforms like Reddit, Quora, GitHub, and Stack Overflow to the more traditional social media platforms like Facebook and LinkedIn.
This can get tricky, because each advertising channel has a different approach when it comes to targeting.
Here are some targeting options that all of them have in common to help you sketch out some tactics:
Interest-based targeting: This is exactly what it sounds like. On platforms like Facebook, you can target users based on the things that they've shown an interest in, whether that's things they've put on their profile or brands and groups they've interacted with.
Demographic-based targeting: besides the usual targeting criteria based on age, language or location, you can also target by job title, field of study, or industry. Information is taken from the users' profiles, offering you a really efficient way to narrow down your ideal audience on a granular level.
• Job Title (specific)—Pros: Relatively precise targeting, Cons: Small audiences and high CPCs
• Skills + Seniority (broad + specific)—Pros: Large, self-selected audiences, Cons: Sometimes too broad
• Industry (broad) Pros: Creates the largest audiences; useful in combination with other parameters like job titles or interests, Cons: too broad when used by itself
Behavior-based targeting: unlike precise interests, behaviors allow you to target people by purchase history, events they like, personal anniversaries, browsing habits, operating systems, app versions, or use of technology, etc.
Because we can't 100% trust that data the user is actually providing on their social media profiles is accurate, it's a best practice to combine multiple types of targeting for each persona in order to get as close as possible to the desired candidates.
Narrow and Exclude
Note that one of the most effective ways to make your audience more specific is to get granular with layered targeting options. Target tech industries, programming technologies, tech events, etc. to layer targeting options on top of one another, thereby gradually making your audience more and more specific.
Most of the online advertisers out there have this option available: Facebook, Twitter, Quora—even LinkedIn joined the gang recently. Google, on the other hand, uses "OR" in each of its targeting sections. The sections are not linked together by "AND"/"OR". They are completely separate—which means you have to narrow your audience by targeting individual traits from different parameter categories.
Sizing Up Your Audience
You'll notice in the section above that specified whether each category would give you a specific or a broad audience—but is one of these better than the other?
It depends on your budget and goals. There are good reasons for each (smaller audiences should give you a higher conversion rate, larger audiences will give you a better cost per click, etc.), but you need to find what works for you.
That said, we suggest keeping your audience between 20,000 and 120,000. Any larger than that, and you're unlikely to learn much from the performance of any single audience. If you really do need to target a larger audience than that, we recommend breaking the audience up into smaller segments, either by geography, seniority, or another relevant factor. This allows you to measure the differences in the response you get in different locations, seniority levels, etc.
Crafting a Strong EVP
Once you've figured out who your target candidates are and where they spend their time online, your next trick is to make sure that you're presenting them with the right message.
This means, on the one hand, giving your target audience a strong sense of your mission and values, i.e. why you do what you do. At the same time, you also need to give the people what they want and if you're expecting candidates to choose a position at your company based on something other than total compensation, you'd better figure out exactly what that thing is.
To that end, you might ask yourself:
• What makes this company/position unique in terms of value provided to employees?
• What motivates our ideal developers, and how are we providing sources of motivation?
• Are there any aspects of our corporate life that our current employees especially appreciate? If so, what are they?
• Based on your research into the kinds of developers you're targeting, what does your company give the chance to do that other companies might not?
With the answers to these questions, you can begin to shape that actual content you'll use to attract developers. This might include anything interesting technical problems to mentorship and growth opportunities.
Once you've got that figured out, you're good to go. Go ahead and start playing around, and learn what works best for you!