Fun fact: 79% of startups try to attract talent by emphasizing the difficult or challenging tasks they'd be undertaking as developers, while 64% use company culture and team-fit as selling points in their employer brand. These are just a couple of strategies that recruiters use to attract the right talent. What are some others? More specifically, how can you craft an employer brand message that will play up your strengths and really speak to your target audience?
As we go forward, you'll want to keep in mind that intangibles like career advancement and challenging work are not mere consolation prizes for recruiters who can't promise mid-six-figure salaries. On the contrary, they can be an advantage that smaller companies have over larger, more established players when it comes to recruiting certain kinds of candidates. Larger companies, in turn, have their own advantages to offer. A developer looking to make an immediate impact in her field or work with a lot of autonomy might want to hear from smaller tech companies, while another engineer with a greater focus on pay and career track might be looking out for giants like Dropbox and Microsoft.
By the same token, if your product is innovative, or likely to make a real, positive impact on people's lives, there will be developers who are excited by the challenge, or spurred on by the prospect of helping others. Ultimately, factors like these can help your business to stand out from the crowd, attract and retain high quality developers, and, perhaps most importantly, appeal to candidates who can see themselves as a part of the unique culture that you've built up. The question, then, is how do you communicate that culture to potential new hires?
A MODEST PROPOSITION
At this point, the biggest hurdle for many recruiters is defining their EVP and creating text, images, videos, ads, and other collateral that incorporates that EVP in an enticing, eye-catching way. Once this hurdle has been overcome, you can develop a robust online strategy for attracting developers to your recruiting pipeline by promoting your employer brand through various channels to active and passive job seekers alike. After all, how else are people going to become aware of your company and the unique culture and employer value proposition that it offers?
We're not afraid to repeat this point: While traditional recruitment platforms like Craigslist and Indeed might have been enough in the past, the modern recruitment market calls for the use of social media platforms and other channels to promote your employer brand. Why? Because only the 10% of coding candidates who are actively job seeking at any one time have the chance to encounter your brand on traditional recruitment sites. By contrast, the remaining 90% of potential applicants, most of whom would happily change jobs if the right opportunity came around, must be reached on sites like Twitter, Facebook, and Reddit.

When they encounter your job ads and other branding on these sites, they enter the first phase of the candidate journey, the awareness stage. As they see your employer brand more and more, they'll begin to associate your company with the particular EVP you strive to offer, and some of them will come to think of your company as a desirable place to work.
Of course, this continuous stream of awareness marketing is only as powerful as the people it reaches. For that reason, recruiters need to be conscientious about where and how they post their content. Think carefully about the demographics of your ideal candidates (i.e. your employee personas) and target your content specifically to them. For developers, this will likely mean building up a strong recruitment marketing presence on Reddit and GitHub, in addition to more mainstream platforms like Facebook and Twitter. This way, by going where your employee personas already, you increase the likelihood that qualified applicants, even those who are not actively job searching, will become familiar with your brand.
HOW DO YOU DEVELOP A STRONG EVP?
Okay, so we've seen the ways in which an EVP can help define your employer brand and give it concrete, usable associations in the minds of your candidate personas. But how exactly do you ensure that your EVP is actually well positioned to do so? We alluded to some strategies above (such as tailoring your EVP to your employee personas), but let's delve a little deeper into the strategies you can use for building a strong EVP.
First, you'll want to audit your existing offerings to catalog each way in which you provide value to employees. These usually fall into a few discrete categories:
Compensation, which includes salary, benefits, research budgets, etc.
People, including good management, the chance to work collaboratively with a high quality team, and opportunities for mentorship or learning from more experienced colleagues.
Growth, meaning chances for career advancement and the development of new skills.
Job satisfaction, which may come in the form of the chance to work on hard problems, the prospect of strong work-life balance, or any other "intangibles" that drive people to show up and contribute every day.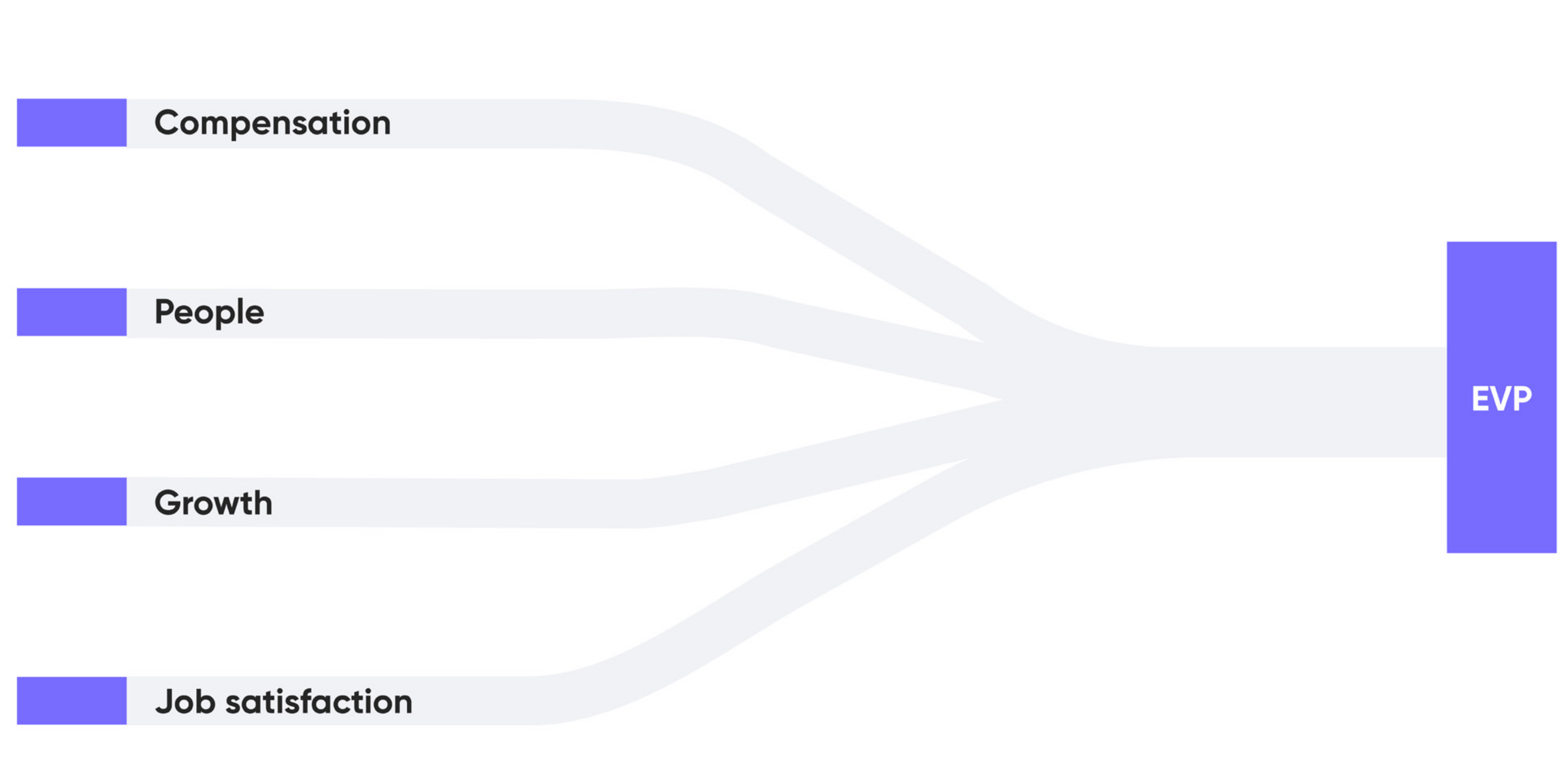 Naturally, these aren't the only ways that you can add value, but they should give you a good starting point. From here, it's time to list out the different candidates personas that you use in your hiring, and match the different ways you add value to the different personas dependin on what you determine to be their goals, motivations, and priorities.
In this way, you can link your messaging and your audience in a fairly concrete way that will help you organize and strengthen your employer brand messaging.
For tech companies trying to win the war for talent, this can be a huge value added proposition, positioning you for continued recruiting success.