Targeting and Demographics
As we noted above, it's not just the sheer volume of users and activity that makes Facebook a worthwhile destination for sourcing job candidates.
Rather, it's their ads platform, and all of the features and options that it gives users for targeting, placing, and optimizing their messaging. An important detail to know when running Facebook ads for employment is, you won't be able to target by gender or postal code. Radius targeting will be set to a minimum of 15 miles around the targeted city, address, or pin-drop and there is reduced interest targeting.
Yes, the demographic targeting is extremely granular (meaning that recruiters can easily target individuals with very particular skills or interests within a short radius of their offices), but it also allows users to target potential candidates from their own existing contact lists.
Note: If you're looking for some inspiration for your job ads, check this article about the best recruitment ads.
When selecting your audience interests, you will notice some restrictions: you can only select a limited amount of interests, and no Behaviours & Demographics, such as in regular campaigns. You can further narrow down your audience with detailed targeting or by excluding people with specific interests. For example, based on interests, for an ad to hire a junior marketer for an outdoor clothing company you could target people who have an interest in digital marketing, design, and application for employment.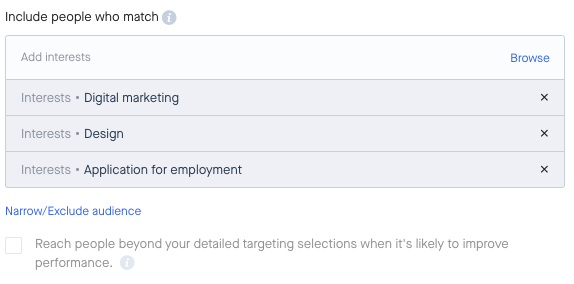 Let's talk about the "Application for Employment" interest, as many companies that run employment ads on Facebook, could be a hidden gem. The interest "Application for Employment" has 3,132,220 audiences on Facebook, this means that your "Application for Employment" Facebook ads have many potential audiences. So the point is, how to target these people and make them really become yours.
In a recent study, it was reported that the "Application for Employment" audience consists of 53,4% men and 46.6% women. The majority of people interested in "Application for employment" between 25-34, and they accounted for 35.52%. And other age groups like 18-24 accounted for 29.67%. The people interested in "Application for employment" between 35-44 accounted for 16.73%.
Note that lookalike audiences are excluded altogether. Since Lookalike Audiences are excluded within Facebook's Special Ad Category, were initially replaced with Special Ad Audiences, which used online behavior similarities from people in your Custom Audiences to form new audiences. These were similar to Lookalike Audiences, but they complied with the Special Ad Category's audience restrictions. However, in August 2022, Meta announced they were no longer allowing the creation of Special Ad Audiences, as part of their legal settlement with the US Department of Housing and Urban Development. There is no longer any Lookalike Audience-type offering in Special Ads Category.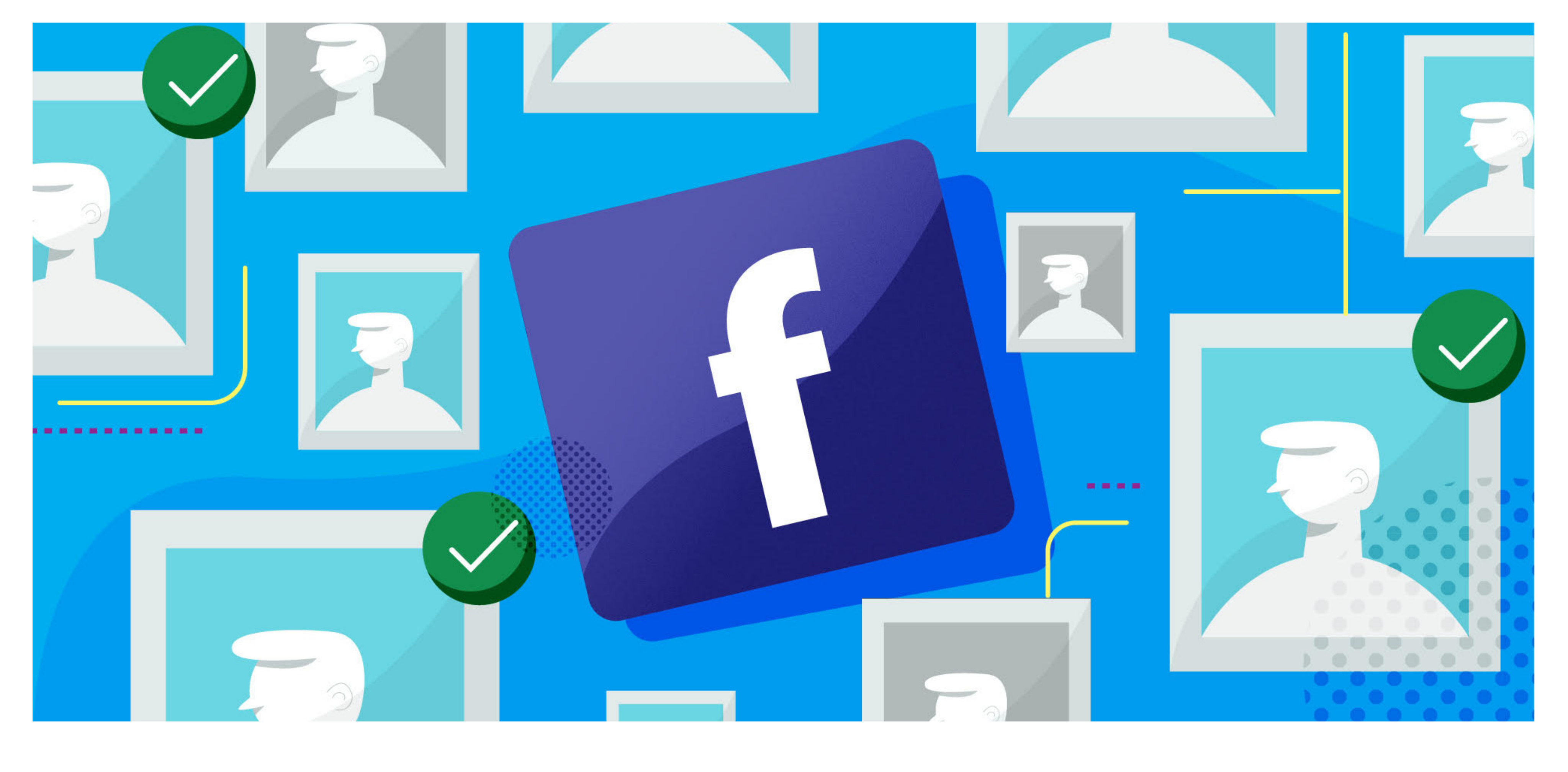 In addition to these targeting options, Facebook gives advertisers the choice to run a "remarketing" campaign, which displays your content specifically to users who have visited your website or engaged with your brand on Facebook previously.
In traditional sales, this has proven to be an effective method of moving potential customers through the buyer's journey more quickly. When it comes to recruitment marketing, retargeting can be just as useful.
By targeting potential applicants who have already shown that they have some interest in and familiarity with your employer brand, you further establish yourself in their minds as a potential employment destination. As these users continue to encounter your brand after that first touch, your employer value proposition (EVP) becomes more firmly associated with your company and even passive job seekers (who comprise 80% of the job market) will begin to envision themselves working at your company.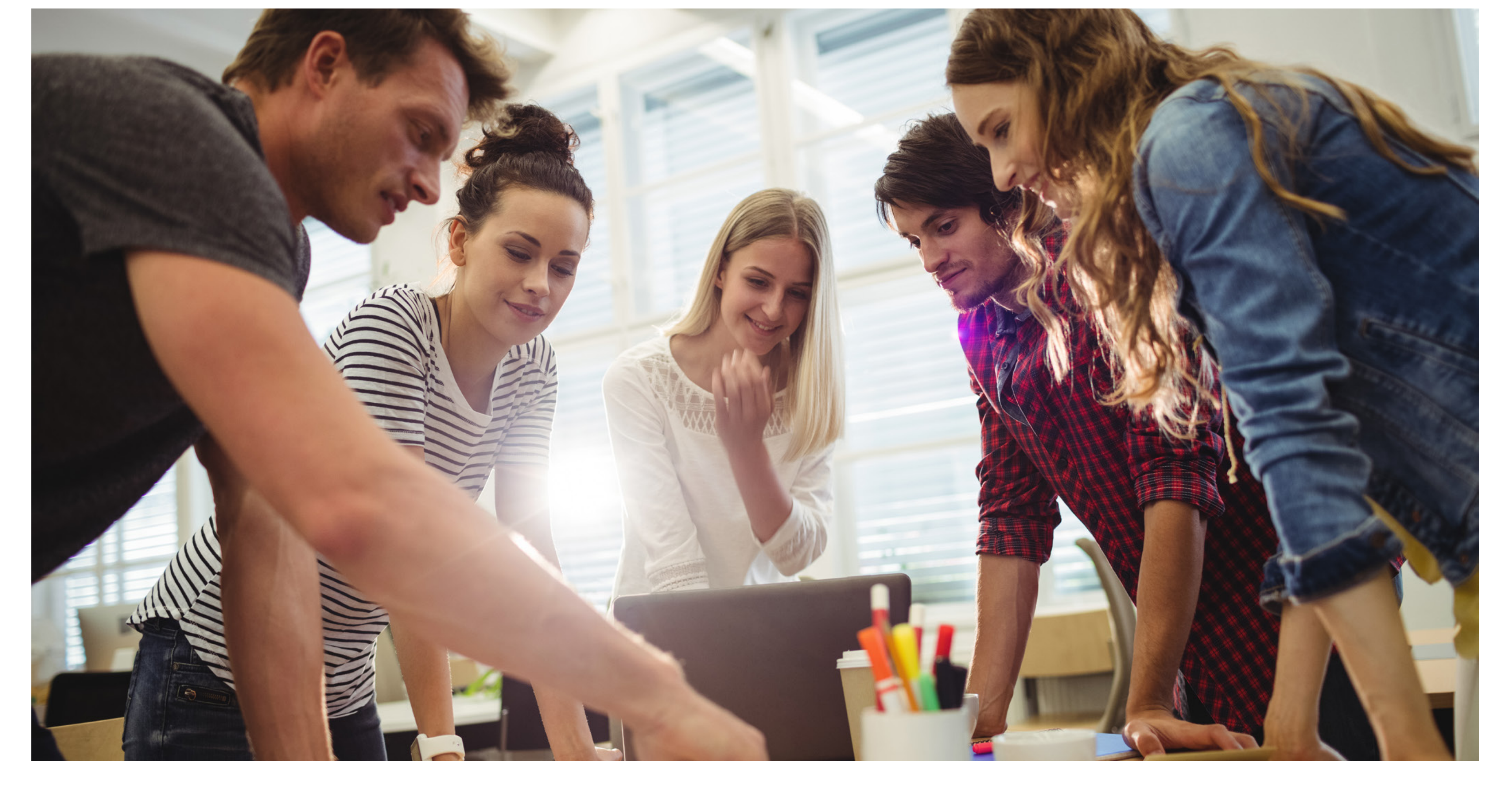 Ad Types
Facebook is a visual platform so, in addition to providing recruitment marketers with sophisticated targeting options, Facebook also supports a variety of different ad formats, including:
Image ads
Video ads
Carousel ads (a rotation of images or videos, each one with a different link—carousel and video ads tend to have the best engagement rates)
Slideshow ads
Canvas ads (which are optimized for full-screen, mobile experiences)
There are other types as well, but these are some of the most important for recruiters and the golden rule is the same: Your visuals should complement your ad copy and present your company in a positive light. Each one gives companies a different option for telling a story in pictures, videos, and text about their employer brand.
For best results, we encourage our customers to use photos taken at their facility – photos of happy team members, an exciting office space, and so on.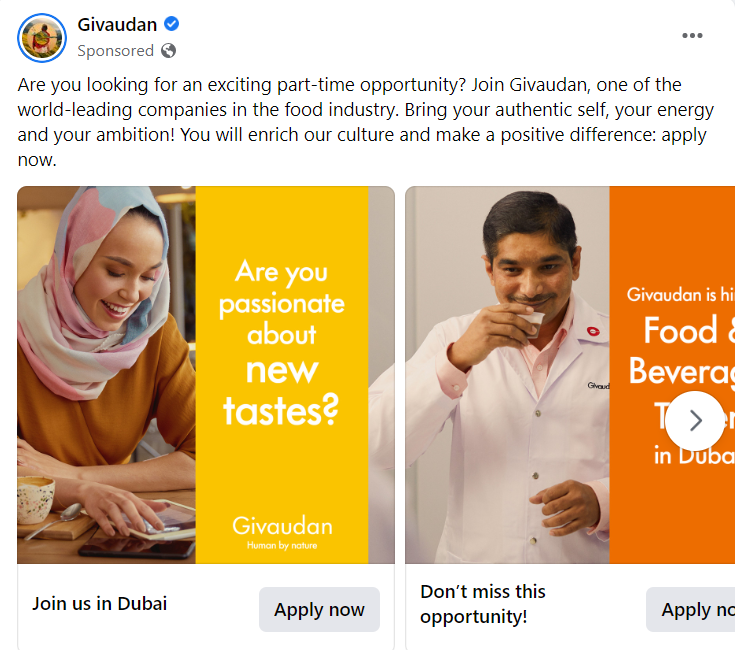 Never rely on cheesy stock photos to sell your employment experience. Facebook users can tell when your images actually reflect your company culture – and when you're trying to hide a less-than-stellar work environment behind stock photos.
As you sketch out your Facebook recruitment marketing strategy and goals (more on that in the next section), you can begin to get a sense of what type of ad format might be appropriate to those goals. If, for instance, you're targeting multiple job types to the same basic demographic, a carousel ad might enable you to let your audience self-select the appropriate position for their respective interests or experience levels.
If you're specifically targeting mobile users (a tactic that might be efficacious if you're trying to reach more millennials), a canvas ad might be the ideal format.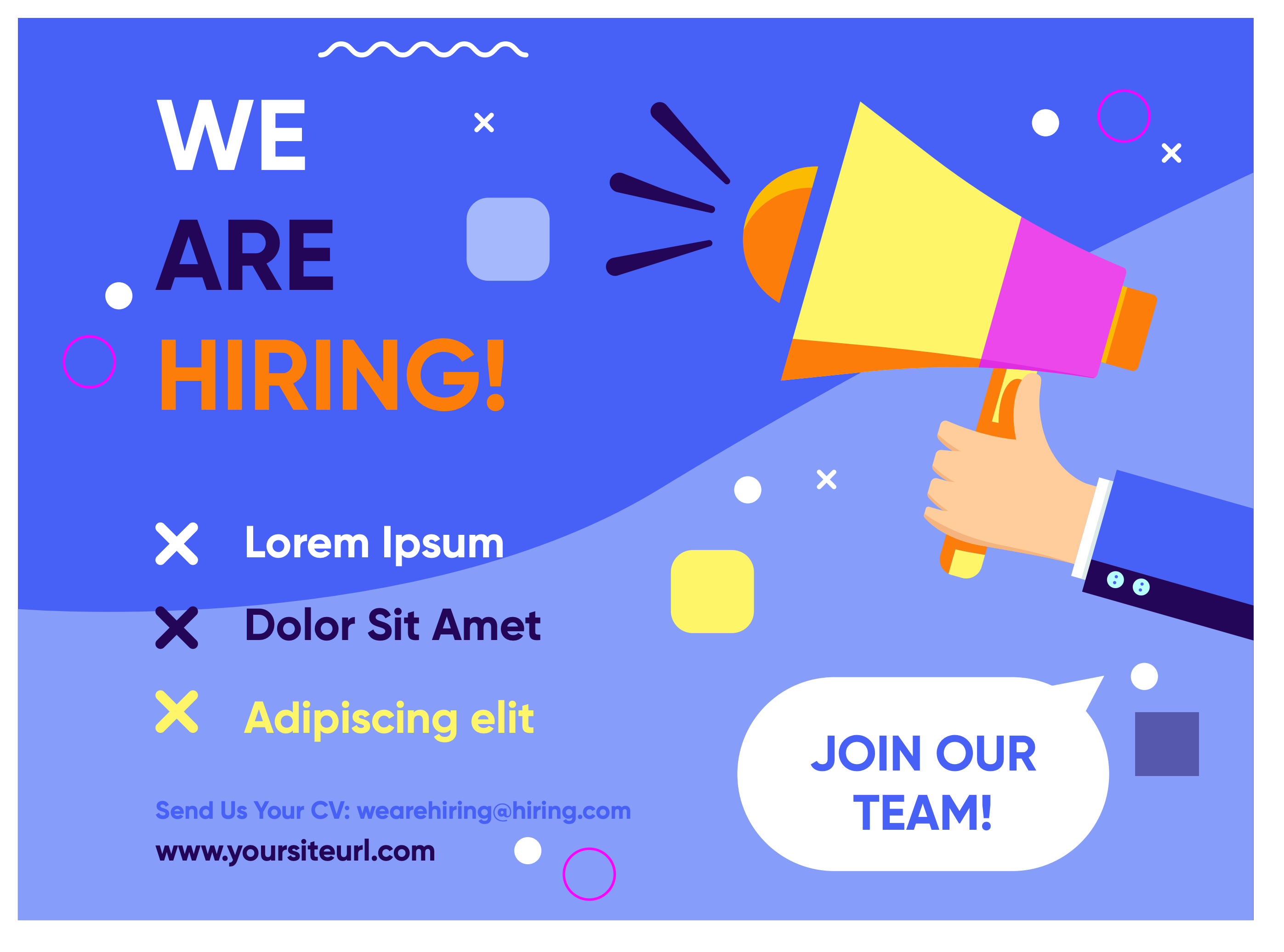 Each of these formats will have different technical specifications, but in general, your ad is going to consist of visual assets plus a headline, a short body of text, and a link with a short description.
For photo and video ads, you'll have 125 characters to describe your position or spread your employment brand, plus a 25-character headline and a 30-character link description.
For carousel ads, it's a 40-character headline and a 20-character link description. Any visual designed for boost or ads cannot contain more than 20% text. Otherwise, Facebook will not approve your ads.
Employer Branding on Facebook
Hold on—are employer ads really the be-all and end-all of employer branding on Facebook? Of course not! Any successful recruitment campaign using this platform should be grounded in an existing Facebook presence (involving, ideally, both a corporate page and careers page, with distinct and regular content coming from each) that highlights the unique aspects that make your company a desirable place to work.
That said, the era of dependable organic Facebook reach has been over for some time now. Like it or not, the only way to get your content in front of your audience in a reliable way is to leverage at least a small ad budget. But don't despair!
A little can go a long way in terms of supporting your larger employer branding efforts.
So, how should Facebook connect to your broader attempts at candidate sourcing and positioning your business as an employment destination?
Essentially, your Facebook careers page (separate from your customer-facing page) should be a place where you can highlight your EVP through links, pictures, videos, and other content that relates to your employer brand. It can also serve as a means of communication with potential future applicants, who can reach out to you via comments and direct messages and with whom you can communicate proactively in a way that provides value and builds trust.
This represents an opportunity to foster a sense of community that mimics the community you aspire to provide in your business environments.
Crucially, your employer branding efforts should reflect your current recruiting goals. If you're at a stage where increasing awareness of your employer brand is the key to laying the seeds for future growth, you might want to optimize your strategy to maximize impressions.
Conversely, if you have specific positions that need to be filled, you might be more interested in tailoring your content to maximize click-through rate or generate leads.
Maximizing leads is in part a matter of having clean, easy-to-use landing pages and a generally smooth candidate experience, but it's also an area where Facebook ads can really help to support your existing branding efforts. In fact, when you create an ad, Facebook will ask you what you want to optimize for.
A few possible objectives are:
Brand awareness
Reach
Engagement
Traffic
Video views
Lead generation
Messages
Conversions
There are some others, but these will be the most relevant for recruitment purposes. This is where the alignment between your goals and your content strategy becomes crucial. You can lower your cost-per-click on Facebook's platform by promoting content with a high relevance score relative to the interests of your targeted audience.
By choosing the right goal, the right audience, and the right distillation of your employer brand and EVP, you can increase the relevance of your post and thereby decrease your cost-per-click.