A huge transformation is taking place. A shift in the talent acquisition world from being a largely reactive effort to a predominantly proactive one. This is leading to confusion across sectors, as recruiters and talent acquisition leaders struggle to find the candidates for their open positions and build sustainable talent pools for the future.
A good size piece of this confusion is fueled by a common misunderstanding of the tools available and where they fit into a strong talent acquisition strategy. Topping that list are the ATS and CRM, and working out how they work together is what this article is all about. Let's dive in.
ATS and CRM: Just what are they?
Applicant tracking systems (ATS) are software solutions that manage the application process and provide a single source of information for the recruiter on the precise status of each active applicant.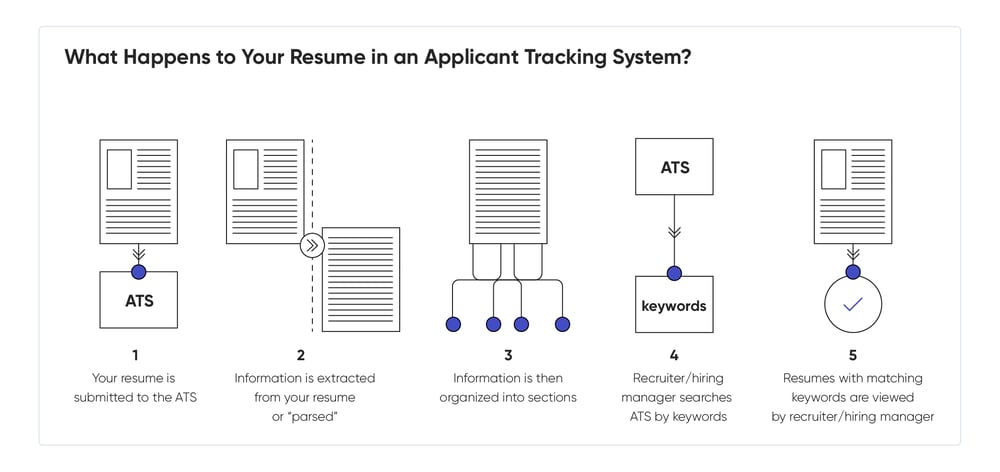 ATS solutions are primarily workflow and compliance tools, they don't offer much flexibility of feature sets or automation, focusing more narrowly on ensuring active applicants experience is going smoothly and that the recruiter can follow their progress.
In other words, these systems exist mainly to better manage the already-committed talent pool.
Candidate relationship management
(CRM)
systems
, on the other hand, are for:
• managing and maintaining long-term relationships with people who are in pre-applicant stages of their candidate journey;
• engaging and delighting your social media audience and contact lists in order to keep them primed and ready to come on board when the right opportunity arrives;
• CRMs also let you build sustainable talent pools that include past applicants who were not chosen for the position they initially applied to.
Bottom line, CRMs are all about keeping the already-interested candidates engaged.
ATS and CRM Symbiosis: The Power is in Integration
Most large corporations utilize applicant tracking systems. Jobscan research found that 98% of Fortune 500 companies use ATS while a Kelly OCG survey estimated only 66% of large companies.
The true power of these systems becomes apparent when you combine them.
• The CRM for managing your social postings, email blasts, and other recruitment marketing efforts targeted at your candidate personas who either have not yet applied, or have applied but not been selected.
• Then, once an application is submitted, they jump over into the ATS so you can track their progress through the rest of the candidate journey.
While it may seem that you could possibly get away with using one or the other and be OK, for larger enterprises and fast-growing companies especially, there are some aspects of the end-to-end candidate journey where one tool is heads and shoulders above the other.
Strengths of an ATS not addressed by a CRM: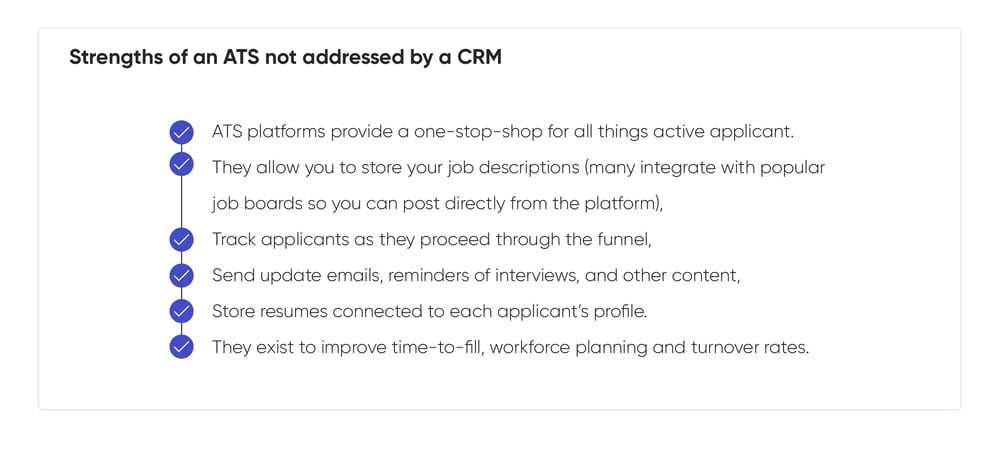 These are all things that CRMs simply do not do.
Your ATS is where everything from the moment an application is submitted on is tracked. Need to send an email with details about an upcoming interview cycle with directions to the office? Most ATSs have templates and triggers so these types of messages can be handled automatically. And by integrating your ATS with your internal HRIS, new hires information can be forwarded into that system when the offer is accepted.
Strengths of CRM systems not addressed by an ATS:
As much as the application drop off rate is 48% and more than 70% of those who applied are lost by companies who fail to acknowledge their applications with an email; it's in reaching the folks that already showed interest in your company and convince them to be a part of your talent network where a CRM shines.
In some cases, these are people who weren't right for the particular position they were applying for, but they might be a good fit for future openings. Since you have their information at your fingertips, it should be easy to follow up with this past and future applicants, providing them new information on job openings as they come up and generally keeping in touch and providing them with value in the form of useful information about your company.
CRM's and ATS's overlap in most cases, but in nurturing a strong talent pipeline where the usefulness of a CRM to complement your ATS truly becomes visible.
Again, the true power of these HR solutions is in the integration.
Manage long-term relationships with potential candidates so they're primed and ready when the perfect opening comes online. Or when you reach out directly with a special opportunity. By maintaining these relationships, you begin building that sustainable talent pool that is like the holy grail of recruitment. And by using an effective CRM solution to do that management, you smooth the way for these folks to enter the recruitment funnel when the time is right.
And that's when your ATS system takes control, ushering them the rest of the way through the funnel. It's the combination of tools, each filling in blanks left by the other, that will show your candidates that their candidate experience is your #1 priority. And by priming them with this knowledge early on, you're solidifying yourself as their employer of choice, creating a candidate journey that will guide them through from first contact with your company all the way through becoming the newest member of the team.
Happy candidates make the best employees, and really that's what it's all about, isn't it?