As talent acquisition teams look to the future, staying ahead of emerging trends in recruitment marketing is critical for a competitive edge. Whether you're an established organization or a startup business, implementing innovative strategies into your approach can help set you apart from the pack and position yourself as an employer of choice in 2023.
We know Q1 of 2023 just ended, and whether or not you reached your hiring target, we explore seven essential strategies to kickstart your Q2 recruitment marketing journey in this blog post. From career website optimization tips to improving candidate experience on social media platforms and understanding personalization targeting techniques - these are some of the essential elements that any company should consider when creating or revamping its recruiting strategy.
Let's dive straight in!
1. Optimize your career website to attract candidates
Your career website is often the first glimpse prospective employees get of your company. Candidates should be able to understand what you do immediately, the mission you stand for, and who your company serves - before being introduced to career opportunities and organizational culture. Navigating through all of these areas on your site should be done smoothly, thinking about the user's journey on your website!
It is understandable to gear your website towards your clients or audience. However, a career website or career landing page is specifically designed for prospective employees. This is the ideal platform for showcasing your benefits, highlighting your company culture, and advertising your available job openings.
It's important to note that for your website to come up in search results on the first page of search engines like Google, you need to consider the following factors: SEO strategy and device responsiveness.
Remember that your career website is your online identification document. It is the first thing candidates would find when they search for careers within your organization. Moreover, your social media channels, SEO, and job boards lead potential candidates straight to your web page. So it is important that you craft content that would accurately describe what you stand for, why candidates should apply to your company, and how they can get more information.
When it comes to structuring, make sure you have an easy way for candidates to find out about the positions you offer, your benefits and policies, and other relevant information.
SmartDreamers gives users the ability to create a customizable

 career page

 that represents the essence of your organization and inspires potential candidates to become your employee.
2. Employer Branding is King
If you like marketing, you probably read or heard the expression "Content is king" at least once. In the same way, the expression "Employer branding is king" can be applied when it comes to talent attraction.
It's no secret that hundreds of companies have similar brand identities, making it difficult to stand out from the competition. To succeed in recruitment marketing, you must understand what sets your employer's brand apart and ensure this distinction is clear for both customers and prospective candidates. By doing so, you can ensure that your employer's unique image will shine through when recruiting new talent!
For instance, your employer's value proposition could be the chance to be a change-maker. You could highlight your employees' impact on their careers and the world in general. You may want to emphasize a culture of promoting and valuing family and how your employer supports work-life balance.
Creating a unique and robust employer brand image is a strategic approach that prioritizes delivering value to the intended audience. This involves creating a story around why someone should work for you, developing an effective communication strategy, crafting targeted content on your website, and leveraging social media channels.
If you still wonder if investing in employer branding is worth it, maybe these numbers will convince you it's time to level up your game.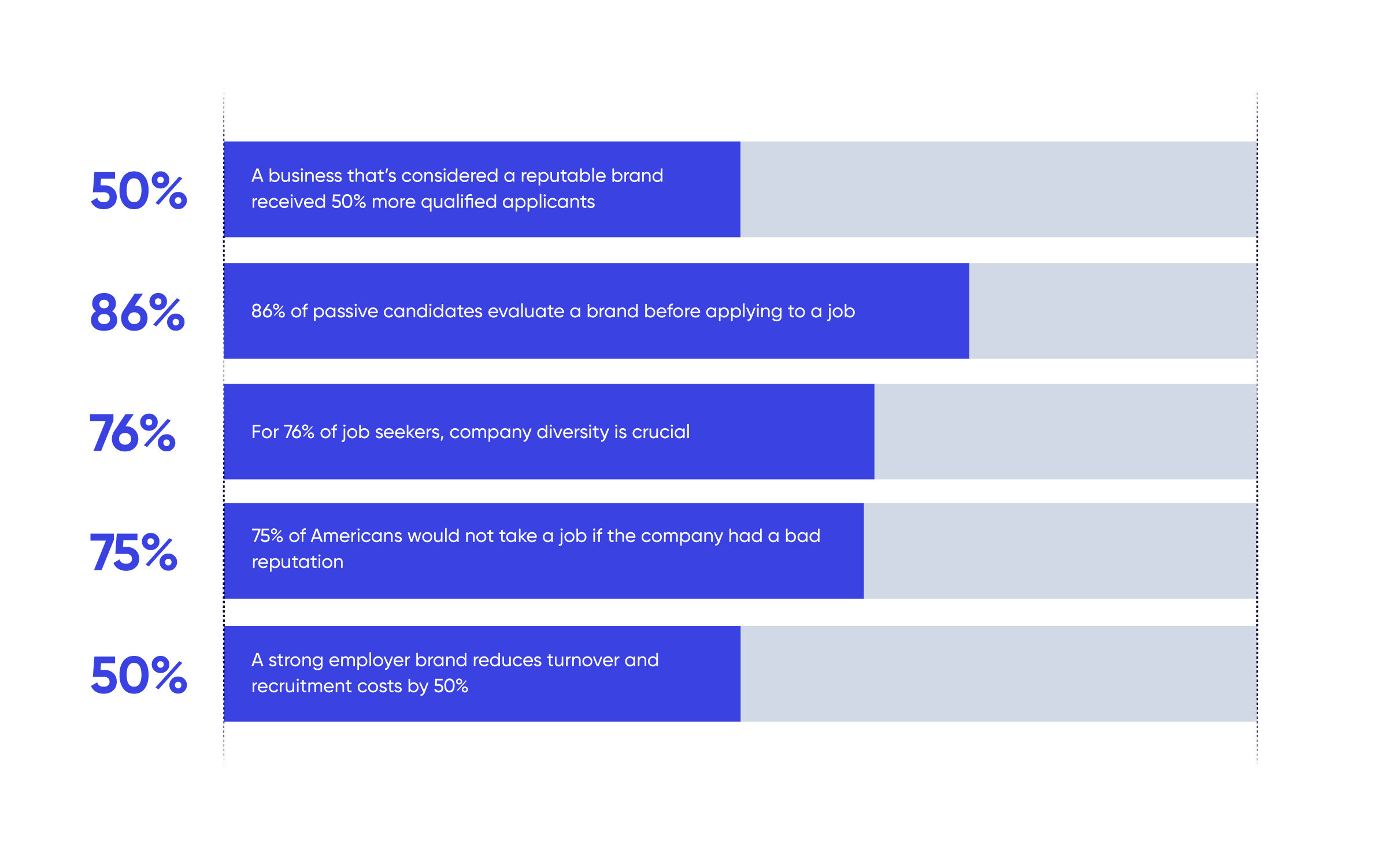 3. Improve Candidate Experience
If employer branding is king, then candidate experience is queen. They must go hand in hand, as candidate experience represents a huge factor when it comes to potential candidates deciding to apply for jobs. Over 83% of talents say that negative experiences affect how they perceive employers they had previously liked.
You must know that the recruiting process starts way before hitting the apply button. Their experience began with their first touchpoint with your company through a job advertisement, social media, referral, or word of mouth.
Of course, in today's data-driven recruiting world, there are metrics you can keep an eye on to gauge how your candidate's experiences are going and where you need to improve. However, there's no set recipe for a great candidate experience, but there are a few ingredients you can use to make sure yours is great.
Understand the candidates' goals. What do they want to achieve in their careers? Why are they applying for this job?
Make it easy for the candidate to apply. Everyone is busy, and most people will only be willing to spend a little bit of time trying to figure out how to apply for a position that's hidden behind a cumbersome application process.
Make sure your career site is easy to find and that it's not a "different brand" from your company's website. If they get to the career page through your company's website, they won't think it's an entirely different company.
Communicate Comunicate Comunicate. No ghosting. Remember that this is a two-way relationship. Just as your applicants should take their candidacy seriously, you should also put your best foot forward to make sure they have the best possible recruitment experience.
4. Reach new audiences through social media advertising
Leveraging social media networks like Facebook, Instagram, and TikTok for recruitment marketing is incredibly advantageous since you can expand your reach to those who may not be familiar with your organization.
For example, Meta advertising allows you to run ads on both Facebook and Instagram and target users based on a number of factors, including their current job titles, education level, interests, and location. Having a candidate persona and psychographic profile can help you target the types of employees you want to attract in your area.
The power of social media advertising is incredible in terms of reaching new audiences. However, it's important to remember that your ads should be engaging and reflect your organization's culture. Investing in quality design and using strong visuals will help ensure potential candidates see your message.
5. Use email marketing to keep your brand top of mind
Once you've collected a candidate's information, either through the application form or your community page, you can keep your organization top of mind through email marketing.
Consider sending emails to your list regarding relevant awards you've won, spotlights on how your teams are making a difference in your community, or updates on new job openings. Staying connected with prospective candidates will make them more likely to apply when the right opportunity arises.
Using SmartDreames automation, you can set your email workflows to send messages on a schedule or based on triggers like new job openings. This allows you to stay in touch with candidates in a personalized way without the manual effort typically required for email marketing campaigns.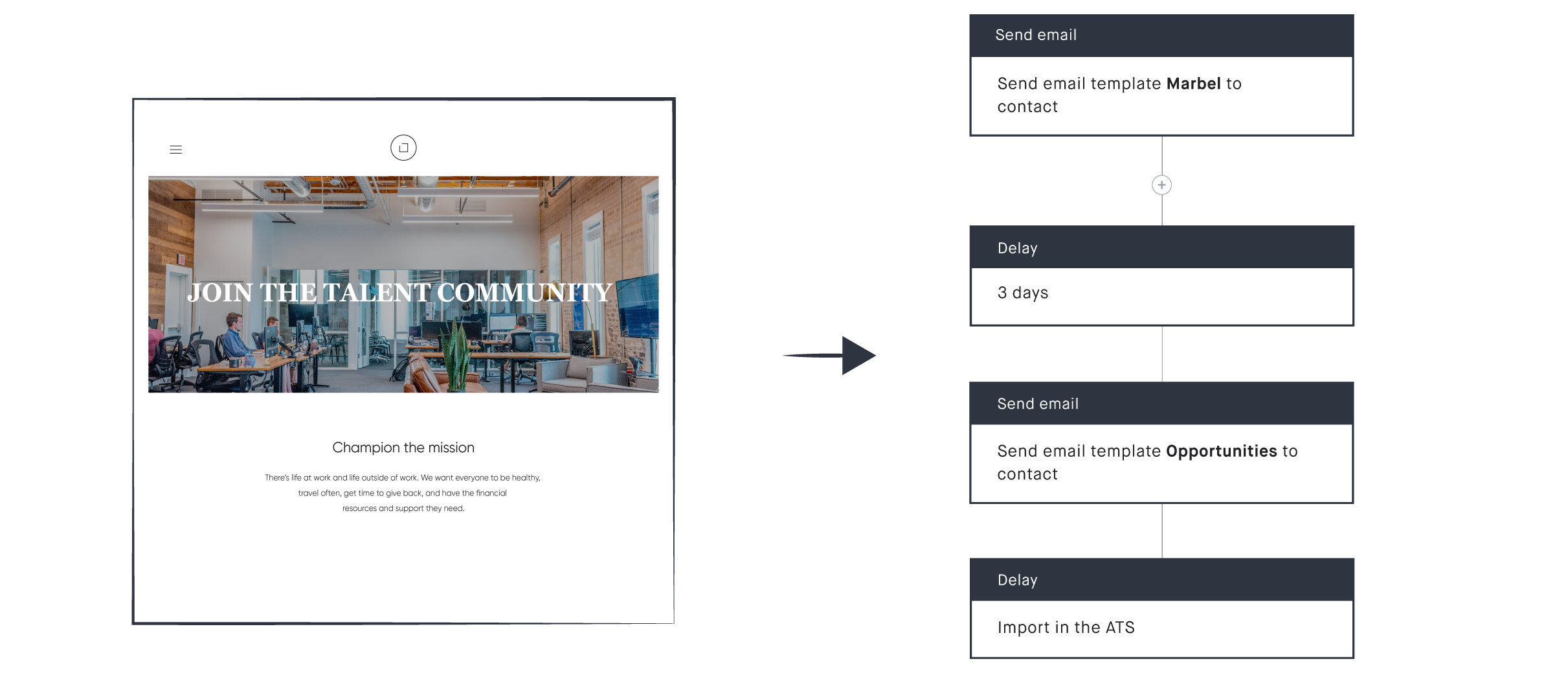 6. Personalization
Through keen personalization, marketing and recruitment efforts can be laser-focused on individuals. By leveraging data and technology, unique messages and materials can be tailored to each person, crafted to resonate deeply and inspire action. When information is customized to someone's needs, interests, and experiences, it ceases to be generic and forgettable. Instead, it becomes a valuable tool for true connection and influence. Personalization transforms audiences into individuals.
Personalization in recruitment marketing refers to tailoring communication and messaging to individual candidates based on their specific interests, preferences, and behaviors. It uses data and technology to create a personalized experience for each candidate, such as customized emails, job recommendations, and targeted advertising. By personalizing recruitment marketing efforts, organizations can increase engagement, build stronger relationships with candidates, and improve the overall candidate experience.
Some good use of personalization in recruitment marketing:
Providing job recommendations that match the candidate's skills and experience, as well as their preferred location and industry.

Creating targeted advertising campaigns that address the candidate's pain points and aspirations, using data from their online behavior and social media activity.

Using the candidate's first name and job title in email communication can increase the open and click-through rates.

Developing a career site that showcases personalized content based on the candidate's location, industry, and career level.



Tip: If you want to take your recruitment marketing efforts to the next level with personalization, try creating a candidate journey map that outlines each touchpoint in the recruitment process and identify opportunities for personalization.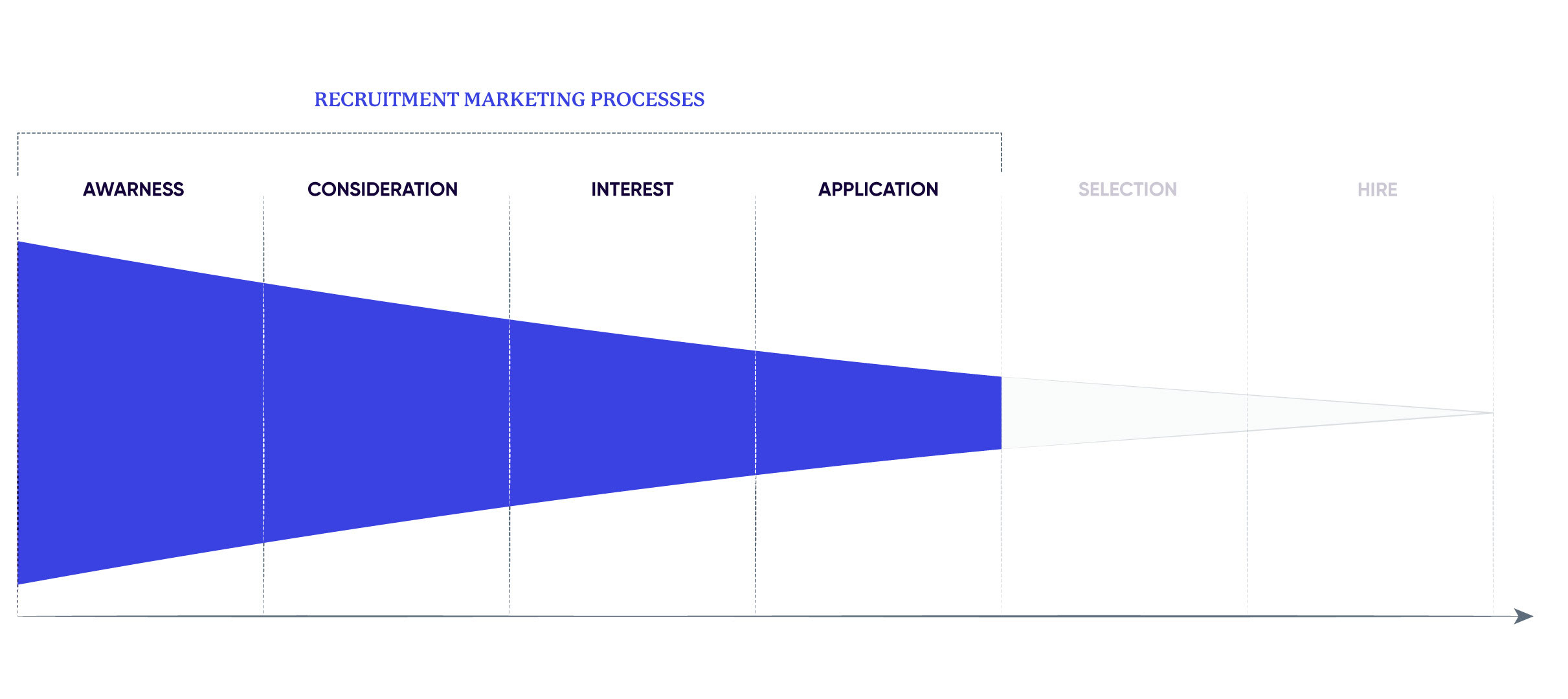 7. Use of Video
Video content is becoming a trendy tool for both branding and recruitment marketing; companies are transforming recruitment marketing into a dynamic experience that gives candidates a glimpse into company culture and day-to-day life on the job. By crafting virtual office tours and employee spotlights, brands can leverage the power of video to open the door to careers and opportunities, engaging top talent in an authentic way that static posts and photos never could. With video, careers come to life, and candidates can see, hear, and feel what their future at a company might hold. In this evolving digital landscape, video is the key to unlocking talent.
Using video can also prove to be a powerful means of showcasing the advantages of a specific job or career path. It enables organizations to provide a greater amount of information and context than what can be expressed through text alone. For instance, a company could utilize video to exhibit the contributions made by a team member in their position or to highlight the diverse training and growth prospects that employees have access to.
Incorporating videos in your recruitment strategy can elevate your SEO endeavors and enhance your visibility in search outcomes. As per Brightcove, videos prompt a 157% surge in organic traffic from SERP (Search Engine Results Pages). Integrating videos into your company's career pages will give them a higher ranking in Google's search results.
Conclusion
To conclude, companies can use many innovative strategies to ensure they are recruiting top-notch talent in 2023 and beyond. From optimizing career websites to creating better candidate experience, from using social media platforms effectively to email marketing and videos, and understanding personalization targeting techniques - these are just some of the key components to consider for success.
However, doing all of that without a powerful tool could mean a waste of your time and effort. And that's where Smartdreamers comes in, an advanced recruitment marketing platform. Smartdreamers enables organizations to attract, engage, and hire top talent. By leveraging Smartdreamers' cutting-edge features, such as AI-powered automation and social media integration, organizations can streamline the talent acquisition process and achieve better results in less time.
Looking ahead, it is important for employers who aim to stay a step ahead of their competitors in terms of recruitment to implement effective recruitment marketing strategies that yield positive results and foster diversity in their organization. In this way, companies will be able to attract & engage with qualified talent and ensure that they hire the best candidates out there. As Mark Twain famously stated, "The secret of getting ahead is getting started" – so start finding creative ways today to attract top talent tomorrow!