As a marketer, I understand the importance of investing effort in building a strong brand in order to attract new customers. You have likely come across this concept thousands of times: approaching recruitment from a marketing standpoint. Hence, if your goal is to attract new candidates, it is crucial to dedicate a comparable level of effort to market your company to both current and potential employees effectively. The best way to do it: Employer branding.
Somewhere between the quiet quitting and those 54% increase in LinkedIn members changing jobs year-over-year, it becomes clearer that employee retention takes more than a "cool office". In fact, lacking work-life balance, quality compensation, and company culture are the top reasons people are leaving their jobs, according to LinkedIn.
11% of Marketing Leaders report hiring top talent as their top anticipated struggle of 2023.
So, how can an employer branding strategy help feed recruitment and retention, and why investing time into your employer brand is an investment in your bottom line?
What is employer branding?
Let's define employer brand as the employer's reputation as a place to work. Simply put, an employer brand is the perception that people have of a company's values and workplace culture. Consequently, employer branding encompasses all the actions a company takes, deliberately or otherwise, to portray its distinct identity as an employer to both existing and prospective employees.
But what is an employer branding strategy? Employer branding is the set of strategies and tactics you use to build this brand and reputation, internally and externally actively.
In other words, employer branding strategy should answer the question, "What makes your company the best place to work for?"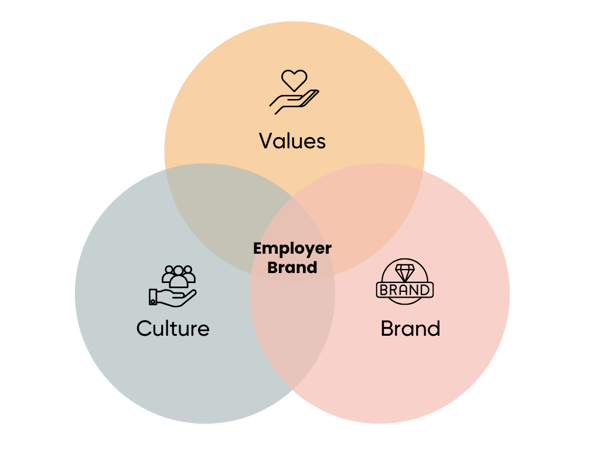 Developing an employer branding strategy may involve a mix of actions like generating content that highlights your company's culture, mission, and values, offering employee support and benefits, and enhancing your recruitment procedures.
The benefits of an employer branding strategy
Steps to Creating a powerful employer branding strategy
Employer branding is the secret weapon for enhancing candidate interaction, promoting employee support, and minimizing staff attrition.
Here are a few steps to help you create an employer branding strategy that vividly embodies your company's values, ensuring you remain a strong choice in the market and an attractive place for your existing team.
Step 1: Audit and Analysis
Before you can improve your employer brand, you first need to understand where you currently stand. This involves taking a comprehensive look at your existing employer brand from various angles.
Your employees are your most valuable source of information. They can provide insights into what it's like to work at your company, what they value about their jobs, and where they see room for improvement. Conduct anonymous surveys to gather honest feedback. Ask questions about their job satisfaction, their perception of the company culture, and what they think about the company's reputation.
Online reviews on platforms like Glassdoor and Indeed can give you a sense of how former and current employees view your company. While these reviews should be taken with a grain of salt, they can still provide valuable insights. Look for common themes and recurring complaints or praises.
Social media platforms are another great place to assess your employer brand. Look at what people are saying about your company on LinkedIn, Twitter, Facebook, and other platforms. Pay attention to the tone of the conversation, the topics that come up frequently, and how your company is perceived by the online community.
Review Recruitment and Onboarding Processes - Candidate Experience
Your recruitment and onboarding processes can say a lot about your employer brand. Are they smooth and efficient, or are they disorganized and frustrating? A positive candidate experience can significantly enhance your employer brand, while a negative experience can harm it. Review these processes and look for areas where you can improve.
Tip: You can improve your candidate experience by optimizing your careers site, using custom forms that include AI CV Parsing to reduce the time to apply, and keeping the candidate informed at each stage.
Step 2: Develop Your Employee Value Proposition (EVP)
Your Employee Value Proposition (EVP) is the unique set of benefits and opportunities your company offers to its employees. It's what sets you apart from other employers. To develop your EVP, consider what makes your company a great place to work. This could include your company culture, career development opportunities, benefits, work-life balance, and more. Once you've identified these elements, communicate them clearly and consistently in your employer branding materials.
Step 3: Define Your Goals and KPIs
What do you want to achieve with your employer branding strategy? Maybe you want to attract more qualified candidates, reduce turnover, or improve your company's reputation. Whatever your goals, make sure they are specific, measurable, achievable, relevant, and time-bound (SMART). Then, identify key performance indicators (KPIs) that will help you measure your progress toward these goals.
Step 4: Identify Target Audience and Candidates
Who are you trying to attract with your employer brand? Are you looking for fresh graduates, experienced professionals, or a specific skill set? Understanding your target audience will help you tailor your employer branding strategy to their needs and interests. This could involve researching your audience's career aspirations, values, and preferred communication channels.
Step 5: Determine Your Channels and Stakeholders
Where will you promote your employer brand? This could include your company website, social media platforms, job boards, and more. Consider where your target audience spends their time online and focus your efforts there. Additionally, identify the key stakeholders in your employer branding strategy. This could include your HR team, marketing team, and senior leadership.
Step 6: Involve Your C-suite
Your senior leadership team plays a crucial role in your employer branding strategy. They set the tone for your company culture and can be powerful advocates for your employer brand. Involve them in the development of your strategy and encourage them to promote your employer brand through their own networks.
Step 7: Create a Rollout Plan
Once you've developed your employer branding strategy, it's time to put it into action. Create a detailed rollout plan that outlines what actions you will take when you will take them, and who will be responsible. This could include launching a new careers page, posting regular content on social media, and training your employees to become brand ambassadors.
Step 8: Track Results
Finally, don't forget to track your results. Use your employer branding KPIs to measure your progress and adjust your strategy as needed. This could involve tracking metrics like the number of applications you receive, your employee turnover rate, and your company's rating on employer review sites. Remember, employer branding is a long-term strategy, so be patient and persistent.
Here's an example of an employer brand strategy.
Conclusion
In conclusion, the importance of a well-crafted employer branding strategy cannot be overstated. It serves as a powerful tool for attracting top talent, reducing hiring costs, boosting employee satisfaction, and creating strong advocates for your company. It's about more than just having a "cool office" - it's about creating a work environment that resonates with your employees' values and aspirations and effectively communicating this to both current and prospective employees.
SmartDreamers can be instrumental in implementing and executing your employer's branding strategy. With its suite of tools and services, SmartDreamers can help you audit your current employer brand, develop a compelling Employee Value Proposition (EVP), define your goals and KPIs, identify your target audience, determine the most effective channels for promoting your brand, and create a detailed rollout plan.
Moreover, SmartDreamers can assist in optimizing your recruitment and onboarding processes, ensuring a positive candidate experience that further enhances your employer brand. By leveraging the power of SmartDreamers, you can transform your employer branding strategy from a concept into a reality, making your company a top choice for the best talent in the market.
Remember, investing in your employer brand is an investment in your bottom line. With SmartDreamers, you can make this investment count.