As competition for top talent heats up, more and more employers are looking to become the employer of choice for passive candidates.
Today, the talent acquisition process looks much different than it did two years ago. Post-pandemic reality has changed a lot of talent acquisition tactics.
First, people looking for a job focus more on flexibility and stability. They seek employers who understand their needs, allow them to work in a hybrid system or remotely, and, most of all, a company that cares for their financial and health-related safety.
On the other hand, organizations had to adapt to the new hiring conditions. The whole recruiting and hiring process has moved online; finding local talents has become more complex, and, in many cases, the hiring budgets have been cut.
With all the post-pandemic digitalization processes, companies are more likely to find talents faster and easier if they have a marketing-driven TA strategy.
According to Finances Online, companies' recruiting priorities for 2023 are the following:
68% Sourcing candidates directly;

42% Investing in tools to speed up the hiring process;

40% Establishing a strong employee drive.




If sourcing candidates is the top priority for companies, understanding the difference between active and passive candidates is the first step in creating a strategy for becoming an employer of choice. In this article, we'll tackle the meaning of this and how you can become an employer of choice for passive candidates.
Passive candidates vs active candidates: who should you target?
In the recruitment space, we're constantly hearing about active versus passive candidates and to complicate things further; passive candidates aren't always totally passive.
Active candidates are the ones who are actively looking for a job and could be unemployed but not necessarily.
These are the candidates that will find you and apply for a job. They may read your job advertisement and decide it's something they want to pursue. If they are the right fit for your position, you have a better chance of hiring the candidate.
Passive candidates are people who are already employed and don't look for a new opportunity. They represent the biggest part of the workforce, and though they might not be looking for a job, they are likely to be willing to discuss new opportunities.
As simple as it may seem while recruiting new talents in your company, you must be careful how you address these two categories and which one is better to go for.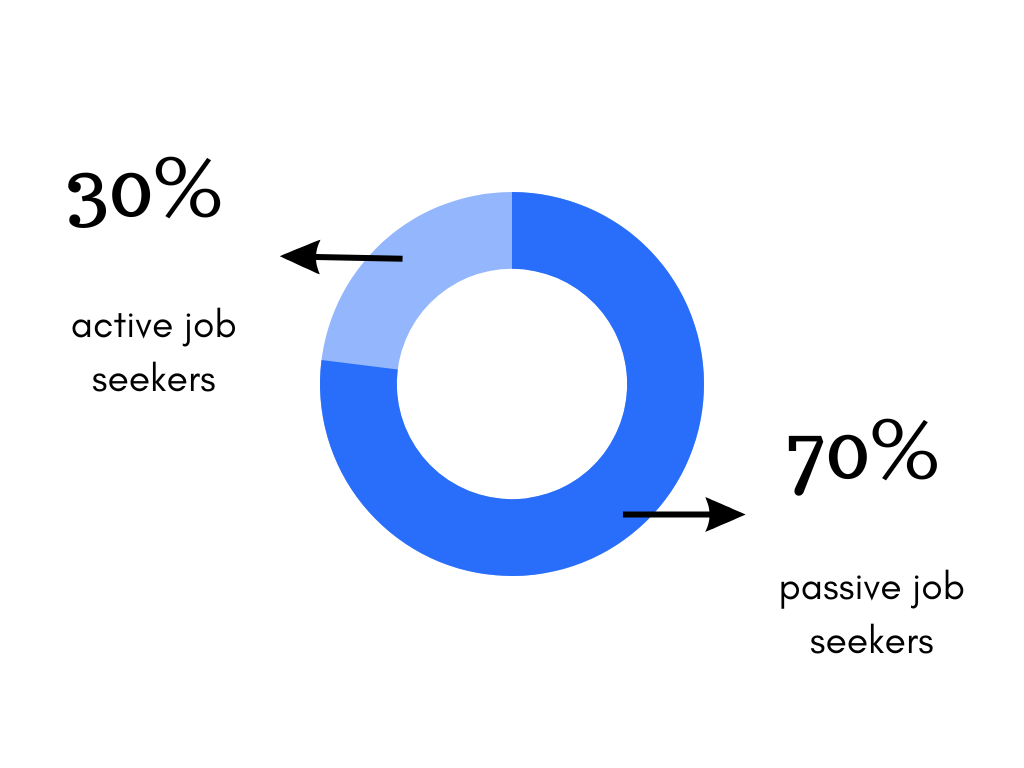 Recruiting active and passive candidates takes different strategies as well. You spread your message far and wide when you're looking for active job seekers. You'll receive applications, and then it's up to you to sift through the resumes to find the ones that fit your needs. With passive candidates, it's the reverse. You define your needs and then go find matches
While everybody may think active candidates are easier to reach, reality shows that passive candidates are a better target in your recruitment campaigns.
But really, why are passive candidates better?
Well, here's a statistic that will guide you in your TA process: 70% of the global workforce comprises passive candidates who aren't actively searching for a job, and the remaining 30% are active job seekers.
And now, if you're wondering how you can put your hands on this honey jar and attract passive candidates in your recruitment process, there are some simple and effective passive recruiting strategies and tips you can use.
Actionable passive candidates recruitment strategies
First, since these people are not actively looking for you (or any other job), you have to create an attractive and worth-reading job proposal. After creating a simple and catchy description, ensure you're using the right channel to reach your target candidates.
But now, let's dig deeper into some passive candidates' recruitment strategies.
1. Employer branding
As a company, having clear employer branding and consistent messaging about what it's like to work for your organization is important. This can be reflected in job postings, your website, and social media channels. But just as important is ensuring that current employees also believe in and support this employer brand.
When they talk about their job with friends and colleagues or through employee referral programs, they effectively act as recruiters for your company. And with 75% of professionals saying they won't take a job at a company with a negative reputation, even if they are currently unemployed, you can't afford to have a bad reputation for potential new hires.
Take the time to create an employment brand that both attracts top talent and makes current employees proud to work for your company.
2. Social Media Presence
Social media is essential for employer branding and recruiting passive candidates. It's a great platform to showcase your employer's value proposition, promote your company culture, and demonstrate the types of projects and activities that employees work on.
You can also use social media as a place to attract talent. With over 87% of job seekers using social media in their job search, it's an effective way to get noticed by passive candidates who aren't actively looking but might be interested if they learn more about what you offer. Posting regularly on LinkedIn, Facebook, Twitter, Instagram, and other relevant sites shows potential hires that you are active in the space and open to new opportunities.
Also, apart from posting regularly on these platforms, running ads on social remains one of the strongest recruitment marketing assets. With SmartDreamers - social media recruitment- our clients are running successful employer branding campaigns on social media, increasing their talent pipeline.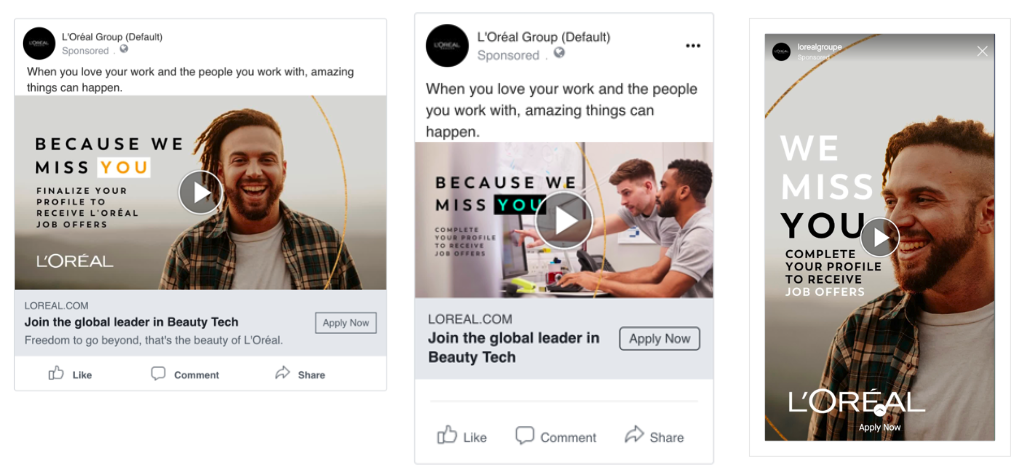 3. Positive Candidate Experience
Providing a positive candidate experience is essential. From the "Hi" moment up to the last interaction, whether is "Congratulations, you're hired!" or "Thank you for applying, but we decided we are not taking this further!", the candidate must experience the journey and the brand in a positive way. Not just the social media post needs to be aligned with your brand but touchpoints, as in the career site, the job's landing page, and the application procedure.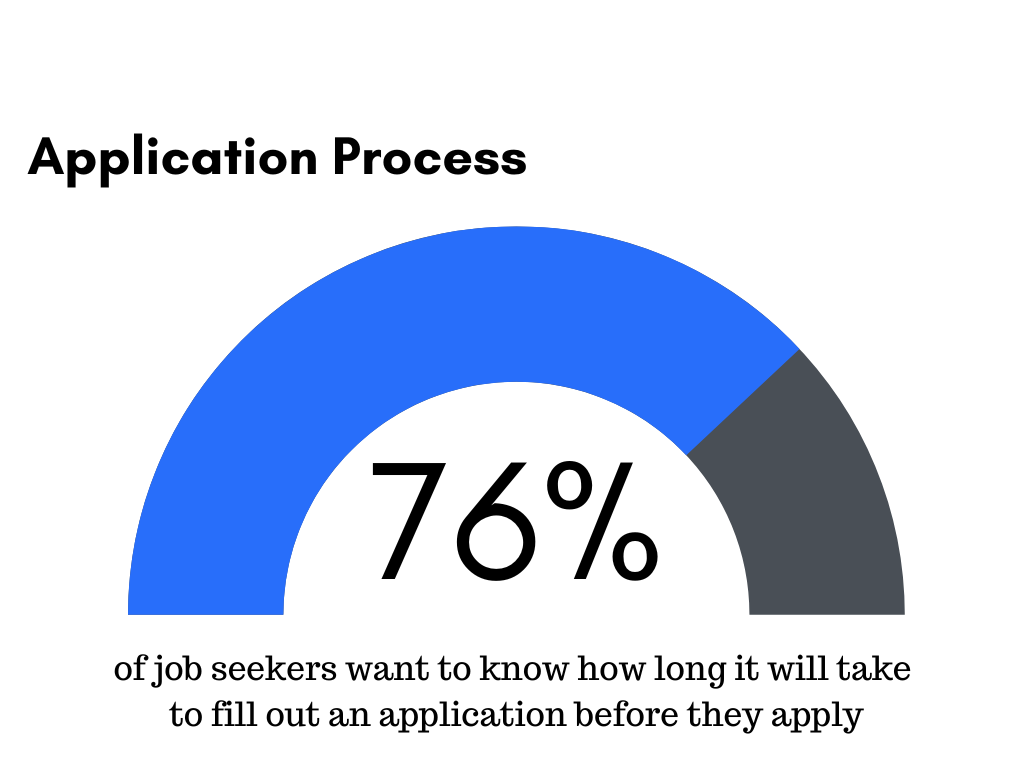 Have you ever tried to apply for a job and you gave up once you saw the application form? That's what we are talking about. Or perhaps you landed on a brand's career site that looks like it's a completely different brand?
Also, your job applicants talk—37% of job candidates say they've left a negative online review after having a negative experience, and 1 in 3 job candidates have turned down a job offer because of a company's bad reviews, regardless if they're true!
If you want to read more about the importance of positive candidate experience we recommend you to read this article about candidate experience and the future of hiring.
4. Become an employer of choice
Even if they are not looking to change jobs, passive candidates sometimes look for new opportunities. That's why you must stand out from your competition.
Many companies make the mistake of thinking that simply offering a competitive salary and good benefits is enough to attract the best candidates. However, many factors go into making an employer attractive to potential employees.
So, if you're looking to attract top talents, you need to become an employer of choice.
What is an employer of choice?
With thousands of companies looking for top talents in the industry, making them want to work for you, not for them, is a big challenge. And being an employer of choice is a must in 2023.
Employer of choice definition
An 'employer of choice' means attracting and retaining the best talents in your industry with healthy company culture, efficient leadership, and excellent employee experience. You know you're an employer of choice when some of your employees receive a better-paid job opportunity and still choose to stay.
Being an employer of choice is a lucky position, but it's not easy to attain and definitely not easy to maintain. It requires a strategic approach and a solid understanding of your potential employees' values.
What makes you an employer of choice?
So far, you know it's essential to become an employer of choice to attract the best talents to your team.
Here are the most important employer-of-choice characteristics you need and what employees value most:
You have a high employee retention rate;
You offer your employees the opportunity to grow;
You create a dynamic work environment;
You have efficient leaders in your company's departments;
You promote fairness, transparency, and appreciation;
You understand the importance of the hybrid/ remote system;
You empower and reward your team;
You come with something unique (interesting team buildings, for example);
You have a good company reputation;
You can make things seem fun when employees are feeling overwhelmed.


So, what makes passive candidates your target? The fact that people are looking to work for a company that values them, cares for them, and pays them fairly makes passive candidates an employer of choice target market.
How to become an employer of choice?
You can apply some simple tips and tricks to become an employer of choice. Let's dig deeper into them.
1. Identify your EVP
By EVP (Employee Value Proposition), we understand how a company can offer value to its employees - or potential employees - without referring to money.
Have you been wondering what your EVP is so far? If not, you should immediately identify your EVP and bring it to life.
Start by knowing what kind of talent your company wants to attract. In this phase, write down what skills and experience you want your future employees to have.
From there, try to define your ideal employee. You can create a more detailed description of your employee persona for a specific job position. Here, besides their work background and skills, you can include their life motivations, vision, goals, demographics, frustrations, and hobbies.
At this point, you will know exactly who you are looking for in the market. The next step is to create a strategy to make those passive candidates knock on your door. And here's where your targeted messaging comes in.
You must address your message to specific employee personas to put your hands on the best talents. This is where your employer's value meets your employer's brand. You have to create your message thinking about what you have to offer and who you want to attract.
Remember: the more specific you'll be in your messaging, the better candidates will come. If your message is specially created for segments of people, they will be more likely to apply for that job. Going broad will not take you anywhere in this case.
2. Shout it from the rooftop
You can have the best offer on the market, the best work environment, and the most attractive messaging for your candidates; if no one sees it, it doesn't exist.
Now it's time to spread the word. Passive candidates will not come to you, so make sure to invest your talent acquisition campaign budget wisely, and you'll have the best results.
First, you can create an on-site career page to organically generate applications.
Then, you'll have to focus on passive candidates with some well-implemented social media ads. Research where your ideal candidates spend most of their time and run ads on those platforms.
If you're using an advertising intelligence engine, you're just one click away from achieving your ideal candidates. You can check the best channels to advertise on, track your results, and even collaborate with your TA team.
3. Provide the best candidate experience
Making passive candidates apply for your job is already a huge accomplishment. That means you're using the best tools out there, being an employer of choice, and having an efficient recruitment strategy. If you get to this point, ensure your potential employees receive the best candidate experience.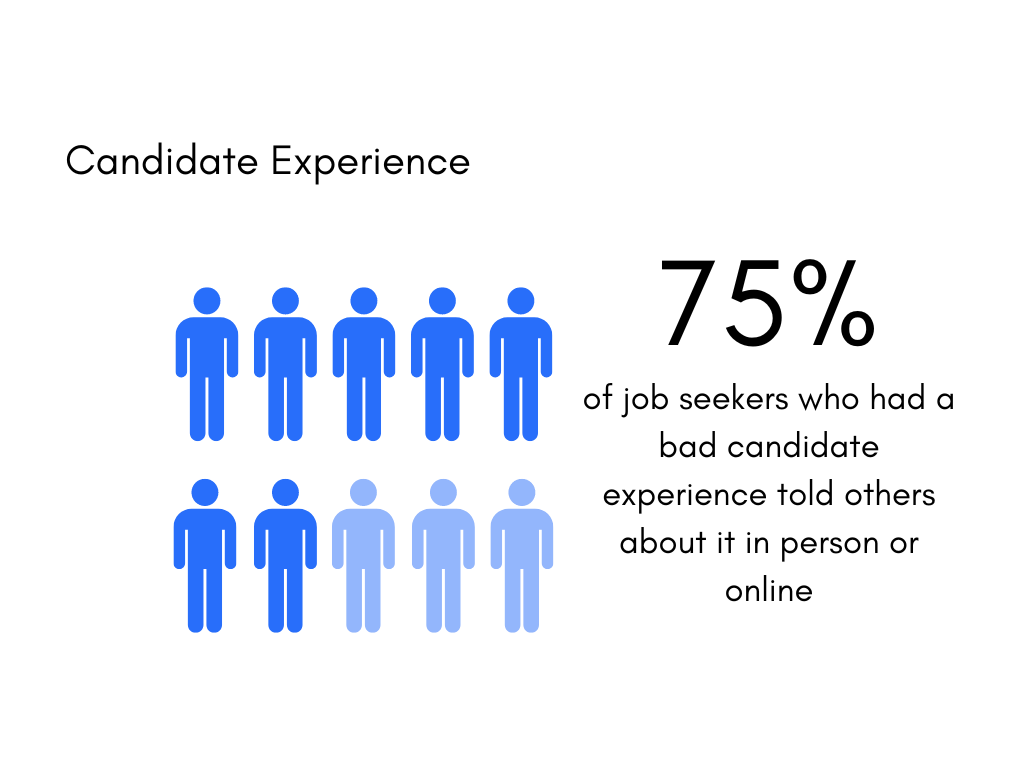 But how?
When putting together your recruitment strategy, you should also take your application and interview process into consideration. Many candidates won't have a resume, and those who do won't want to submit it through a tedious application process. Take yourself through your application process to see what works and what doesn't for all types of candidates. Try offering an alternative application process for semi-active and passive candidates, such as applying with an online profile.
You may also want to look at your interview process to ensure it's efficient for both parties. Employed candidates may have a hard time doing interviews in the middle of the day, so try to schedule them during off-hours and/or through phone or video conferencing.
Also, make sure you communicate throughout the application and interview process to ensure candidates know the next steps and where they stand in the process.
Nearly 4 in 5 candidates (78%) affirm that the interview experience they receive indicates how people are valued in a company. With this in mind, the first and most important thing to do while attending an interview with a candidate is to make him/her feel valued. A great way of doing so is by providing and asking for feedback, asking what the most important thing for them is, and so on. Also, you can make a good first impression by asking the candidate if he/she prefers to attend the interview online or in person.
Another thing you can do to offer the best candidate experience is to involve other employees in the interview. This could make them feel more comfortable and more open to communicating. Also, your candidate will have a clearer view of what the team members are like.
A good practice to provide the best candidate experience is communicating well during the hiring process.
Just think about this scenario: someone applies for a job, has the first interview, and doesn't hear from you anymore. What will be in their mind? That they are not good enough for that position, or they didn't apply to a serious company, or maybe you forgot about them?
Not communicating the hiring status can be very frustrating, so make sure you offer the best candidate experience and immediately update them when you have some news.
Time is money, both for you and for them. So avoid wasting it.
4. Increase community engagement
Community engagement refers to organizing occasional fundraisings, offering donations in the company's name, encouraging employees to volunteer, and so on.
If you're wondering why it is important if you want to become an employer of choice, it's because charity and volunteering will create a better company reputation.
By engaging with your community, you'll have higher chances of attracting passive candidates, as it's an excellent networking possibility. You might meet talents at certain events and start a discussion, or they might hear about your generous acts and empathize with you.
5. Go directly to where your potential employees are
Did you know that the average cost of one bad hire is nearly $15,000 per year? Yeah, you heard it right.
But with a minimum effort of being present where your employee personas spend their time, you can forget about loss. You don't want bad hires; that's why you must be present where the good ones are and engage with them.
Almost all professionals spend their time scrolling, posting, or even looking for opportunities, so you have to go where they are. Depending on the industry, people are present on different platforms.
For IT companies, the best way to get in touch with potential employees is on Reddit, Quora, Twitter, and LinkedIn. Those are social network platforms where people share work-related posts and engage with their industry partners.
For the retail and fashion industries, things are a little bit different. You might want to spend time and money on TikTok, Facebook, and Instagram to catch the attention of your passive candidates.
Also, workshops and conferences in your industry are other places where you should be present. Whether you're a speaker or just a participant, the networking room will be full of talent opportunities for your company. And if you won't be there, someone else will.
Anyway, in whatever industry you work in, you should have a content strategy and always come up with fresh and unique content. Not only will you grow engagement and build a good company reputation, but you'll also be able to reach some passive candidates.
Conclusion
Becoming an employer of choice is not a one-time activity or something you can achieve right away. You need to engage with your current and potential employees, build and nurture relationships, set clear expectations, and offer the best candidate experience – all these things require time and effort. But with some strategy, it isn't that difficult.
SmartDreamers is a platform specially created to assist you in your recruitment path. It offers everything from CMS and CRM capabilities to social media advertising integrations. Optimize your process and make talent acquisition a breeze. Request a demo of our platform here.