Recruitment ads are an essential component of any complete recruitment marketing strategy. "We are hiring" ads on social media, particularly LinkedIn, are an excellent way to attract new candidates without extensive outreach. And not just that, but it's an incredibly powerful tool for building brand recognition and creating employer branding awareness.
We know that writing a great job ad that stands out isn't easy, nor is deciding on the visual. Despite having a detailed and well-written job description, creating an engaging job advertisement can be a daunting task. As a recruitment marketer, you understand the importance of thinking like a marketer, but when it comes to actually writing the ad, you may hit a creative wall. It can be frustrating when nothing cool or captivating comes to mind.
➡️ Download our free eBook: 

Facebook ads for Recruitment
Creating a successful job advertisement was never an easy task, and it requires creativity, engagement, and a good sense of humor to capture the attention of potential candidates. The next step is using the right recruitment marketing tools to ensure that your job ad reaches the right audience in the highest number possible.
In this blog post, we'll be looking at a selection of the 11 best recruitment ads that we thought it's worth your attention. We'll explore what makes a great recruitment ad, examine some of the most creative, engaging, funny, and unique ads, and provide examples of creative recruitment campaigns. We'll also outline the best practices for creating your recruitment ads.
What Makes a Great Recruitment Ad?
When it comes to recruitment, talent attraction teams want to find the right person for the job. But how do you know if your ad will grab the attention, and what makes a great recruitment ad?
Relevant platforms

: Choose the social media platforms that your target audience is most active on to reach them where they are. You must know your audience well enough to know where to meet them online. No point in trying to use TikTok for your recruitment ads if your candidates are not a TikTok audience; even though it is popular nowadays, it will spend your money with no results.



➡️

If you plan on using TikTok for your recruitment ads campaign, this article on

Why you should use TikTok for recruitment marketing

should come in handy.






Eye-catching visuals: I cannot stress enough how important visuals are, especially for social media platforms. Use images and graphics that are visually appealing and attention-grabbing to capture the attention of potential candidates scrolling through their social media feeds. Stay within your brand's guidelines but be daring with it. Use the visual to remain in your audience's mind.


Short and snappy copy: Keep the text short and snappy to ensure your ad can be read quickly and easily, especially on mobile devices.


It should be engaging: The ad should be interesting and engaging enough to make people want to learn more.


Extra point if they are funny: A good sense of humor can go a long way in recruitment. Funny ads can make your company stand out from the competition.
It should be unique: Unique ads are memorable and help you stand out from the crowd.


It should be targeted: A targeted ad will help you find suitable candidates for the job. If you are targeting "software developers," the ad should be specific for them and not generally applicable. Help your candidates resonate with your ad.



The 11 Best Recruitment Ads You've Ever Seen
Social media provides an opportunity for creativity beyond the limitations of traditional job advertising. You can enhance your job posts with eye-catching visuals, engaging videos, and clever animations while using hashtags to reach your target audience.
Check out these examples of some of the most creative "we're hiring" posts we've seen.
To help inspire your future recruitment campaigns, we've grouped these examples into larger ideas that you can implement in your own ads.
Playful Ads
Your recruitment ads can reflect the character of your business or the position you're hiring for. Adding a playful tone can help you differentiate yourself from most companies that confuse professionalism with dullness. So, don't be afraid to show your fun side and make your ad stand out.
1. Great Grafic Deigner by Horizon
Horizon came up with a brilliant strategy to weed out the best from the rest. They put out a challenging ad that tested applicants' skills and attention to detail. This approach not only engages potential recruits but also sifts out those who lack the necessary skills, thus saving you the trouble of reading through irrelevant job applications. So, if you want to find the cream of the crop, think outside the box and put your applicants to the test!
Can you find them all?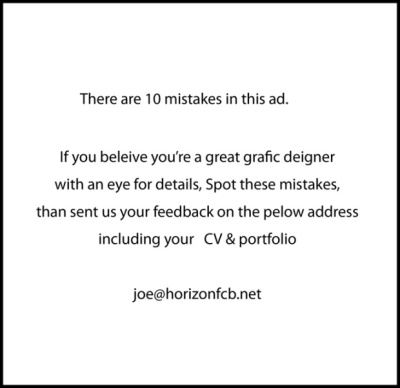 2. Waste Creative - Virtual Office

Waste Creative expanded its pool of potential candidates by inviting them to tour its virtual office in the game Animal Crossing.
The lovingly recreated office includes little details such as the clocks and artwork which hang on the walls at Waste, as well as the agency's big boardroom table, and staff desks covered in paper, scribbles, and storyboards. Visitors can even take a trip to Waste's local pub, the Hat and Tun.
As a way to reach fresh talent outside of the usual recruitment channels, Tonic International created a virtual message board within their Animal Crossing-inspired virtual office. The message board features a creative brief open to anyone over 18, with the most interesting response earning a three-month paid internship in Tonic's creative department.
Waste chose to develop the replica office and creative brief as a way to reach fresh talent outside of the usual recruitment channels.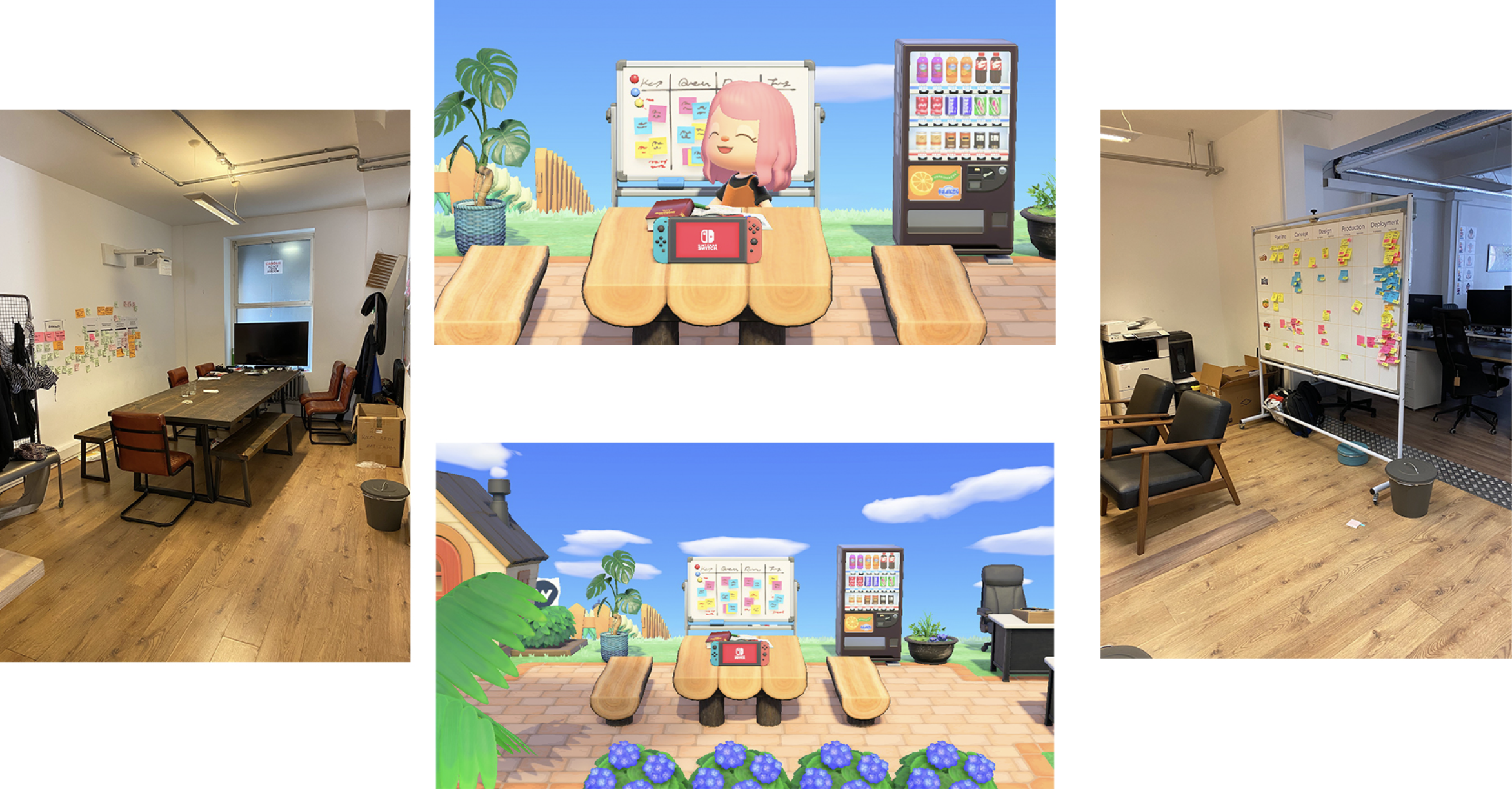 3. Hungry Designers Wanted – Tonic International
At first glance, you'd be forgiven for assuming it's another clever Apple ad, but it's Tonic International inviting designers (who use Apple products as standard) to think about how hungry for success they really are. A smart way to simultaneously appeal to a designer's creativity whilst leveraging from their favorite brand.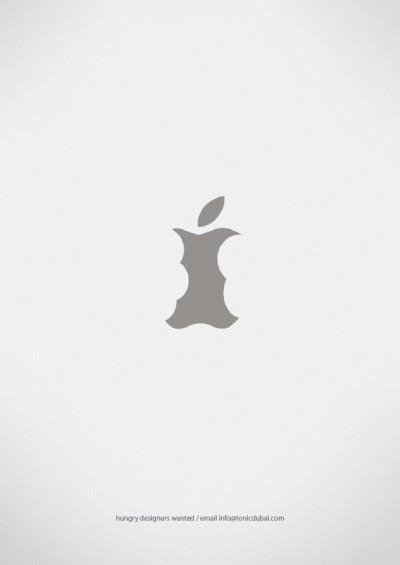 4. Marketing manager - Burger King
Don't say the "M" campaign, say the "McMuffin of Happiness" campaign! As Burger King's Marketing Manager, you will be responsible for launching and managing new marketing campaigns to drive customer engagement and loyalty. You will strive to build brand awareness and increase sales in existing markets while also exploring new market growth opportunities. You will work with cross-functional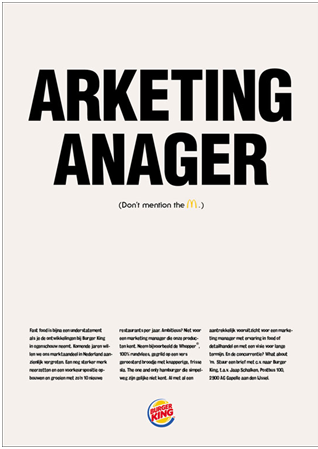 Boast about your benefits
Talented individuals seek out companies that offer great benefits, and showcasing them in your job posting can help you stand out from your competitors. Whether it's fun employee incentives or a unique rewards system, highlighting these perks can attract the best talent to your organization.
5. Salesforce
Salesforce's impressive track record of winning awards, including being voted as "one of the World's Best Workplaces" for six consecutive years, makes them an attractive choice for job seekers. Who wouldn't want to work for a company with such a strong reputation for excellence?
6. Hotel Associate - Marriott
Short and simple, yet highly effective Instagram job ad by Marriott. This job ad starts by calling out its perfect candidate - warm, outgoing, authentic, passionate, and inspiring.
Then it casually mentions the job opportunity and focuses on the unique perks and benefits this company offers.
Connect through culture and values
People want to work for organizations they feel an affinity with. The best way to draw in these candidates is to share your core values. Don't stop at sharing what you stand for—show candidates throughout the hiring process that you also live those values and have fostered a great company culture.
Quotes or videos from employees testifying to the company culture can be a great way of connecting with candidates of a like mind.
7. Sprout Social
They entice potential job applicants by highlighting their excellent work-life balance. Their YouTube video showcases real employee testimonials about how Sprout's flexibility and understanding create a unique work environment. By doing this, they allow potential employees to feel the culture and picture themselves fitting right in. This is definitely not your average company pitch!
8. CVS Health
CVS Health's recruitment ad on Facebook highlights the company's supportive culture by featuring an employee's heartwarming story of returning from maternity leave. This demonstrates their commitment to creating an inclusive and supportive work environment for all employees.
Set the scene
Candidates need to be able to envision themselves working for the organization before they apply. They want to know what the employee experience is like and how they can make a contribution to the company's purpose through their role.
9. Keen Project Solutions
Keen Project Solutions catches the eye of potential candidates with a striking branded image and an attention-grabbing statement that challenges them to consider finding a new room if they're the smartest person in their current one. "Smartest person in the room? Might be time to find a new room." Then it sets the scene with "If you are ready to think differently, it's time to think Keen" and "Are you looking for a company that will challenge you to be your best?"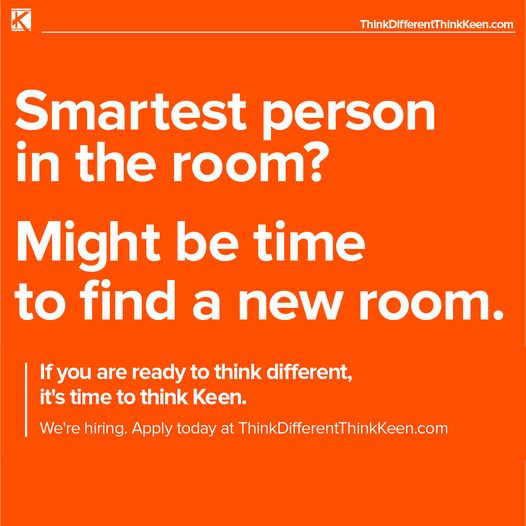 10. Campbell Soup Company
Campbell Soup Company's recruitment ad invites potential candidates to "Grow their roots" with the company, accompanied by a visual of a young plant cradled in hands. The ad highlights the company's purpose-driven approach, emphasizing its pride in connecting people through the food they love. The ad concludes with an invitation to "grow your future with us," appealing to candidates seeking growth opportunities in a purposeful and fulfilling work environment.
11. Accenture
Accenture beckons you to become a "change-maker" and invites you to join them in imagining, transforming, and impacting the world. Their recruitment ad emphasizes the importance of being a "Change Maker" and encourages candidates to join their team.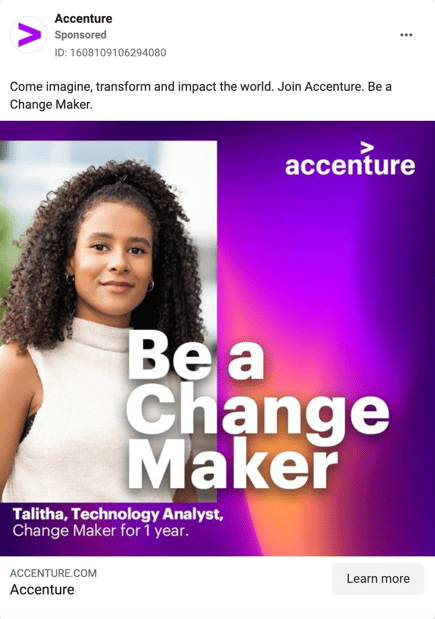 Conclusion
Using creative recruiting ads is an effective strategy for capturing the attention of potential job applicants and drawing them into your company. By highlighting your core values, culture, purpose, and unique perks, you can create a recruitment ad that resonates with candidates and helps you find the perfect fit. Boosting engagement through visual content, storytelling, employee testimonials, and interactive elements will help ensure that your ad stands out from the competition. With a creative approach to recruitment advertising, you'll be able to attract top talent and build a strong team.
SmartDreamers, a recruitment marketing platform solution, is an excellent tool that businesses can use to create successful recruitment ads that reach the right audience. With SmartDreamers, businesses can create targeted recruitment campaigns across multiple platforms, streamline their recruitment processes, and measure the impact of their recruitment marketing efforts to improve their recruitment strategies.