You must be out of touch these days if you have yet to hear about TikTok or know what Tiktok is. And if you think that TikTok is all about young people dancing to popular songs, you're way beyond the trends. What started as social media for sharing fun short video content is now a multi-million platform that is changing the face of recruitment marketing.
Love it or hate it, TikTok is emerging as a new effective recruiting channel, and one thing is sure: in 2023, it will be one of the best ways to hire - and get hired. Because 40% of Gen Z prefer to use TikTok as their go-to search engine, TikTok recently changed its search algorithm and allowed users to search as they do on Google using a phrase, also called long-tail keywords, for the SEO savvy.
So, if you've been looking for a way to boost your recruitment game, TikTok might be just what the doctor ordered! Here at SmartDreamers, we help our clients run incredibly successful Tiktok campaigns as part of their recruitment marketing strategy. We understand the urge to become relevant for the young talents and meet your feature employees where they are.
Keep reading to find out why you should use TikTok for talent attraction.
What is TikTok?
TikTok is a social media app that you can download from the App Store for iOS and Android. Users can make short videos that vary in length from 15 seconds to 60 seconds using the app. TikTok has a built-in video editor, so you may add music, effects, filters, stickers, and masks to your film to make it personal and innovative. TikTok has 800 million users worldwide and is extremely popular in Asia – with 400 million active daily users just in China.
The app was released in 2016, but it skyrocketed in popularity over the past few years, becoming the most downloaded app in 2019. With its innovative features, such as the "duet" option, which allows users to participate in videos by recording themselves alongside original content, TikTok has become a hub for creative expression and a launching ground for internet celebrities. In addition, the platform offers personalized recommendations based on users' interests, making it easy for individuals to discover new content and connect with like-minded creators.
Gone were the days when TikTok was used only for entertainment purposes. If you wonder how to use TikTok for recruitment, know that companies are using the platform to boost their employer branding, while professionals are using it to share helpful how-to's for the budding generation entering the workforce soon. Promising young talents using TikTok to get some tips for their career growth and even to look for job opportunities make the platform the right platform for educating young talents for the positions the companies are looking to fill.
Why use TikTok for recruitment marketing?
We know that using TikTok for recruitment marketing can be a daring move. Social media recruiting is on the rise, but TikTok is still behind other platforms regarding recruiters' first choice. However, you should use TikTok for recruitment marketing if you want to:
Humanize your brand

Reach a wider audience

Showcase your company culture

Increase brand awareness

Attracting young talent



Humanize your employer's brand
As with any social media platform, the key to success on TikTok is humanizing your employer brand and connecting with users on a personal level. Humanizing your brand means putting a face to a name while connecting over values and vision others can believe in and easily understand. People respond to people – it's that simple.
An excellent way to ensure that your employer brand has an accurate voice is to assign it a particular personality and style for delivery and interaction. When everyone involved with your brand is on the same page, your message will be portrayed accurately, regardless of who's doing the talking.
TikTok is great for creating relatable video content that helps you stand out in the market, and it's excellent for employer branding too. Creating fun cultural TikToks will show potential candidates that your business is a great place to work.
This TikTok from Lulemon shows you don't need to undermine professionalism to be funny when advertising your brand.
Reach a wider audience
In addition to connecting with potential candidates on a personal level, another key benefit of using TikTok for recruitment marketing is its ability to reach a wider audience. According to TikTok, their U.S. audience is made up of 100 million monthly users:
TikTok is available in 150 countries, with most users in the U.S., Indonesia, and Brazil. In Europe, the app was installed 102 million times last year

57% of TikTok users are female, and 43% are male

421.1 million users aged 18 to 24

306.7 million users aged 25 to 34

135.8 million users aged 35 to 44

75.3 million users aged 45 to 54

83.6 million users aged 55 and above

The average user opens the app 8 times a day
The statistics say that a little over 5 million users are over the age of 50, but that doesn't include the users watching on accounts registered to other people, such as parents watching their kids' accounts. In January 2021, TikTok brought in 22.2 million unique mobile visitors over the age of 18.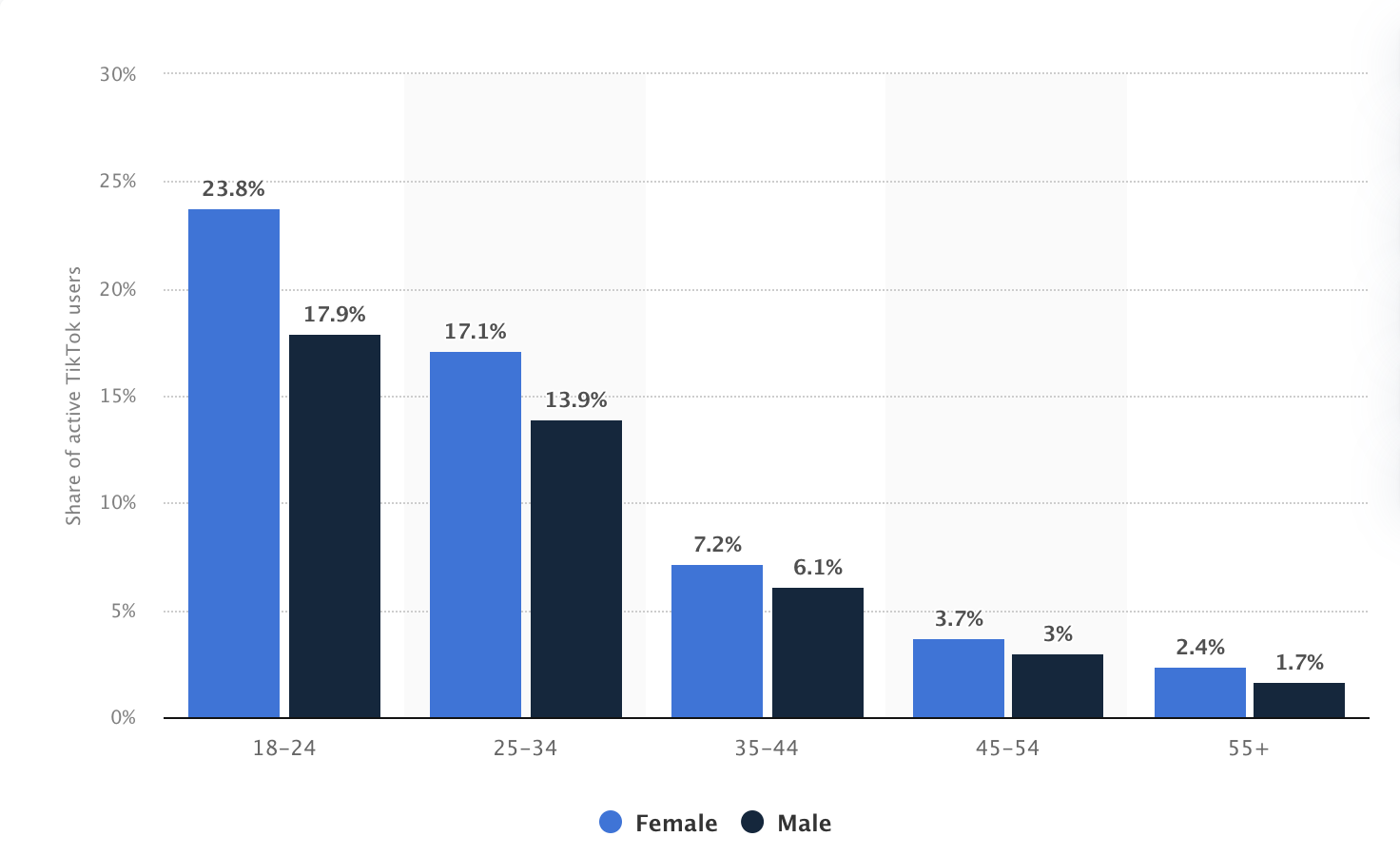 source https://www.statista.com/statistics/1299771/tiktok-global-user-age-distribution
Among TikTok's 100 million U.S. users, 62% are under age 29 and nearly 80% are under age 39, according to business data site Statista, which means that it is clear that both your employees and future employees are part of that user base. That means the social media platform is an excellent way to reach millennials (born between 1980 and 1995) and Generation Zers (born between 1996 and 2010). To give you a clearer idea, this is the generation of people born from 1997 to 2015, which means they have either just started working or will eventually start looking for jobs in the coming years.
Gen Z is known as our first "digital natives,"—meaning that they grew up with technology -- they live and breathe it. And with 74 million people making up this generation only in the U.S. next year, Gen Z-ers will be the trendsetters of the country as they will form the largest generation of all, and remember, they make up 70% of the TikTok user base.
That being said, if you are looking for ways to attract young talent, TikTok hiring should be on your list of considerations. After all, what better strategy than to be where your target audience is, right?
For example, Chipotle saw a 7% increase in the number of applicants last August after posting their recruitment video. They used TikTok in their recruitment strategy to hire 10,000 new employees. And it does help that their content was hilarious and entertaining enough to rope in more viewers and, ultimately, allow the video to reach a wider audience. Check out their TikTok video below.
Showcase your company culture
While every organization is unique, one thing that sets successful companies apart from their competitors is a strong company culture. By showcasing your company culture on TikTok, you can build meaningful connections with potential candidates and show them what it's like to work for your organization. This can include anything from employee testimonials and behind-the-scenes glimpses into your office environment to videos highlighting company events or initiatives that showcase what makes your company stand out. With the right approach, you can use TikTok to connect with potential candidates on a deeper level and help them discover why they might want to join your team.
Talent wants to know what your company is about, how it operates, and what's happening behind the scenes. This leads to applicants becoming interested in your company. As a consequence, if a potential candidate becomes interested in what the company does and what it needs help with, they'll are more likely to want to be a part of making that happen.
Showcasing your company culture can have different approaches. For example, the Uresereved nailed it making their videos funny and humorous.
And Middleton Meyers is a winner. Browsing through their videos, you get a good glimpse of what it is like to work there. This video below will soon reach 1M, making you want to work there with a welcome pack like that.
Last but not least, you can always learn from TikTok itself. Tiktok has its own @LifeAtTikTok account! The channel's content shares what a typical day looks like, interview tips, and advice on how to succeed at the company.
Increase brand awareness
You should consider using TikTok as a part of your employer branding strategy for several reasons. Of course, it depends on which categories of employees you are looking for.
As one of the most popular social media platforms, TikTok offers a unique opportunity to increase brand awareness and build your online presence. Brands with a strong presence on TikTok are reaping the rewards.
Video is an excellent format for storytelling. It's proven to be more engaging (and garners more actual online engagement) than words or images alone, and it also allows you to share a snapshot of your company in a way that's hard to match with photos, captions, or blog posts. By creating entertaining content that showcases company culture and values, employers can pique the interest of potential applicants and show off their unique brand identity.
In a competitive job market, standing out on TikTok can help increase employer branding and attract qualified candidates. With features like hashtags, challenges, and reactions, you can engage with users on an individual level and create compelling content that captures their attention and keeps them coming back for more.
One of the best ways to get people interested in your brand is by creating a challenge that others will also want. You can use this strategy on TikTok, where it's become trendy among users looking for new content or challenges they think their followers might enjoy!
You can go as creative and wild as you want. For example, Faze Clan turned its recruiting process into a game on TikTok. To join their team, users had to participate in an interactive challenge and convince them why they wanted to join Faze Clan and how they would use 1 million dollars paid in crypto – all within just 30 seconds!
Conclusion
Whether you're looking to attract top talent or increase brand awareness, TikTok is a great platform for recruiting and employer branding. With its user-friendly interface, engaging video content, and ability to connect with users on an individual level, it offers unique opportunities for companies of all sizes. If you want to stand out in this competitive job market, consider using TikTok as part of your recruiting strategy.
Since a lot of TA teams aren't leveraging TikTok yet, the sooner you start, the more likely you are to stand out and gain a competitive advantage!
If you're considering starting your TikTok campaign, you can count on us. SmartDreamers has an incredible experience running successful TikTok campaigns for their customer, and we can be the perfect partner when it comes to delivering results on TikTok. Reach out now and find out how we can help you.