By now, you've heard us talk about the wonders of recruitment marketing automation (RMA) and all the joy it can bring to your recruiting efforts. You've also listened to us go on about how it's a candidate's market out there.
Have you made the connections?
Just in case, we want to take this opportunity to dive into the variety of ways RMA can make everyone's lives a bit easier given the current job market.
Other than the obvious fact that automation takes the rote, time-consuming tasks like data entry and sending update emails off of your team's plate, there are deeper aspects of RMA that are especially relevant given the candidate-centered nature of the current marketplace.
Automation takes into account that:
- today's job seekers are more like consumers than they used to be;
- the vast majority of quality candidates are not actively seeking employment at any given moment;
- you need to be providing personalized attention in multiple places at once.
Today's Job Hunters are Consumers
Traditionally, consumers and job seekers have been treated very differently. Businesses needed consumers to buy their product, while job seekers needed businesses to hire them. It was a push-pull scenario.
Today, these roles are almost merged, with businesses selling their product to consumers and their EVP to potential employees.
There are other ways these groups are similar: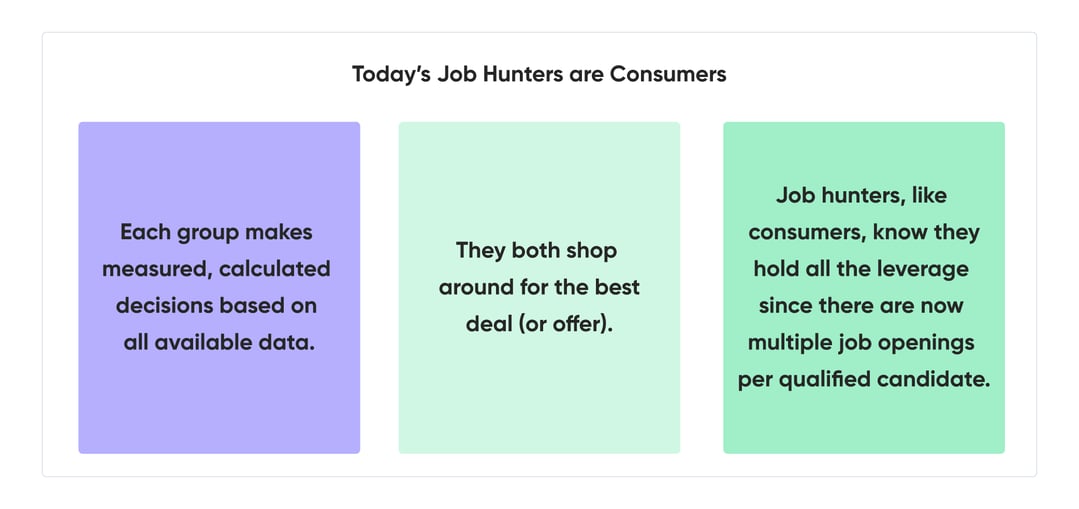 And since RM already borrows heavily from the world of inbound marketing, it's about time that extended to the use of automation to ease the increasing workload on recruiters involved in reaching out to these passive job hunters.
There Are Notable Shifts in Candidate Behaviour
People are spending more time online, but they are reading news, playing video games, and looking for inspiration to have a quality time during the quarantine.
Other than that, they need to feel safe and secure - so they might not be ready for a job change right now, or maybe that doesn't mean they wouldn't join your company if the right opening became available, it just puts the impetus on you to get the word out and ensure the right people know how great your company is.
And that takes work.
- Targeting these passive seekers lets you take back some of that leverage that's currently in the hands of your candidates.
- RM tactics let you build your talent pool up, filling it with high-quality potential candidates who have all expressed an interest in coming on board when the time is right.
- RMA is the key to being sure these folks are all exposed to your employer brand, at the right time, and in the right place to ensure they're ready when that opening presents itself.
RMA Takes the Rote, Repetitive Tasks off your Plate
When candidates are demanding one-on-one attention, you can't be stuck doing data entry. You need to be able to field that phone call and coach that candidate through pre-interview jitters. This is how you keep these candidates thrilled with your support and telling all their friends about you.
And RMA is what allows you to refocus your energy on those personal touch points with your active applicants.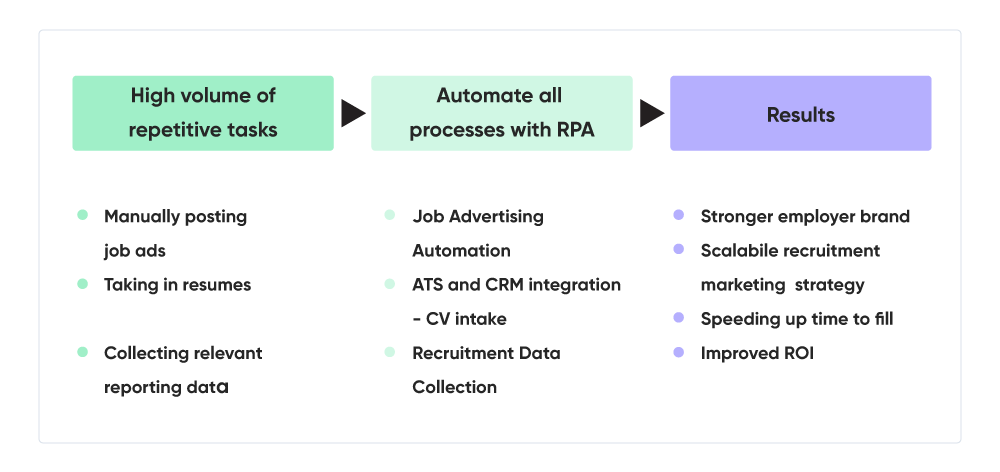 Sending update emails, entering a new prospect's information into your CMS, posting a new opening to Facebook, or following up with someone after a phone screen are all time-consuming tasks that can now be done by a properly configured RMA solution.
Since you can rest assured the email will go out, you're free to pay attention to those intuitive, human-centered activities that drew you to recruiting in the first place.
Automation Lets You be in Multiple Places at Once
To keep the applicants rolling in, and your passive talent pool engaged, you need to be on social media. This is where a large percentage of people are spending their free time, so it's the best place to be talking about your EB, showing off your EVP, and generally interacting with your adoring public.
It also raises a question: how to be on all these channels at the same time?
By now you know the answer, RMA.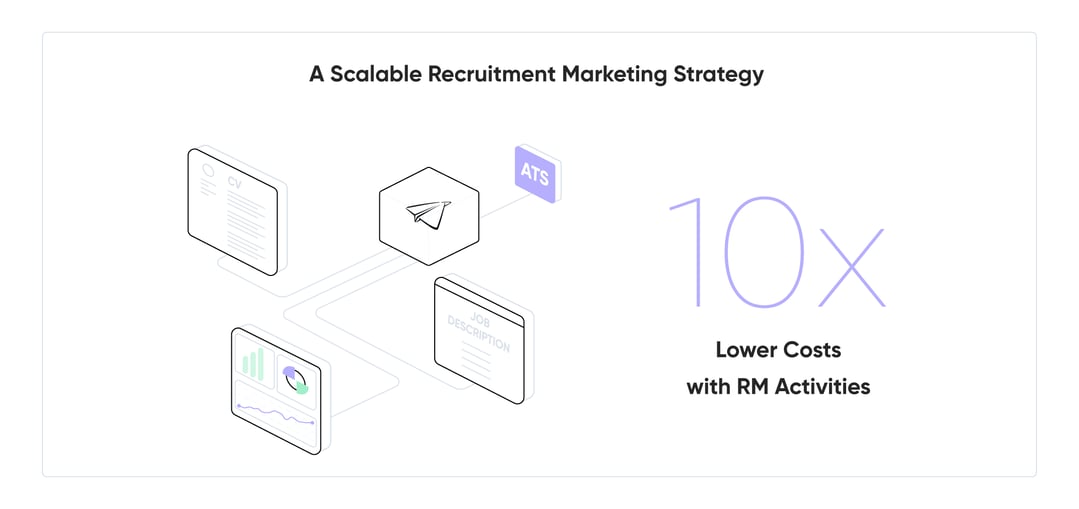 - you can configure your automation suite to send regular update posts
- share links to blogs and videos
- auto-respond to some frequently asked questions
- schedule ads across multiple channels in advance
- recruitment data collection for end-to-end data analysis of the candidate journey
Having all of this workflows automated, you have more time to listen in to the conversation, interjecting a live version of your brand voice when called for, answering tough questions, or liking others posts.
All of which raises your stakes in the eyes of potential applicants because it shows them you're engaged and interested in their lives.
Bonus: There's a New Technology on the Scene, Robots
RPA, or robotic process automation, is an emerging technology that's set to make huge waves in the RM world. This tech allows for the automation of process tasks that previously required the intervention of a human, whether to input something via a keyboard or click a menu with the mouse.
The bigger platforms like Facebook and Twitter offer integrations or APIs for automation tools to access all of the features you need to automate. But what about your StackOverflow, Reddit, or small niche forum that you might be using to court a specific subset of your audience?
For these, you can now turn to RPA robots, known as "bots". Bots are capable of being configured to enter information in the exact same way a human recruiter would.
All in one, automating your recruitment marketing efforts means you and your recruiting team have more time for the human-centered activities that keep candidates happy.