The Star-Trek-like future...is happening today.
There's a tech startup frenzy, the IT outsourcing market is booming, and digitalization is spreading in every vertical.
Machine learning, VR, AR, AI, Big Data, Blockchain, cloud computing…the ecosystem is ever-changing.
On the other side of things, talent is scarce. Competition is fierce and is putting pressure on salaries, employer branding efforts, and budgets. The median tenure, even at well-established tech firms, can be as little as one year.
Meet the Bogeyman: the Turnover Rate
As per a LinkedIn report, tech has the highest turnover rate among all industries. The turnover rate is calculated by dividing the number of employees who left the company by the average number of employees in a certain period in time. It seems that the overall average revolves around 10%. As the percentage goes higher... let's say HR people won't look too happy.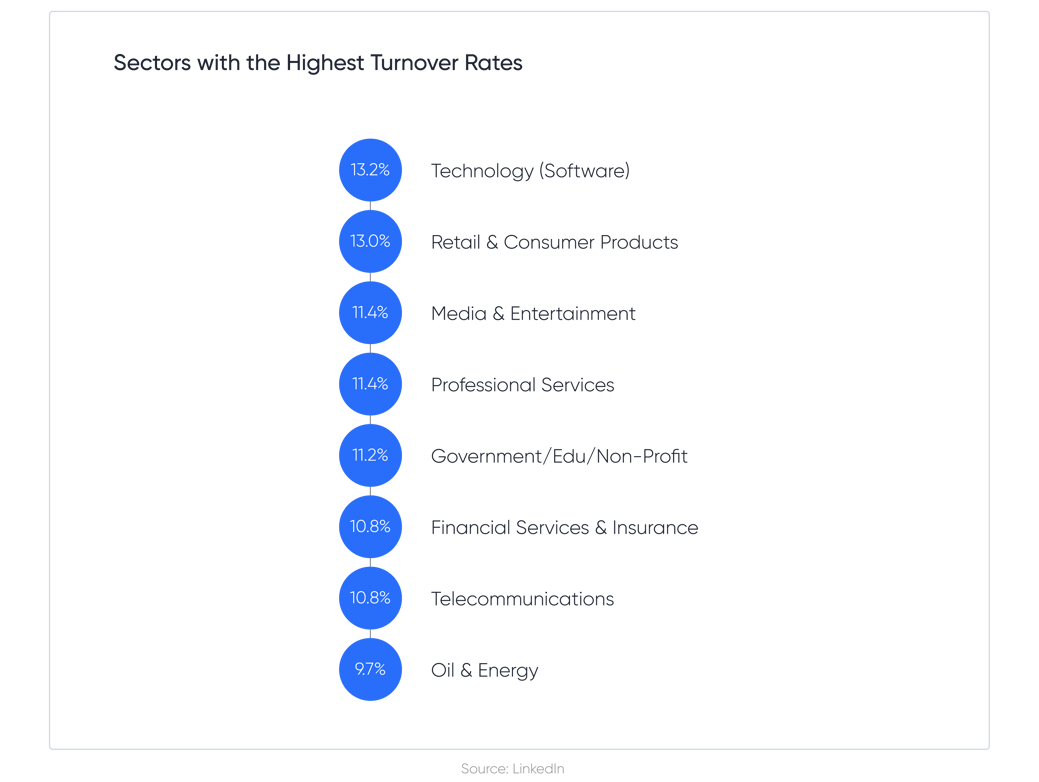 If we dig even deeper, data changes when we analyze it by occupations inside the vertical.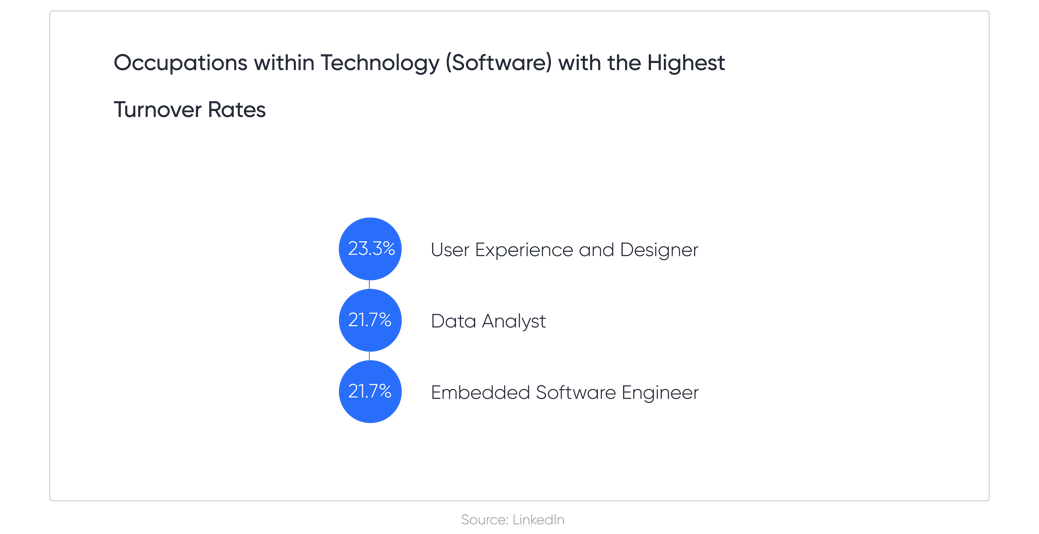 So, a high turnover rate is bad...but how bad? How can you measure this?
Well, data comes to the rescue. By adding up:
- hiring costs
- onboarding costs
- learning and development costs
you can have an idea of how this might affect a business.
Add to that the fact that it takes 51 days on average to fill vacancies in the IT industry, that projects get affected, and that the tenure is less than 2 years for many tech players... the situation is kinda nasty.
Now, looking a bit at job opportunities across IT functions in the LinkedIn platform, across the EU we get 1.2M+ jobs available!
For the EU countries in Central and Eastern Europe (CEE), acquiring the right talent is worrisome to HR people. Economic growth in this region is outperforming the EU average and businesses are on the rise.
Looking at all this data, we realize that both attraction and retention of employees are crucial for tech companies.
Employer Branding to the Rescue
More than 70% of job candidates will take a business' employer brand into consideration before applying for a job.
This means building a strong employer brand. But how do you build it?
We did a shortlist of strategies used by successful tech companies in the EU, let's have a look!
A culture of feedback
For Netguru, one of the fastest-growing software agencies in the EU, feedback is really valuable. And this is not only something highlighted in their culture book, it can be found also in their Glassdoor reviews.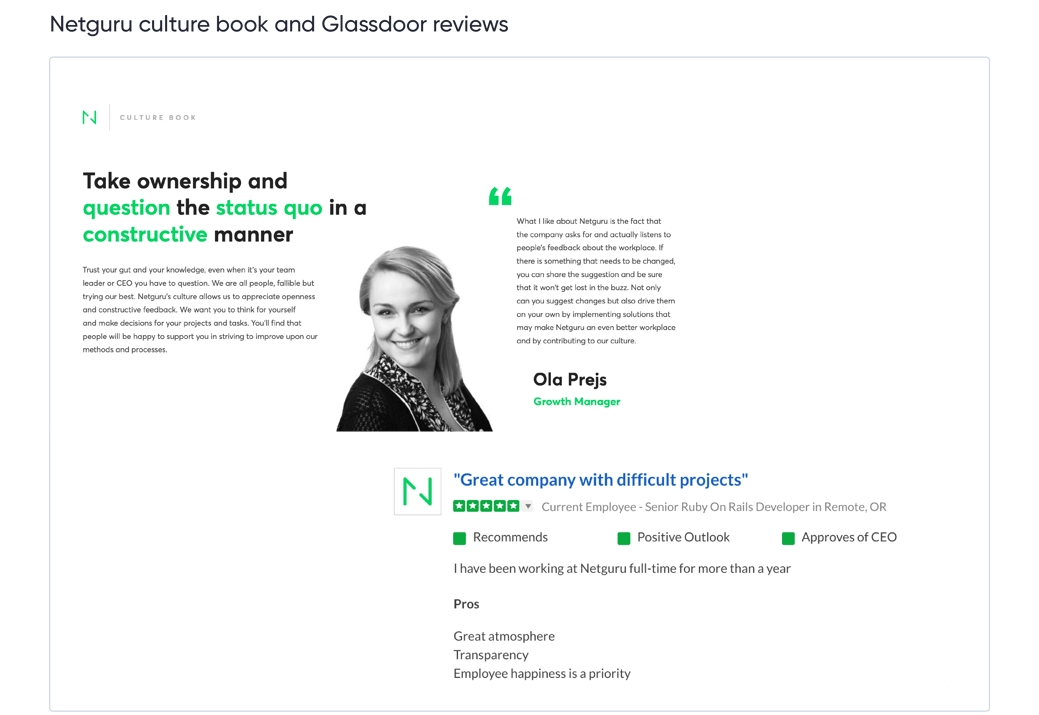 The idea is not just to create buzz around feedback and transparency, but to prove it.
Use video, blog posts, and photos to tell your employees and company stories
Using employee testimonials on the website, on social media, and in Youtube videos, will reinforce one's employer brand.
Storytelling is an important aspect of an employer branding strategy. Text, imagery, video - every company should leverage them to emphasize the human side of the business.
Let's look at the UiPath example.
UiPath (the RPA unicorn that started out in Romania, with a $7 Billion Valuation) is out there now, conquering the whole world. With 2000+ employees in 53 offices around the world, achieving a 4x year-over-year growth, they need to find clever ways to attract and retain employees.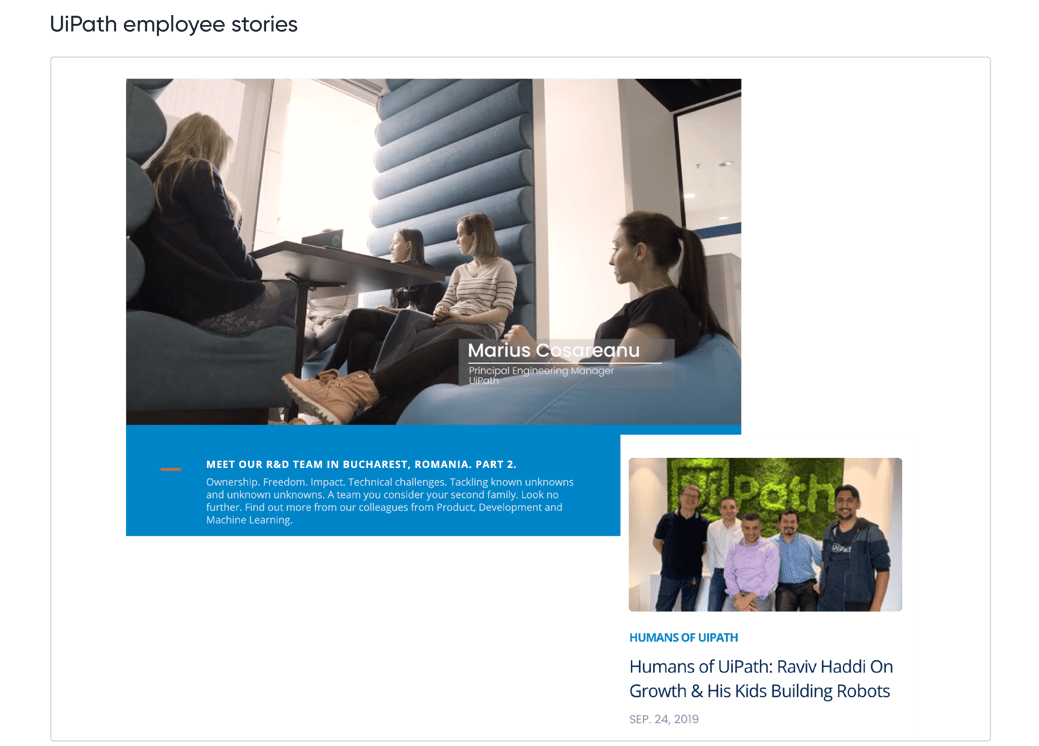 Moving to Bitdefender, the cybersecurity global leader, they really understood the power of storytelling and got good Youtube traction with their "Save the world" video series featuring employees.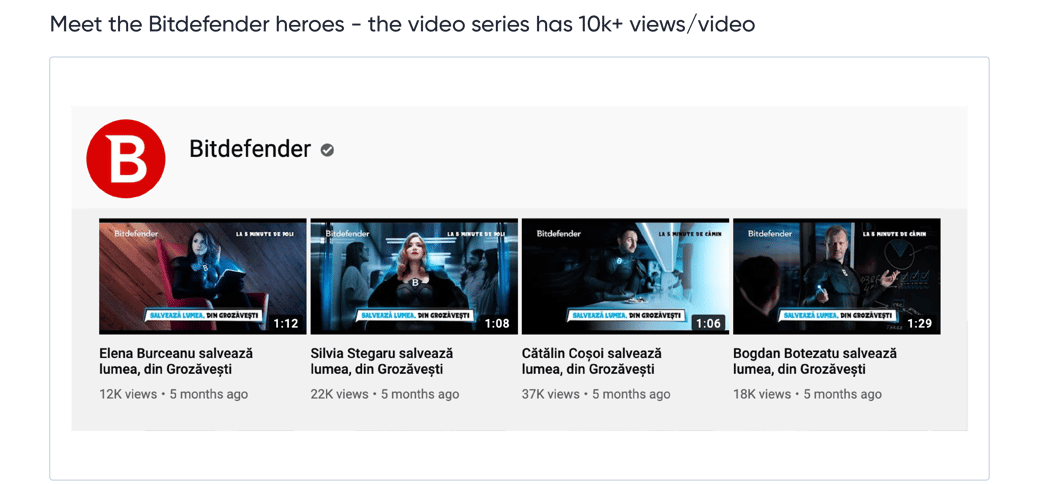 Offer learning and development opportunities
In 2018 Korn Ferry did a poll with nearly 5,000 professionals and asked which is the top reason people were looking for a new job.
And then the shock came:
- I'm bored, need a new challenge - 33%
- Culture doesn't fit with me/my values - 24%
- I have either lost my job or expect that I will - 21%
- Higher salary - 19%
- Company politics - 3%
So, how can you fight boredom in a company?
Through continuous learning.
This goes two ways: offering a new challenge to the employees, but also acquiring or strengthening skills (and yeah...you're right, this comes with a downside as well: landing another job in a different company based on the newly acquired skills).
This topic also connects with the next one building a career ladder.
Now, let's look at an example in the market.
Netguru is promising:
- Fast-paced career path
- Mentoring
- Growth budget (for conferences and training around the world)
- Internal webinars & workshops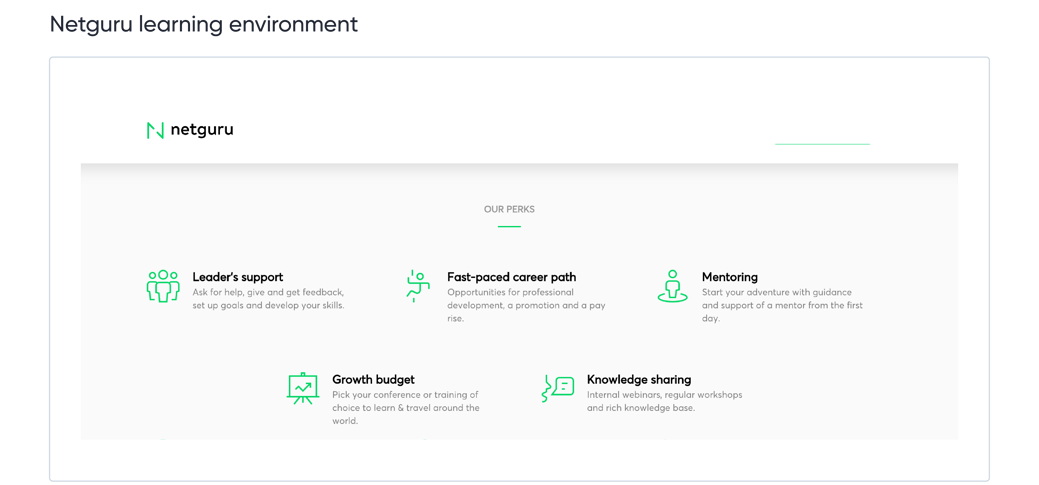 Building career ladders
Considering we spend about a third of our adult lives at work, if people are not happy with their jobs, they'll just hop to another one.
For some of them, transparent career opportunities might help them stick around for more.
Offering growth career opportunities can boost engagement and retention.
Visma might serve as an inspiration here (the largest cloud software provider in Northern Europe).
They are preparing employees to become "tomorrow's leaders".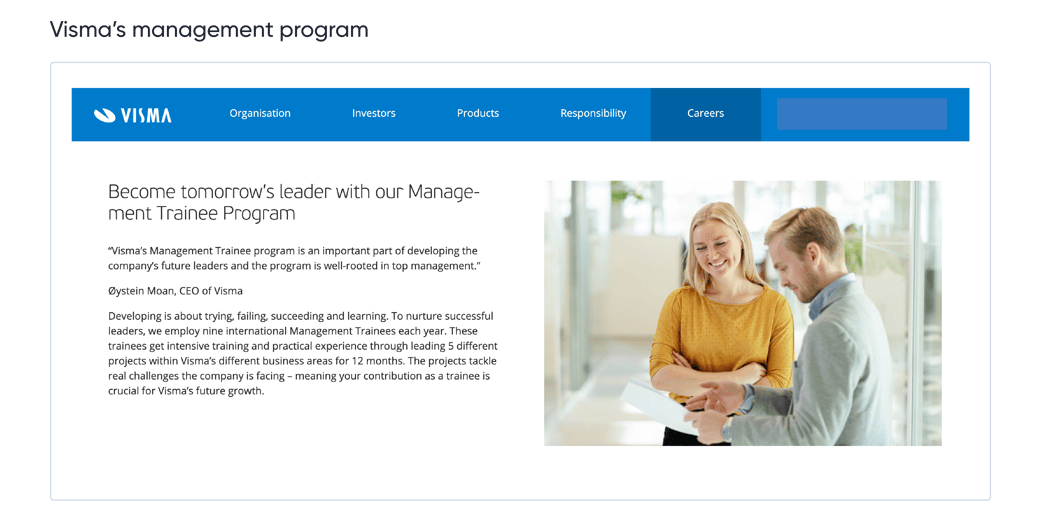 Going back to UiPath, they've developed a Leadership Program inside the company, offering new learning opportunities to their employees.
Build a friendly work environment
The latest trends in workplace design promote a "like home" feeling. Everything is casual, lots of open space, we've got playgrounds, and the management team can sit among the other employees.
This workplace is enhancing productivity and is building a space for connection.
Besides nice design, other things should add up in order to build a friendly work environment:
- Success celebration
- Employee recognition
- Listening to ideas
- Effective communication
- Transparency
Speaking of good design, let's get inspired by UiPath.
"My dream was to build a company that I'd love to work for. My belief is that our workplace should be our playground, and we have made concerted efforts to ensure that UiPath is a place where employees feel inspired, engaged, and happy." Daniel Dines - UiPath CEO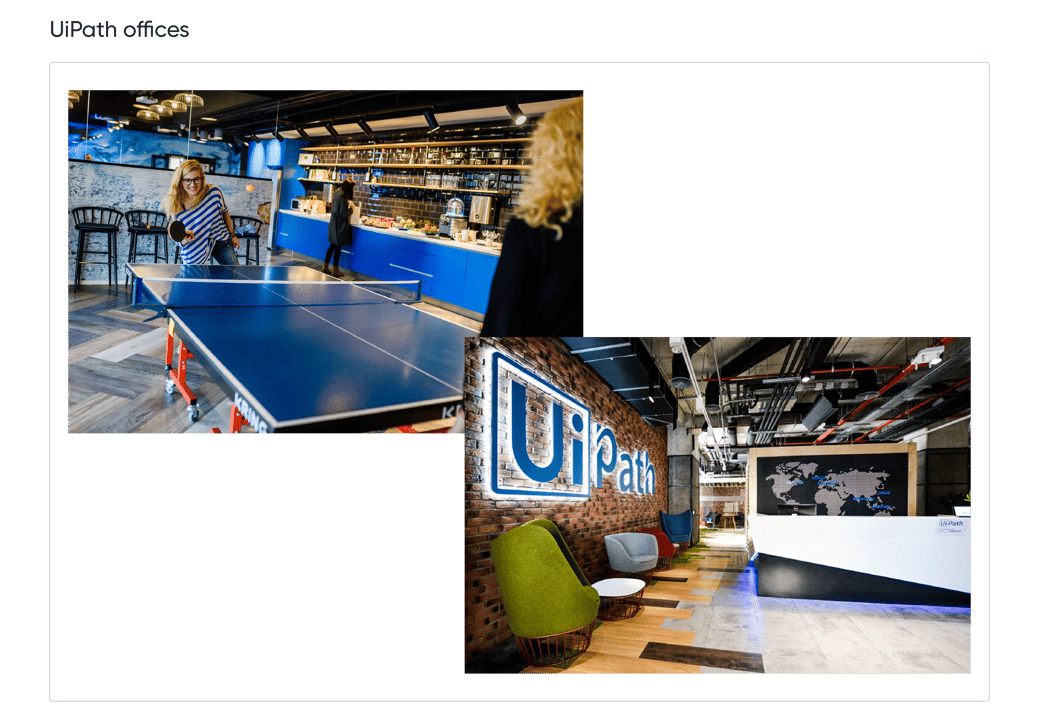 On the communication and transparency side, Glassdoor reviews are pretty revealing for Netguru: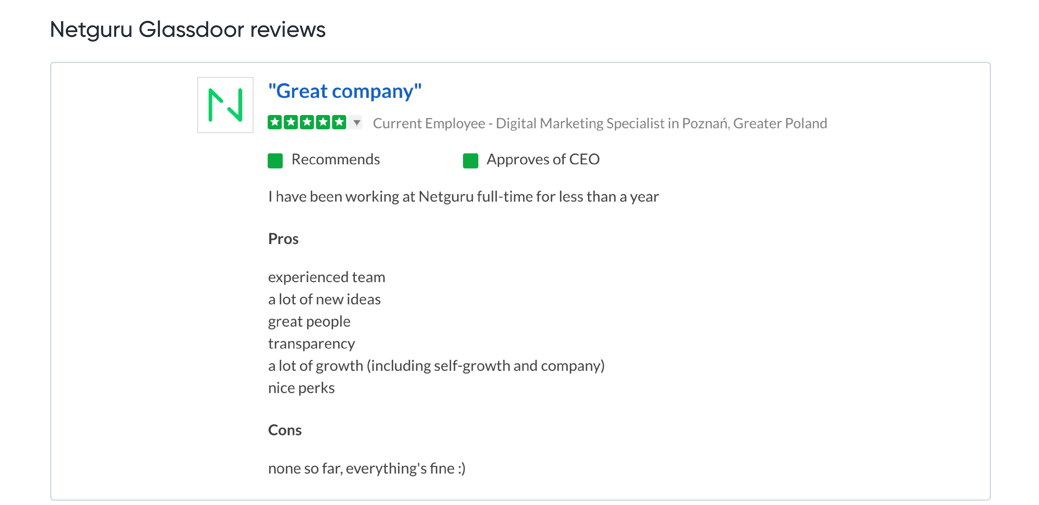 Competitive salaries
Just a friendly workplace that promotes a good work-life ain't enough for retention, while the demand for top talent is growing fast.
Globalization is also a threat, and remote working as well.
And you need to pay the right price.
Netguru is very transparent when posting a job, earnings are out in the open (for both employees and contractors). This is an evolving trend in Polish software houses.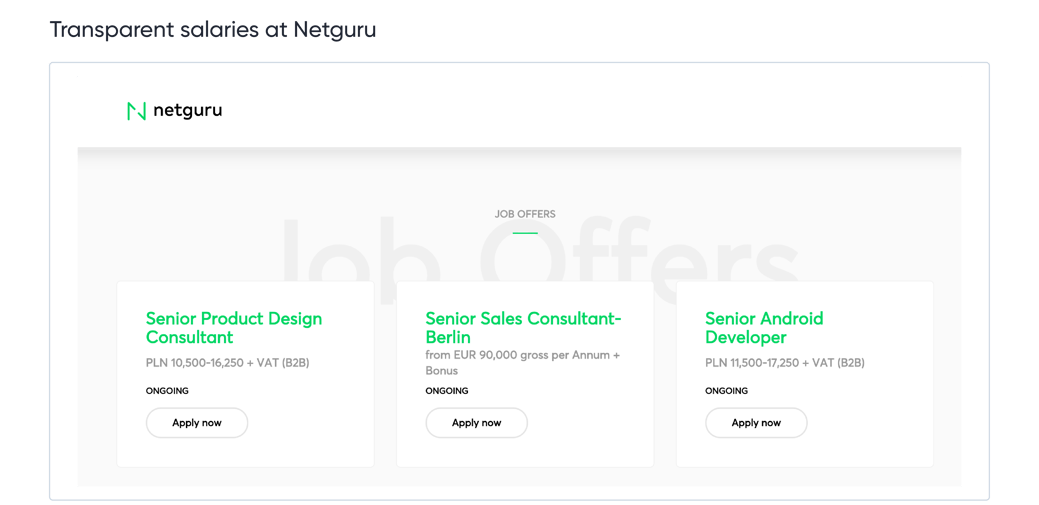 And it makes sense, in the end, right?
You don't need to bother showing up for an interview when you don't like the salary...This means that the list of candidates is already filtered by when they reach the interviewer.
Create a strong diversity and inclusion initiative
The beginning of the 21st century marked a turn in diversity and inclusion initiatives.
And it seems that millennials are leading the change. Being raised in a tech-connected world, they are open-minded and they support all types of diversity: from gender, race, and ethnicity to sexual orientation.
This will translate into their job options.
One example here: Visma. They are sponsoring a non-profit organization #ShesGotThis, that is fighting unconscious discrimination and gender stereotypes in business.
Visma also is a founding partner of Women In Tech and the SHE Conference – Europe's largest gender diversity conference.
Get involved in the community & embracing "green"
Remember the Korn Ferry poll mentioned earlier? A reason for people quitting their jobs in 2018 was " Culture doesn't fit with me/my values - 24%".
Millennials nowadays care a lot about the company culture and the values it promotes.
79% of millennial employees are loyal to companies that care about their effect on society. They are environmentally and socially conscious.
So, let's look at some EU tech companies' "social" stories.
Visma is an evangelist of "green IT" and is promoting a healthy lifestyle.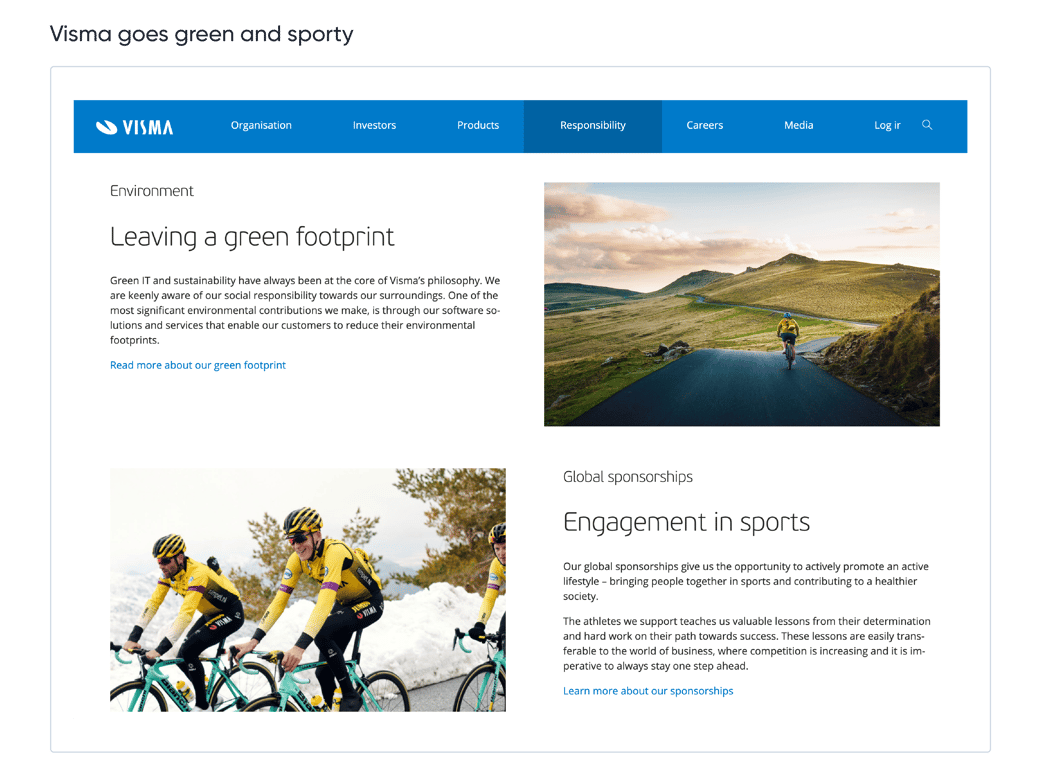 BearingPoint, the Netherlands-based tech consulting company, set out to reach 1 billion euros in revenue by 2020, and launched "10 days of caring".
2019 marked the 10-year anniversary for BearingPoint and they celebrated by giving back to the community.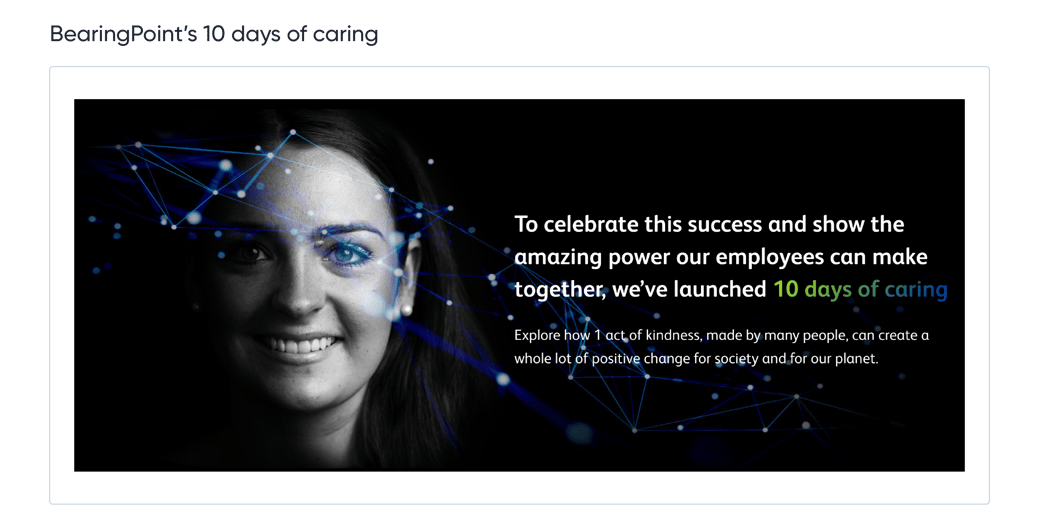 Moving on from social to environment, BearingPoint is standing by startups that want to bring a "green" change.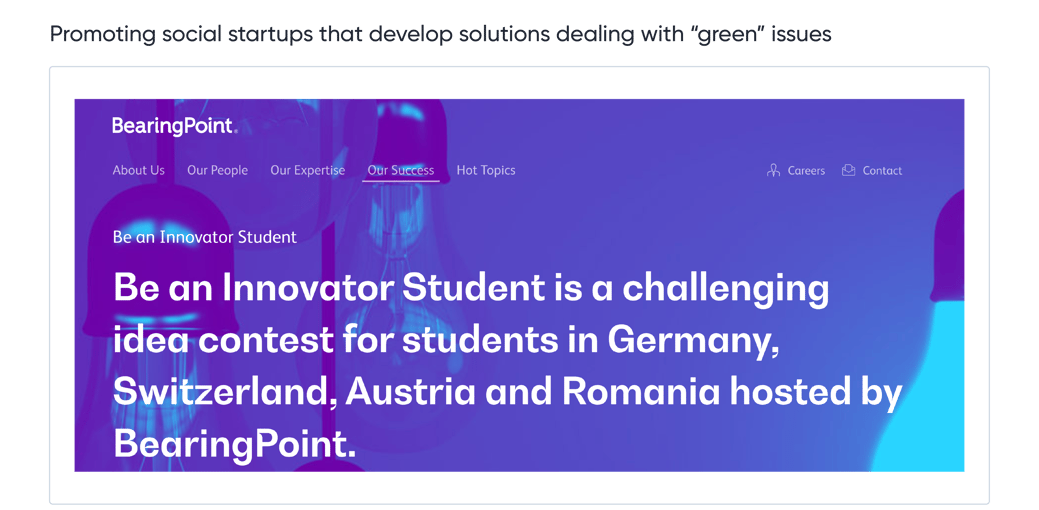 Conclusions
In a globalized world where you compete for talent with global companies, where talent mobility is on the rise, the employee package deal is ever-evolving.
The company culture, the social and environmental elements, the diversity issue, the learning opportunities...everything is making it harder for the "people" people to find the right person for the job.
But these elements will differentiate between losers and winners.
So, what's your plan?
For more stories like this one, visit the MAN Digital blog.