Recruitment marketing has one primary goal, to reach the right potential candidates, at the right time, and in the right place. Increasingly, that means on their mobile devices. To wit, candidates now spend more than five hours a day on their smartphones, and up to 70% of web traffic happens on a mobile device (CIODive, 2018). Yet, for some reason, fewer than 1 in 10 companies say they have a mobile-friendly application process. How many awesome candidates are those other 9 missing out on? And how much would you love to have them in your applicant funnel instead?
One thing to mention before we get into the mobile device weeds—know your audience. Key for our purposes today is knowing the percentage of your site visitors who are mobile. If your site analytics don't give you this key piece of information, set up a Google Analytics account, that will give you as much detail as you can handle. Device categories are just the beginning of what you can learn with this powerful analytics tool.
Mobile Recruiting: More Than Just A Mobile-Friendly Website
For starters, you need to understand that mobile recruiting means more than simply being sure your company site is mobile-friendly. You need to have a full-blown mobile recruitment strategy (or at least a clearly defined mobile strategy as part of your overall RM plan). This will ensure several things: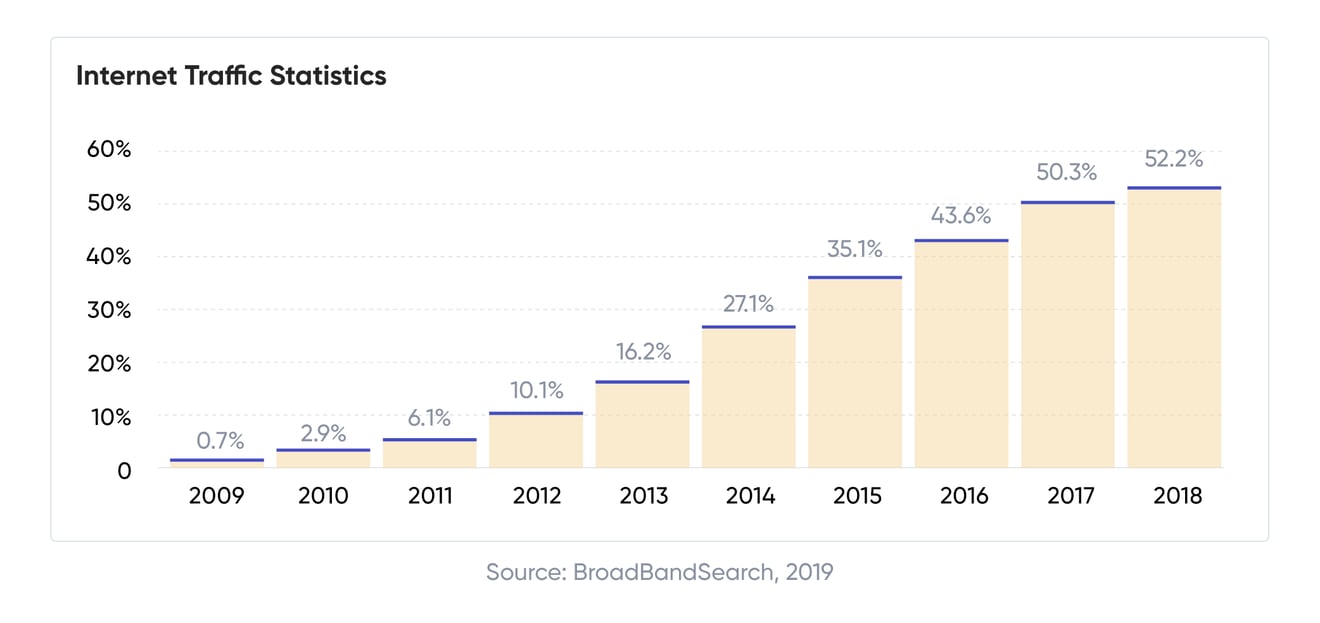 • That your team stays on voice, promoting something that doesn't exist (like a mobile application process) is a quick way to lose followers and make the company look silly and out of touch.
• That when a potential candidate hits up Twitter from their phone, sees that perfect opening was just posted and clicks through, they get a consistent candidate's journey all the way down the funnel.
• That means everything from the application, to your communication options for updates, to your interview cycle options (voice screen, or video call?) and all the way through interview details and new hire orientation details are ALL mobile-friendly.
However, it's also imperative that your mobile strategy is integrated into your overall RM strategy as well. If your mobile game in on-point, but your desktop site is still sluggish, outdated and poorly integrated with your ATS, where has that awesome mobile site gotten you, really?
Mobile Integration Cuts the Length of the Candidate's Journey
By integrating mobile into your RM efforts, you're making sure you can reach the candidate and that they can reach you, no matter where they are or what stage of the funnel they're at. When a candidate can respond to a text message with details of an upcoming interview immediately, both parties know they're ready to go.
The single largest segment of the working population is millennials. And millennials are known for a few things, chief among them having their cell phones on them at all times. By using recruitment marketing automation software to set up automatic updates via the candidates preferred channel (text message, Facebook Messenger, WhatsApp, etc) you can speed up the communication stages of their candidate journey even more. And since most of these communications platforms are mobile-first in their design, you'd do best to follow suit and keep it mobile.
Mobile Tactics Reach People Where They Are
Audience on lunch break when that new position gets posted to Twitter? No worries, since most everybody takes their phones to lunch, your candidates will be the first to know. Perhaps they're on vacation with the family during the time between application and hearing about next steps. Again, no sweat, since they took their phone, your texts will not go unanswered.
There are already more mobile devices in the US than there are people, and the upcoming cohort of millennials are the first in history to be digital natives. That means they rely on their connections, social media, networking sites, or even simply SMS to conduct the bulk of their communications. The more you can make use of these channels up and down the funnel, the better your candidate's journeys will be.
Mobile-Friendly Design Encourages Applications
With phones ever-present in everyone's pocket, not only are communication lags cut drastically, but applications can actually rise. As long as your entire application process, from listing to submission, is mobile-friendly, those potential candidates who find your listing while on the bus can still get their application in without having to wait to get home and risk forgetting.
Is your ATS linked to the biggest cloud-based storage options? If you require a resume for submission, it should be connected to iCloud, Google Drive, OneDrive, and Dropbox at the very least. This simplifies the process and allows applicants to retrieve their resume even if they don't keep a copy on their phone.
The other option is to not require a resume for mobile applications. Let people answer a handful of questions directly relating to the opening, then in your followup communication, give them the ability to attach a resume via email, or include a link directly to their ATS file where they can upload it at their convenience. This reassures them that the process is underway, yet gives them the freedom to get their resume to you when they can. The added proof of your respect for their time is gold when it comes to EB.
On the surface, it might not seem like either of these changes would make a world of difference. After all, the people who are interested will apply eventually, right? Well, maybe not. One retailer who had committed to reimagining their applicant experience actually took this advice recently: they ditched the long, laborious application processes and instead offered applicants an easy way to apply with just a few clicks from their mobile phones.
The impact?
30% more job applications, and 90% fewer people dropping out an application process prematurely.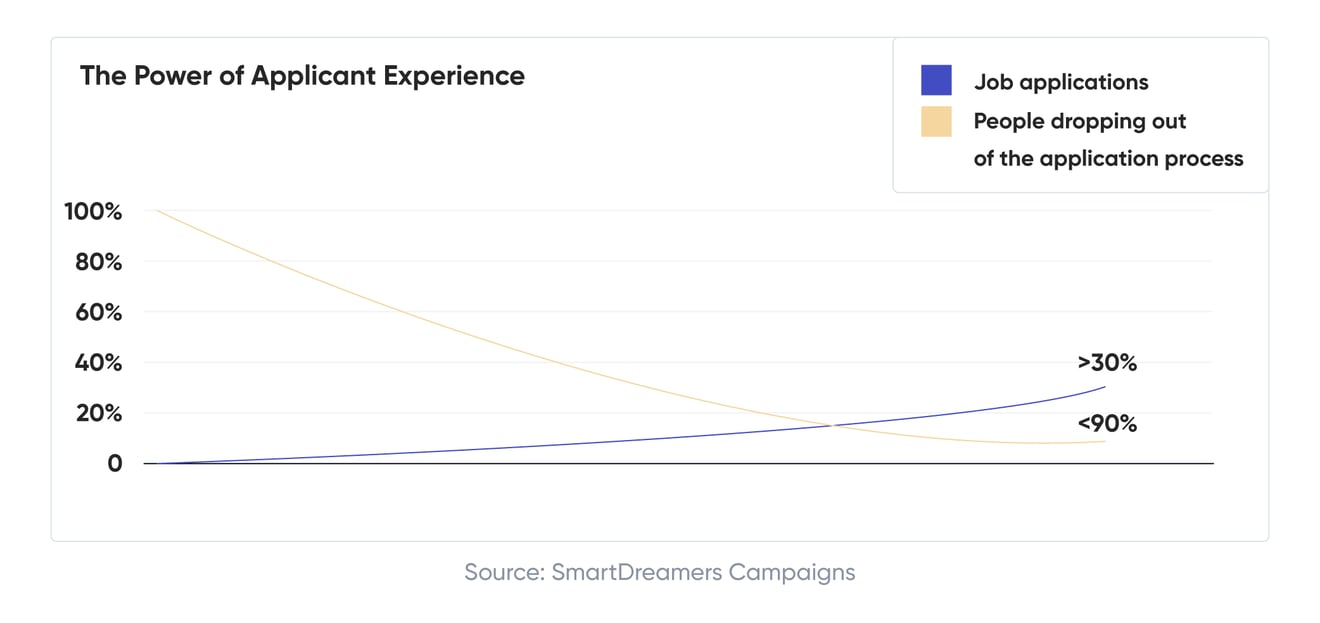 Mobile is the way to the future. But don't let that overshadow your other work toward making the candidate's journey a personalized one full of human voices and faces through each and every touchpoint. RMA and mobile complement each other and working together can help ensure you capture the most high-quality candidates. By helping get your EB in front of them where they are, including on the bus, at lunch, or sitting on the couch.
The added connection provided by a mobile-friendly, or even mobile-first, application process and overall funnel is what will enable your potential candidates to feel secure in their decision to join up as soon as they find that perfect opening. Once they realize that you truly get them and respect their time and energy, they'll be only too willing to come on board.