We don't have to tell you that the HR world is ever-changing and that to keep up recruiters in particular need to be fast on their feet, able to pivot and change course mid-stream. That said, there are some constants, like putting candidates first. Or that personalized communication will always trump bland boilerplate.
Taking into account our own recent experiences in recruitment marketing, combined with our years of experience helping fellow recruiters make the most of their resources with automation technology, today we offer you our top five predictions for the future of talent acquisition as we move toward 2020.
1. The Talent Market will Continue to be Candidate-Driven
The candidate focused nature of the current global job market will continue apace into next year. And that means the continued growth of recruitment marketing and inbound recruitment in particular. We can't overemphasize the importance of this reality, that's why we opted to start with it. Candidate experience and the relevance of your employer brand will retain their current standing as #1 and #2 on the "important recruiting facts" list.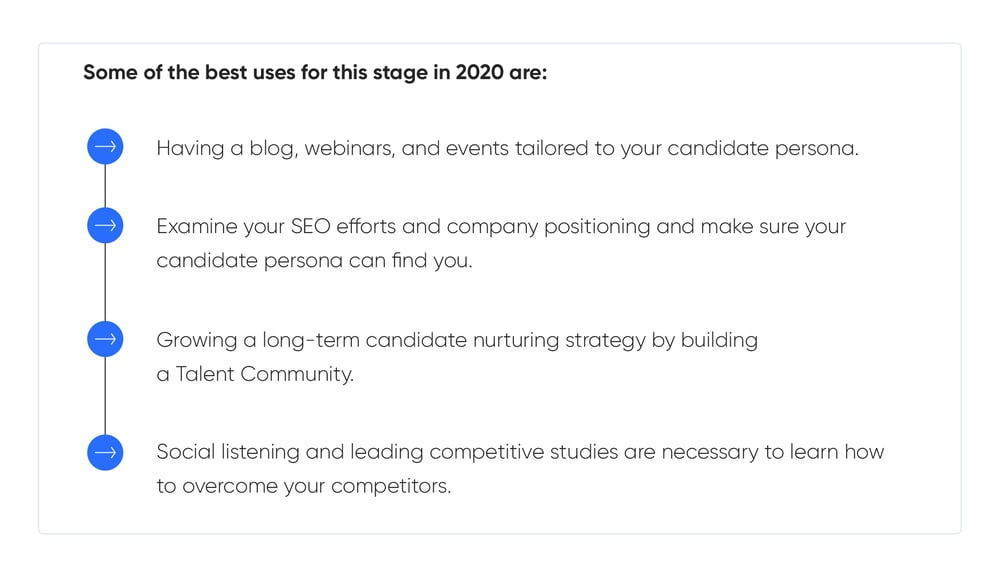 Globally, and particularly in tech fields, there are simply more openings than there are qualified candidates to fill them. That means your focus as recruiters will need to remain on the ~ 80% of the workforce that is not actively seeking a new job at any given moment. And that targeting of the so-called "passive job seeker" is what will power this continued candidate focus as well as the need for a solid RM strategy for any company hoping to stay ahead of the competition.
2. Recruitment Marketing Automation use will Increase
The assistance in spreading employer branding and guiding the candidate experience that automation can provide is invaluable. More and more managers are seeing the light and realizing that EB is a key piece of a successful recruiting effort and that RMA is the way to spread the word. It's estimated that 75% of job seekers research potential employers before even making contact with the company directly, that's why EB is so crucial.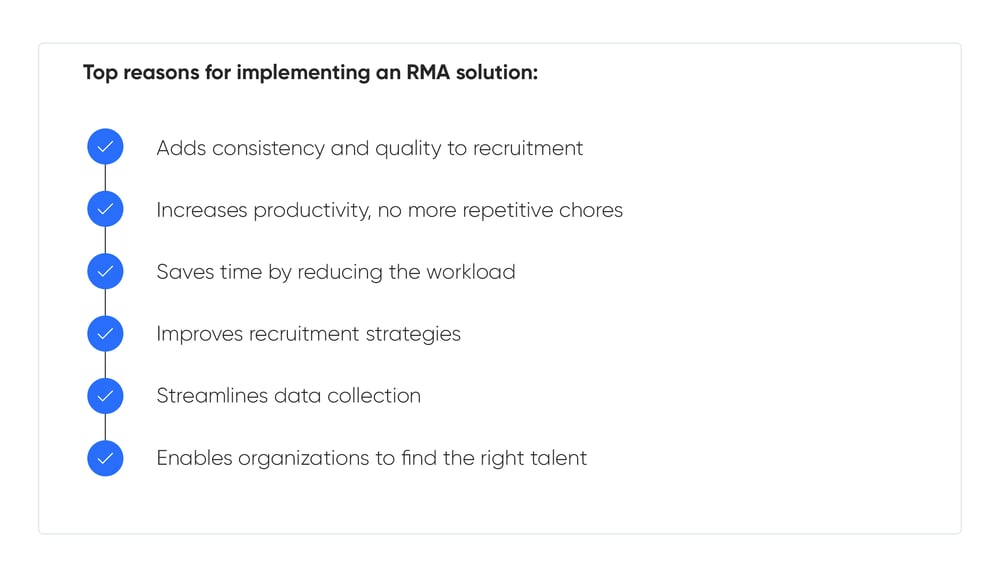 The ability to personalize communications, schedule posts in advance, and monitor your social media presence from a unified dashboard are just the top 3 reasons for implementing an RMA solution. Personalization lets candidates know that you value them as individuals, scheduled posts tell your audience that you value their time and want them to get the value of your content consistently, and social media monitoring is absolutely essential for engaging with your audience and responding to their questions in a timely manner.
3. Robotic Process Automation will Take on a Bigger Role in RM
Robotic Process Automation, or RPA, is an emerging set of technologies that allow businesses to automate processes that involve divergent and legacy systems. Using software robots, called "bots," RPA will continue to mature over the coming year and its usefulness in integrating data between CRM, ATS, and other backend systems will begin to find its way deeper into recruiting workflows.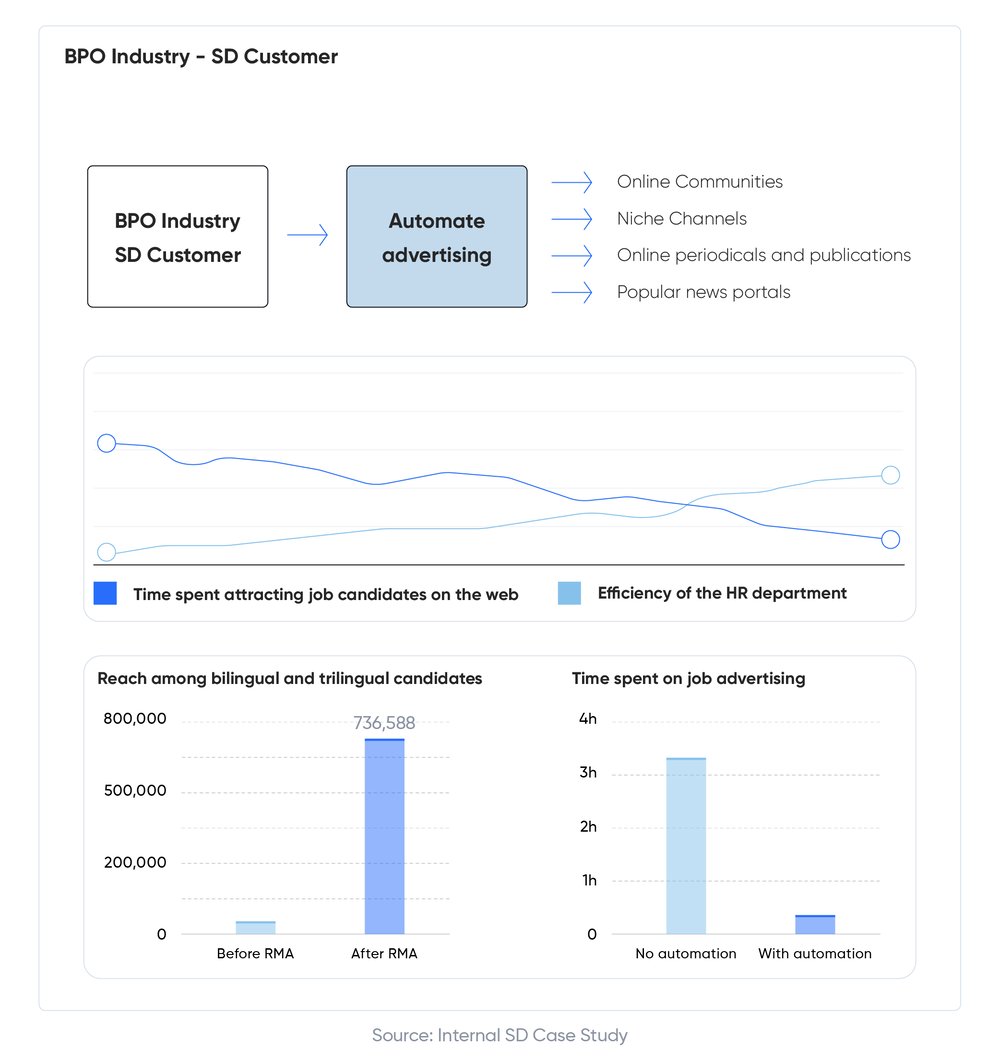 Bots can be configured to take over the more menial, rote recruiting tasks like moving candidate data from your capture form into your CRM and then into your ATS. And that means that not only will this data be as accurate as possible but your team will be able to refocus their efforts on the human-centric aspects of their work like coaching applicants through pre-interview jitters and staying in touch with hiring managers.
4. AI and other Advanced Analytics Tools will Emerge as Key to Recruiting Success
Emerging technologies like artificial intelligence, machine learning, and advanced analytics will continue to make inroads in the recruiting world. With the increasing adoption of technology, particularly automation, comes an increasing amount of data. The ability to parse these mountains of information will become imperative to increasing ROI and reducing overhead.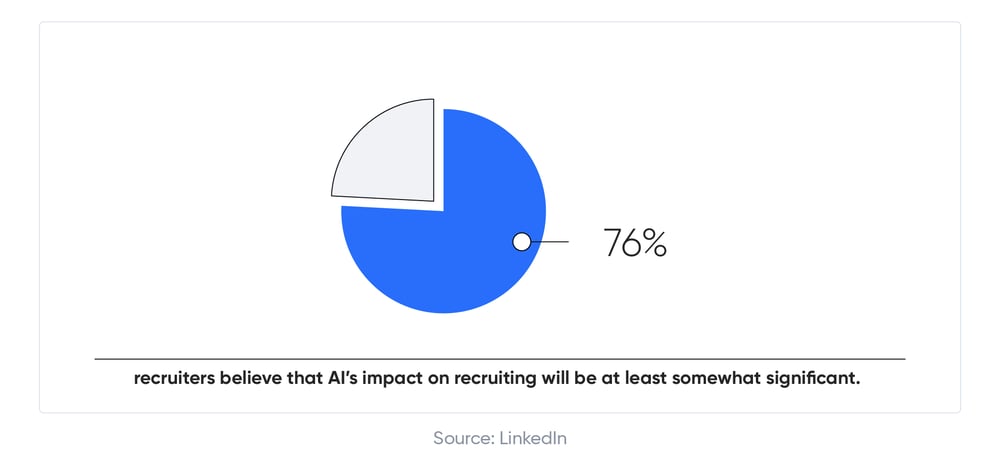 Every new system you put in place will bring with it candidate information from contact details and geographic information; to psychographics and deeper demographics than ever before.
Combined with data on your existing employees, this pile of data can provide invaluable insight into how to best tailor future RM campaigns, adjustments to your employee value proposition, and even ways to tweak office cultural offerings to better mesh with your workforce and their values.
It's the coming wave of AI-powered analytics that will be capable of mining all of this data and making it easier for you to make use of these metrics to fine-tune your strategy to better target just the right people, in just the right place, and at just the right time.
5. Social Recruiting will Steadily Increase Penetration into RM
• As adoption of these advanced emerging technologies increases, recruiting departments' ability to maintain a presence on multiple social channels at once will only become easier.
• What these technologies will do is make maintaining the ability to spread EB organically and via targeted advertising efforts presence frictionless.
• Scheduled posts are just the beginning, once RPA matures a bit, chatbots will take over many of the front-line communication currently eating into your teams time every day.
• The ability of these bots to communication even via direct messaging or chat services like WhatsApp will further revolutionize the recruiting world.
And that's how the true power and interconnectedness of these emerging technologies will be felt.
We see many of these solutions as coming to maturity in the coming year, so we have big hopes and dreams for 2020. RPA, AI, advanced analytics, and chatbots will come to dominate the conversation. And once that happens, it won't be long before we're all reaping the rewards with easier to run campaigns, more delighted candidates, and happier new hires filling all those empty seats.