Here's the thing about recruitment marketing: it's complicated. Not so much in theory, but in practical fact an effective recruitment marketing strategy has a ton of moving parts and potentially dozens of individual pieces of content spread across multiple channels and media.
This is, of course, the goal—you need lots of content in order to develop employer brand gravity and generate any amount of inbound pull to your careers page.
At the same time, however, it can often be really difficult to figure out what's working and what's not.
Unfortunately, traditional measurement technology is little help here. Why? Because it misses 40% of digital touchpoints.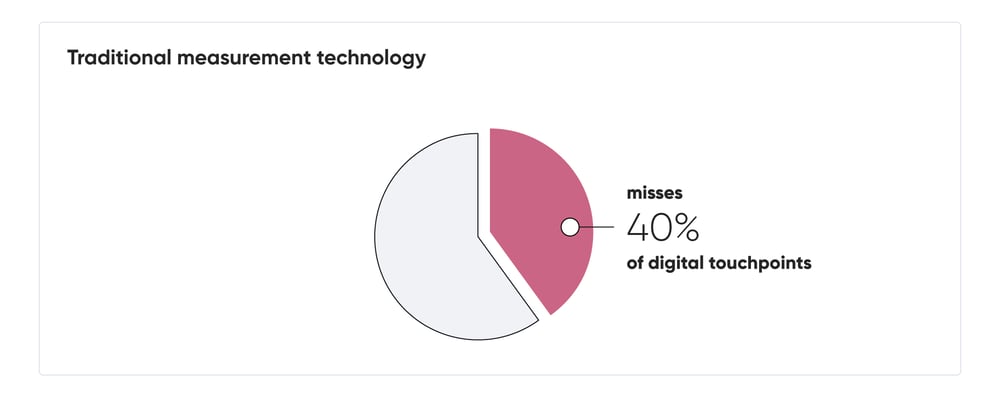 Though the entire candidate's journey is likely to take place across a host of different devices and platforms, most technology simply attributes a given application to the last-touch piece of content—meaning that almost all of the content that led up to the candidate's decision to apply is ignored.
This puts recruiters in an unenviable state of not knowing which of their first-touch content is helping to drive conversions.
Thankfully, recruiters aren't alone here, and there are strategies talent acquisition and HR teams can use to gain a clearer picture of their recruitment marketing operations. What are those strategies? Read on to find out!
Granular Measurement
From seeing one of your ads on Facebook to a happy new hire there are touchpoints everywhere. Every time the candidate interacts with your Employer Brand, that's a touchpoint.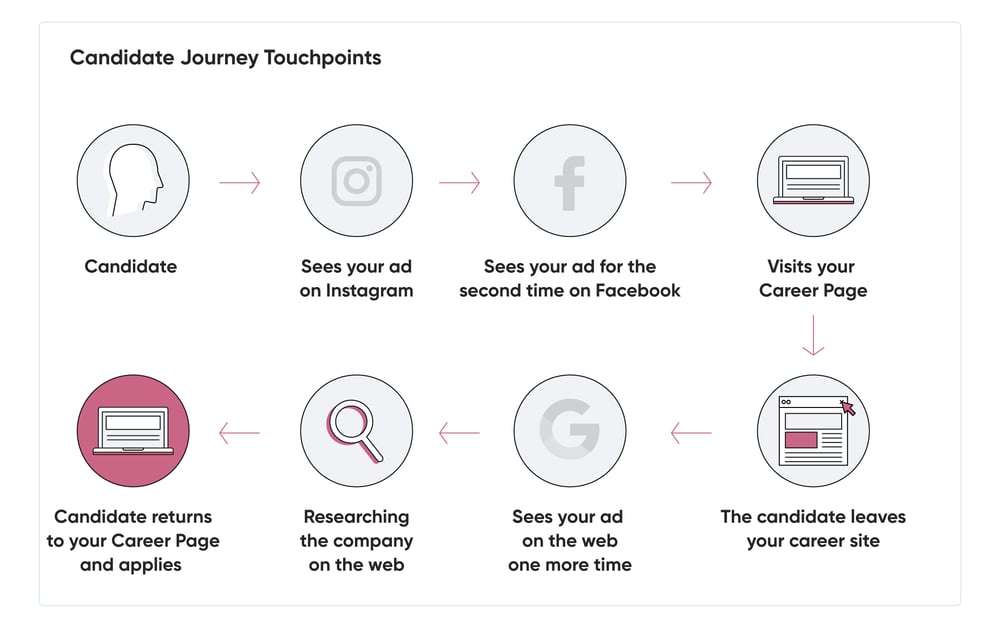 Recruitment Marketing attribution models help you determine which marketing sources and touchpoints contribute to your efforts and assign credit to each touchpoint along the candidate's journey, form the first view to the final application.
To make it easier to understand think about it as a team effort; like in sports, you don't focus only on the person who scored, you know that all the players equally important, if you want to win the game.
You might have an organic application but take a look behind the curtain. Are there any other touch-points? From social media posts to career blog articles and email marketing - it takes an average of 5 to 7 touchpoints before a conversion.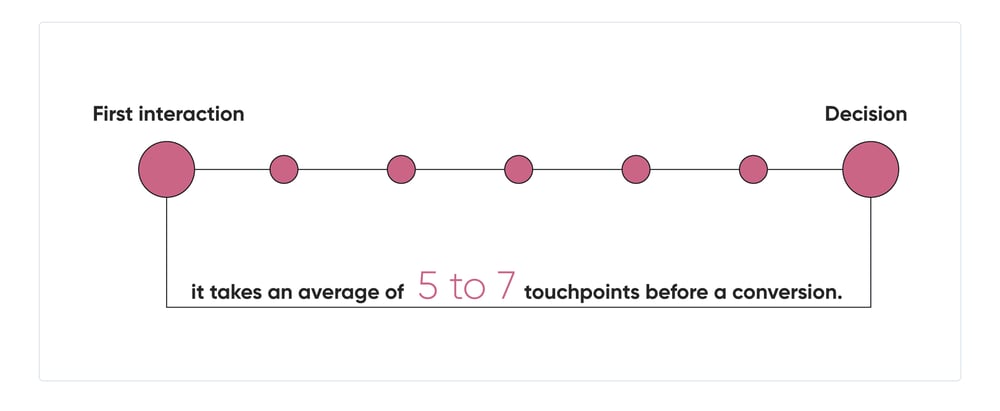 So marketing attribution is critical in giving you the complete picture of all your channels that lead your team to victory.
The Power of Application Attribution
Okay, now that that's out of the way—let's say you've gotten a hundred new applicants in the past three months, following a sustained recruitment marketing push involving content across multiple channels. You want to know which pieces of content had the biggest effects so that you can replicate your success in future efforts (and discontinue the ads that aren't performing).
What do you do?
Within SmartDreamers' Reports Module, we've worked to provide a potential answer. For each piece of content in your arsenal, our platform offers two metrics you can track:
- Applies: the number of users who have seen or clicked on the add and applied within 24 hours;
- Applies by Influence: the number of users who have seen or clicked on the ad and applied within 30 days.
Naturally, you can weight these metrics internally as you see fit (depending on how many touches your typical candidate journey has). Because the goal is to credit the role of multiple different pieces of content in driving a candidate to apply, the number of Applies and Applies by Influence will be higher than the number of applications you've received in the relevant time frame.
Below, you'll find a sketch of how our reports attribute applies based on various scenarios.
- A user clicks on the ad -> applies immediately -> This will result in 1 Apply attributed to that specific channel.
- A user views or clicks an the ad -> decides to apply later, within 24 hours -> This will result in 1 Apply attributed to that specific ad.
- A user views or clicks an the ad -> and decides to apply later to X different positions with 24 hours -> This will result in X Applies attributed to that specific ad.
- A user views or clicks an SD ad on 2 different channels -> and decides to apply later, within 24 hours -> This will result in 1 Apply attributed to each channel.
For Applies by Influence, the procedure is essentially the same, except that the 24-hour window is extended to the 30 days. In this way, you're able to give credit where credit is due and assign attribution to the right channels and ads when it comes to understanding where your recruitment marketing is working as intended.
Further Considerations for Recruiters
By utilizing a system of attribution like the one we discussed above, you put yourself in a position to gain a much greater understanding of where your applies are coming from and what journeys they're taking to the application stage.
This can be extremely valuable when it comes time to refine your content strategy, or to try and measure the ROI of a particular campaign.
That said, effective tracking can still come with hurdles. For instance, the tracking we described above is largely dependent on cookies, which means that users who opt out of your cookie policy (if you offer a pop-window for doing so) won't be given attribution.
Likewise, there are a few factors that can and do impact tracking by pixels:
- Sometimes the relevant pixel on the website page doesn't fire, even though it was placed correctly. A possible reason for this occurrence could be that the user has cleared their cache between click and conversion.
- Long or infinite page loading time due to poor internet or heavy website traffic. This generally results in reduced conversions.
- Cookies are less effective on mobile devices. Since they're comparatively unreliable, not all mobile conversion will be counted.
- Changes made to your site's source code could affect the tracking as initially set up. Whenever this happens, all subsequent settings will also have to be updated.
In this sense, you can't expect attribution reports to be an exact science.
That said, they are a critical piece of the puzzle when it comes to understanding the influence of your recruitment marketing efforts on a granular level.