Recruitment marketing and customer experience exist in a mutually beneficial feedback loop, with each feeding and at the same time playing off against each other. That means that any change made to your RM efforts will have an impact on the way your potential candidates and applicants experience their time interacting with you. It also means that you need to be paying attention to those experiences so you can adjust and tweak your marketing to reflect what you learn.
One less explored area of this interplay is the additional impact that recruitment marketing automation has on the feedback loop, specifically the candidate's journey. RMA is a fantastic way to ensure your candidates have excellent experiences at every touchpoint along their journey, while also saving your team valuable time and energy that can be invested in activities with better ROI.
The Candidate's Journey: A Brief Summary
We've touched on this in past articles, but just to be sure everyone's on the same page, here's a brief summary of the candidate's journey. In Marketing, there's a buyer's journey that consists of 6 major steps as the customer makes their way into, and through, the sales funnel. When recruiting began taking pages out of the marketer's handbook, this is one of the things that came across and became the Candidate's Journey. It consists of the same 6 steps, albeit renamed: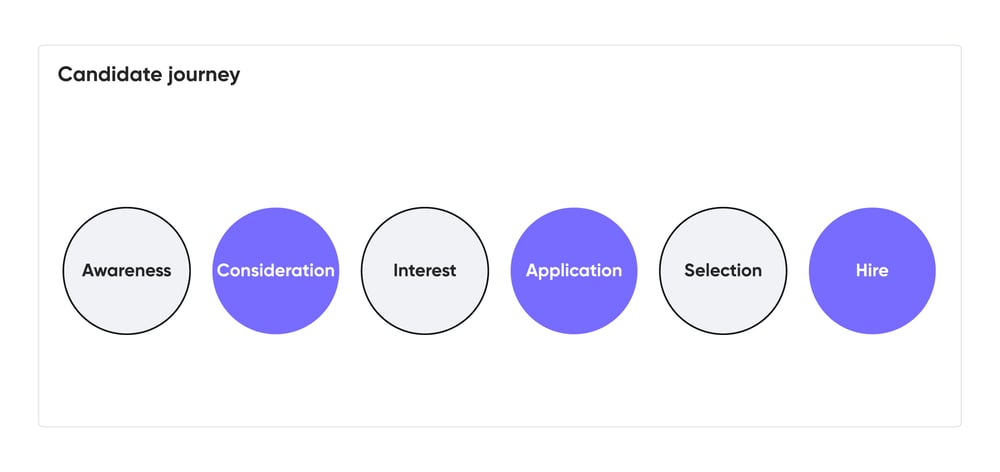 Touchpoints abound
From beginning to end, random stranger checking out your Twitter timeline through happy new hire, there are touchpoints everywhere. Every time a potential candidate interacts with your EB, that's a touchpoint. A simplified sample of touchpoints along a candidate's journey might look something like this:
In reality, there may be many times that number of touchpoints, Twitter mentions, Facebook post likes, and so on. The point is, each and every one of these interactions affects how the person feels about your EB, and by extension about your company. And since each of these touchpoints is governed by your RM presence, you begin to see how adding automation, when done correctly, can have a big impact on the whole journey.
Automating touchpoints does two things. First, it ensures your potential candidates, active candidates, passive followers, AND applicants alike are always kept up-to-date with news, status reports, and the like. All with the human touch and witty exchanges they've come to expect from your EB. And second, it allows your team to focus more of their precious time and energy on the tasks that require intervention or intuition. Both of these enable the candidate to make their way through the talent funnel as quickly, and happily, as possible.
Job seekers report a willingness to wait no more than 2 weeks for updates on the progress of an application. If you're leaving people hanging that long without word, you risk them walking. Straight to your competitors. Don't loose quality hires just because you forgot to email them.
Top 5 Ways RMA Directly Impacts Your Candidate's Journey
#1: Active social media presence
By pre-scheduling posts and having auto-replies to a selection of standard inquiries, you enable your team to use their bandwidth on other activities than monitoring your account feed, waiting for comments. You also give your audience what they want, engaging content updates that get posted on a regular schedule. That way, they know when to tune in.
RMA tools enable posts to be scheduled days, weeks, or even months in advance. That means you can even go on vacation and rest easy knowing your followers won't be left in the dark while you're out. Leave someone on the team responsible for answering questions and responding to mentions, of course!
#2: Keep the candidate in the loop
RMA lets you set up automated email workflows as well. That way, when someone applies (for example) you can have automated emails go out thanking them for their application and letting them know the timeline for hearing back from someone. Then you can have a follow-up workflow that emails them at that time, just in case you haven't been able to get back to them in person with details. This email can be a simple, "sorry, we're still working on it and you'll hear from us shortly" kind of message. It's amazing how just hearing that is enough to keep people happy.
You can also set up regular update emails to go out every week or so with general company info (be sure to have an opt-out option, just in case). This sort of attention reassures people that you haven't forgotten about them, that they are not lost in the ATS black hole, and that you do respect their time. Not to mention filling them in on great company happenings and updates.
#3: Personalize communications
Find out the candidate's preferred contact method, then set them up to only receive updates via that channel. Maybe they can only use Facebook messenger for texts, so set them up in your system to receive updates, interview reminders, etc via that platform.
Again, this shows the personal touch that candidates are craving in today's largely computerized job marketplace. Even though you're automating many of these processes, that doesn't mean you have to use canned responses and form emails. Personalizing your communications by setting those email workflows to import information like the candidate's first name, and setting them up to receive updates via their preferred channel are great ways to show them that you're hearing them and that you respect their time.
#4: Avoid the ATS black hole
Be sure your RMA solution integrates with your ATS platform, and that your application process is solid before sending out notifications of a new opening. If any applicants are getting funneled OUT of the funnel and into the dreaded ATS black hole, you need to plug that gap ASAP.
#5: Collect feedback
Feedback loops work on, well, feedback. So when you're onboarding a new hire, give them a quick survey to see how their experience was. Ask them a couple of questions about where they first heard of you, how they felt their candidate journey went, what touchpoints did they like and where they feel you could improve. Then use that feedback to make adjustments so that the next new hire won't have the same issues.
RMA can be the recruitment marketers best friend, not only does it make your life easier, freeing you to attend to the more complex, intuitive aspects of your work, but it enables you to keep your candidates happy with constant updates and personalized touchpoints all the way through their candidate's journey.