It goes without saying, the last several months have been tough.
With some heavy news cycles and uncertain times all around, you are probably feeling a little lost, wondering how to manage your employer brand during this challenging time. A lot of things are changing, there are notable shifts in candidate behavior, media consumption and the use of social platforms that require brands to reconsider how they relate to their users.
If the global COVID-19 crisis has taught us anything, it's how many options we have for remaining connected with the people (and brands) in our lives. Social media, digital content, emails, text messages, and even video conferencing are not only important methods of communication and sharing information, they're also vital tools for helping you manage your employer brand footprint in this time of social distancing.
The numbers don't lie—people are relying more on their smartphones, tablets, and mobile devices than before the COVID-19 outbreak.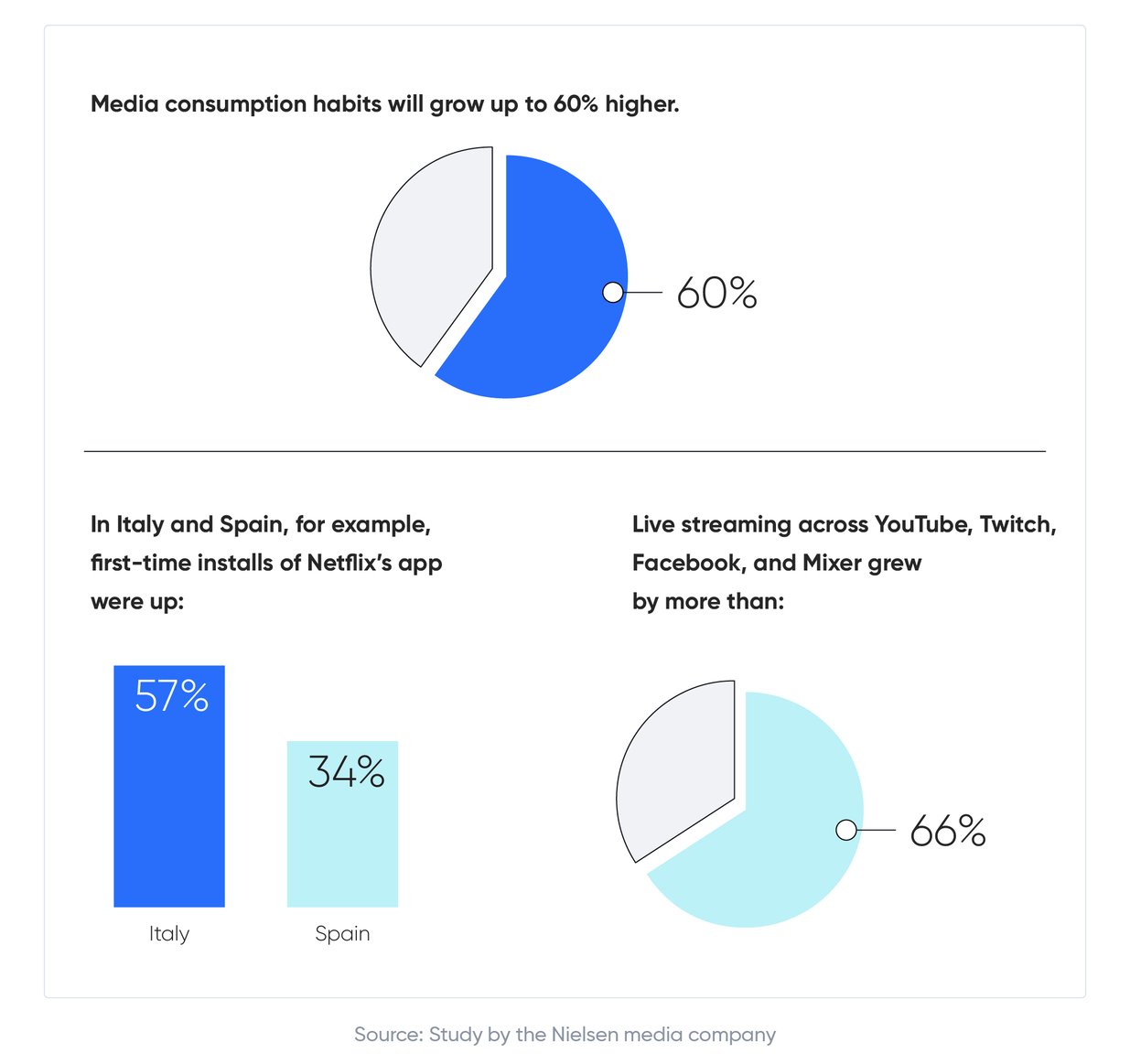 Our team has spent time crafting some ideas in order to help you and your company through this unprecedented time. We don't pretend to have all the answers, but we're here to support you in any way we can!
Moving Forward, Together
As we said above, things are changing in so many directions, and during this time, recruiters must consider a new approach to market employer branding.
While you may not feel that you have the experience to deal with the crisis at hand, the worst thing to do is to interrupt everything that you're doing and cut suddenly all your advertising or recruitment budgets.
Alternatively, you could lead all that effort in other directions: support the best interests of your community and your current, and future employees by providing them with the resources and tools to help them move forward as well.
Leverage new technologies to make your recruitment more efficient. When candidates are demanding one-on-one attention, you can't be stuck doing data entry. You need to be able to field that phone call and coach that candidate through pre-interview jitters.
While every company will be affected differently, many of you will continue to recruit the talent that your company needs now and will need after we all get through this. In fact, recruiting will become even more vital to those industries on the front lines.
It's Not Business As Usual
Employers are experiencing a paradox right now: more people are on and engaging with social media than before, yet recruitment ads and digital content are performing at sub-optimal rates compared with those seen before the COVID-19 crisis.
The answer to this paradox, as it turns out, is rather simple: people are spending more time online, but they're reading news, playing video games, and looking for inspiration to have quality time during the quarantine.
Moreover, candidates need to feel safe and secure, seeking stability in a time of uncertainty, which means they're more responsive to employer branding that emphasizes these elements of their company and organization.
Given all these factors, it's safe to say employer branding efforts right now are not business as usual.
There are a couple of things employers can do to mitigate this sense of uncertainty and make a positive impression on potential candidates:
- Focus on your employer brand: consider putting resources into social media posts and content that enhances your brand affinity while keeping you top of mind over the next few months.
- Make full transparency a priority: this will say a lot about you as an employer, your leadership, and how you support your employees.
- Inform your community about how you're managing the situation: there is no more forceful statement than values in action. Don't try to oversell it, though. There will be time for that; now is the time for empathy and support for one another.
- Adjust your hiring process and update your career page: like you, every single one of your potential candidates is feeling uncertain. Let candidates know how the hiring process will work from the interview to onboarding.
Take a Breath and Take Stock
If we look at the COVID-19 outbreak as an opportunity for employers to better understand and potentially leverage their branding via the social and digital spheres, it's going to be crucial for employers to take a moment, breathe, and review their current branding and messaging in order to make adjustments and tweaks.
You need to be uber-mindful of both optics and tone of voice with your branding—both are key factors in not only maintaining your employer branding across social channels but also hopefully standing out from the pack.
Tone of voice
- Picture the worst coronavirus news sitting right next to your recruitment post on Facebook or LinkedIn. Does it sound awkward? Tone-deaf?
- It might not be the best time for your typical culture post—especially if your employer brand is built on a cheerful, fun-loving tone; that sort of thing could be taken in poor taste and pose a real risk to your reputation.
- Consider what your candidates may need to hear right now—perhaps rather than throwing out fun and new opportunities, it may be more appropriate to project stability, security, and hope. No matter what, keep it authentic.
Optics/visuals
- Remember that people are staying inside now, and displaying pictures with your team having fun at work won't be a great idea. Every ad or video that you have should be filtered through a new lens of situational awareness.
- You need to be extra mindful of the optics associated with the visual elements of their recruitment content.
- Positive, upbeat imagery associated with collaboration, communication, and team-oriented work environments will act as a brief respite amongst the barrage of news and government updates.
Cognizant Softvision did an excellent job adapting the tone of voice and visuals of their posts, while still promoting their openings. Instead of a hard call to action, they are simply stating the important info - that they switched to online recruiting.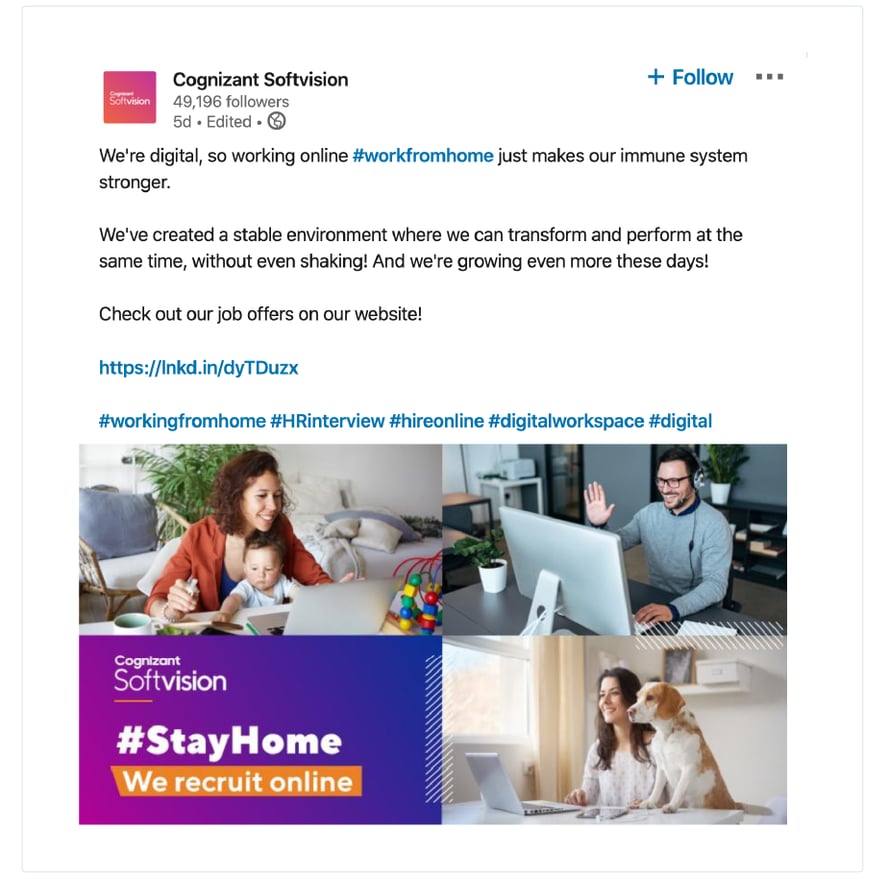 Distant but social
So, you've had the realization that this is not business as usual, you've taken a moment to review what you're doing on social already, and now you're ready to move ahead with a renewed employer branding strategy for the foreseeable weeks and months.
What are some actionable steps you can take to keep your social media game strong and actually enhance your employer branding during the current pandemic?
And how can these actions not only keep you in contact with job seekers but also create an open channel of communication where the job seeker is receptive to your messaging?
Here are a few suggestions:
Be authentic
This isn't the time for extremely curated feeds with perfect quality pics. Step out of your comfort zone and share honest, unfiltered content—moving toward the "realer" side of social media can boost your engagement. When you can bring to view the good with the bad, the struggles along with the wins, your employer brand will be more relatable to your audience.
Take a look at HubSpot's strategy. They are having a sort of employee take over, which allows them to be more realistic in their approach while being able to deliver a more authentic and "in the moment" post for their audience.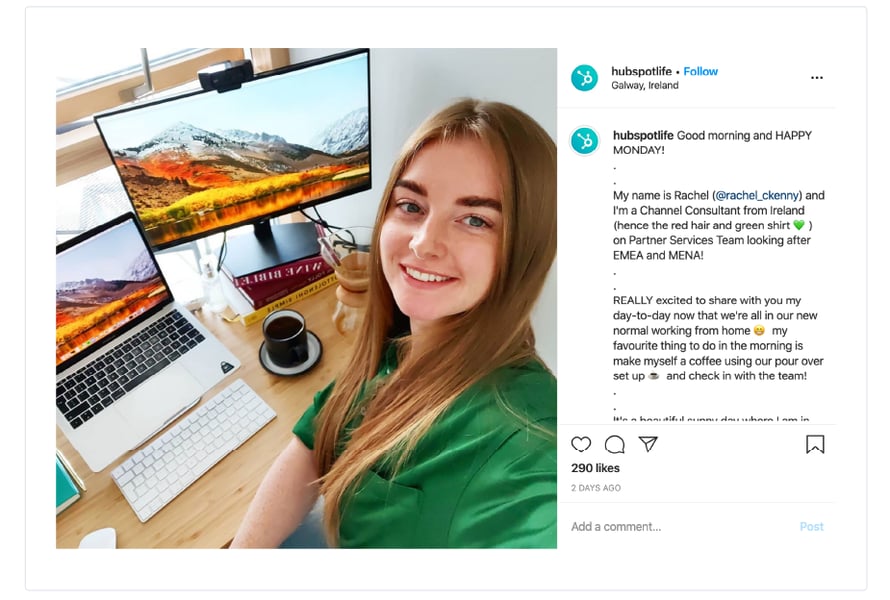 Another great example comes from Typeform - not only are they showing empathy, they are doing it genuinely.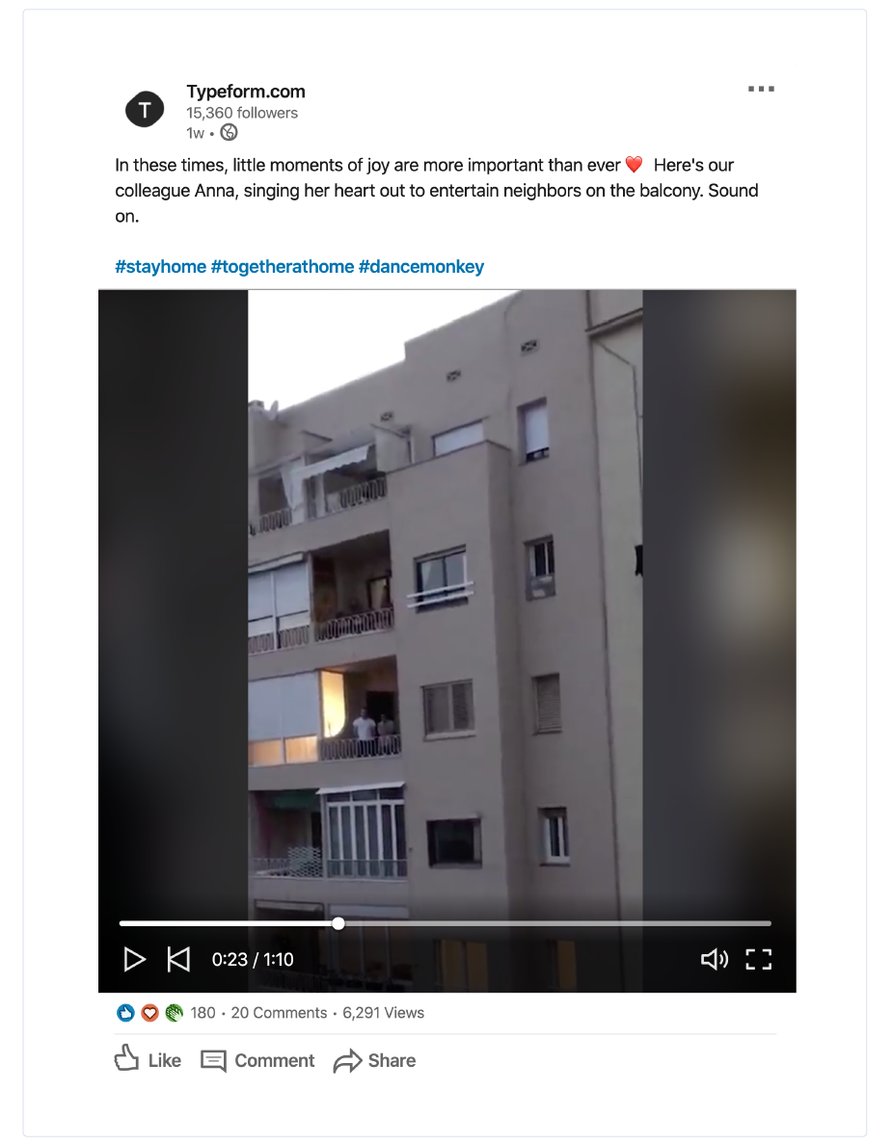 Focus on content
Content, content, content! People are stuck at home looking for inspiration to spend their time in a meaningful way! Having a set of resources ready will not only offer support to your audience, but it will also allow you to spend more time and more meaningful moments with your audience.
It's a great way to build trust in your employer brand. Consider creating long-form articles, video series, podcasts, training content, and more.
In an attempt to keep it more relevant, UiPath has shifted their visual content displaying indoor activities. They also focused on promoting "resourceable " content like articles or promoting their academy module.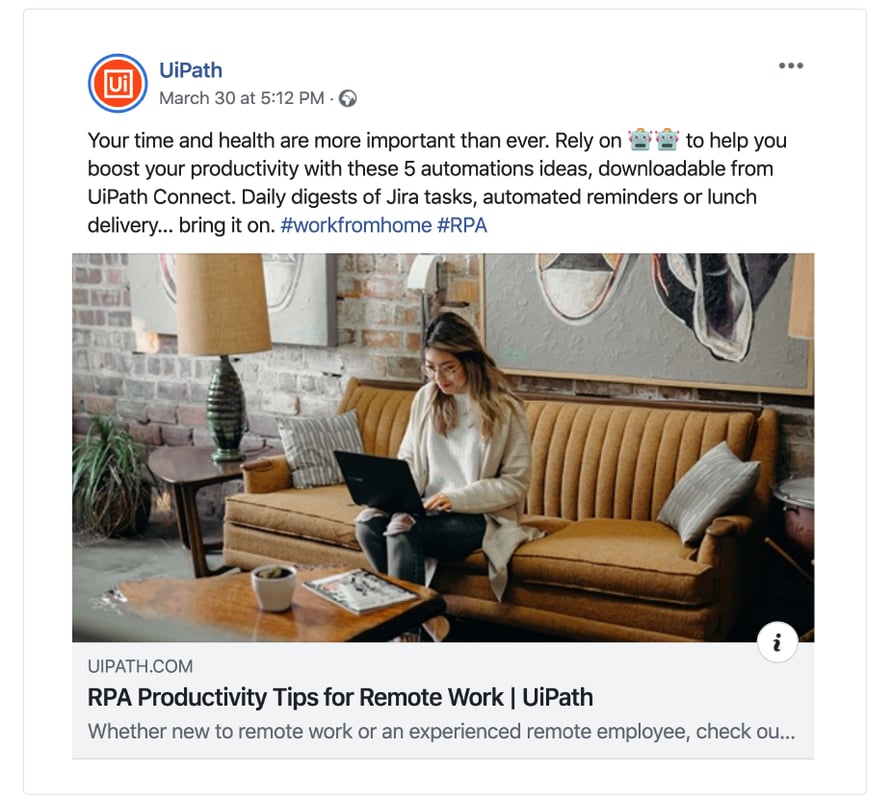 Say it with stories
Stories are a great medium to temporarily share information with your professionally-motivated audience. And since things are changing at a rapid clip, stories are perfect for sharing less polished, off-the-cuff content straight from your home office.
No silver bullet exists in terms of how to navigate times as uncertain or unprecedented as the ones we're currently in, but what we've discussed here does offer something of a blueprint to remain competitive and relevant in a crowded landscape. Being mindful of these strategic moves could very well prove critical in maintaining meaningful connections with job seekers that pay dividends and yield a positive ROI down the road when this crisis passes.