Data. Is. Everywhere.
"Big data" is the buzzword of choice for those looking to demonize social media companies, eCommerce giants, and government agencies alike.
Data-driven recruitment simply means using the data collected by your IT systems (HRIS, ATS, RMA, etc.) to power talent acquisition decision-making.
- like whether or not your last 5 hires were successful through;
- the details like which sources are returning the best quality candidates;
- which departments are seeing the best returns on your efforts across channels.
The bottom line is to find ways to improve the hiring process overall, which in turn leads to happier new hires, hiring managers, and company culture.
Say your employee referral program could cut time-to-hire by 38% over the standard path via the career portal application—wouldn't you want to know about that?
In spite of the fact that data can obviously improve your overall RM process most of the reporting in recruiting focuses on what happens around the application moment. Without clear perceptibility into employer brand awareness, candidate engagement, or careers site conversion, Talent Acquisition teams can't pinpoint the best next steps to improve their recruitment marketing.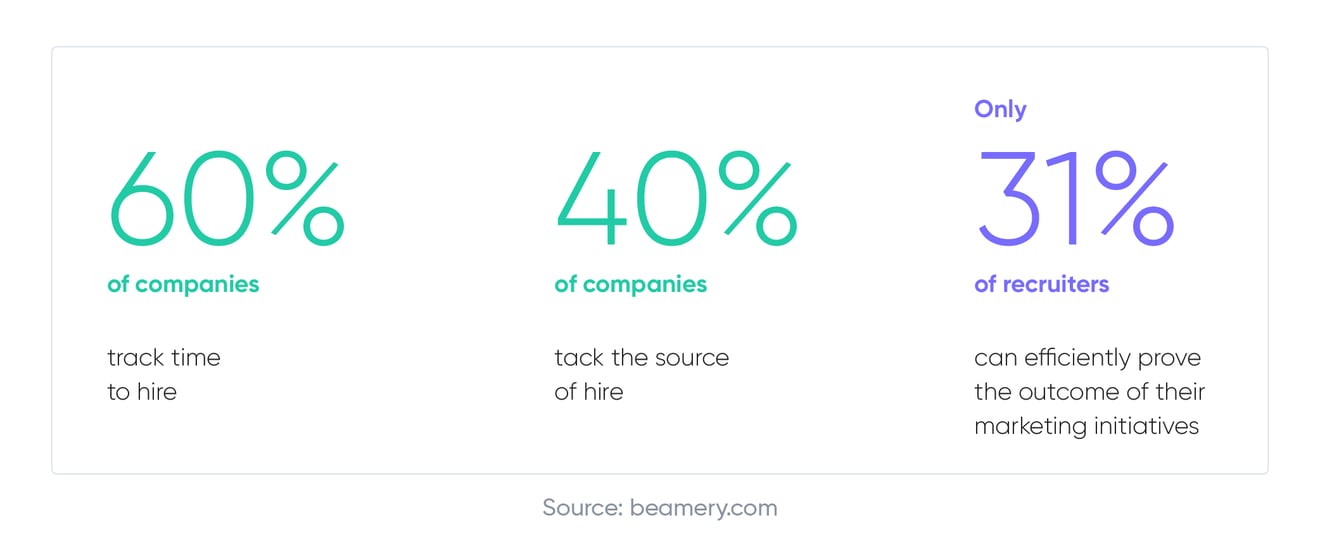 Can Your Company Benefit from Data-Driven Recruitment Techniques?
First, answer this question: How often do you find yourself relying on intuition and/or a gut feeling when making decisions about where to spend your recruitment marketing budgets?
If, like most recruitment professionals we work with, the answer is "pretty much always," then yes, your company can most definitely benefit from using data to power your decision-making.
To wisely use your resources, you have to start measuring each point of the recruitment marketing process. See which part needs improvement and which sources are bringing in the most qualified candidates.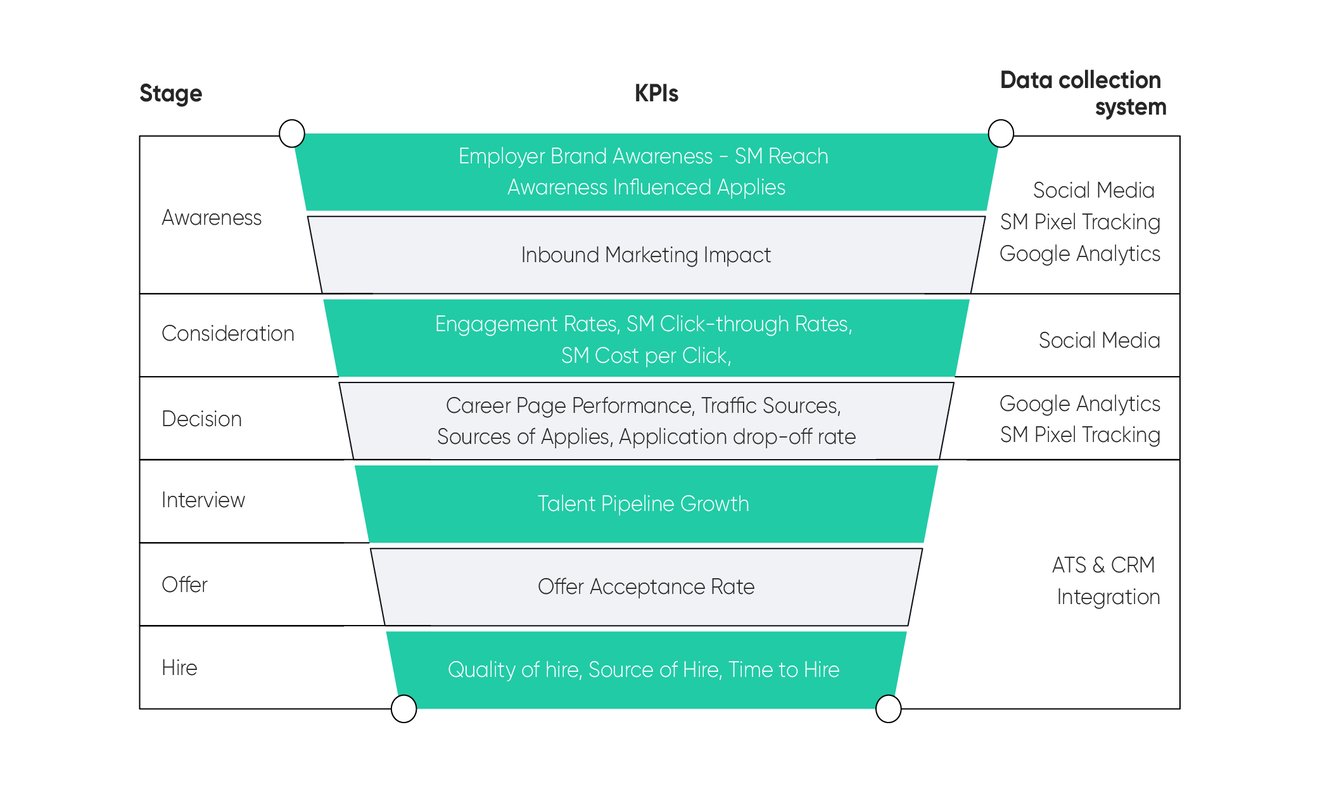 The candidate journey, from your perspective, is basically all about a person's cover letter, resume, and the hour or so you spend interacting with them on the phone. Beyond that, it's your intuition and experience in your field that determines how all these candidates find out about you, where you go to reach them, and then who gets an interview. Well, according to Beamery, only 31% of recruiters can prove the outcome of their recruitment marketing activities.
- If your company is among the ~50% who already use an ATS, or if your department relies on an HRIS system, then you have a starting point for data collection.

- If you're in the other half, getting set up with some sort of HR database is going to be your first step. You'll need this database to collect the data you'll be using later.

- What about social media? Are you using it to promote openings and interact with potential candidates? There's even more data.

- What about Google Analytics? Have you installed it on your career portal pages? Awesome, you can now track where incoming applicants are coming from, which gives you even more data to work with.
How To Get Started with Recruitment Data
You've got the data, now what? Let's back up a step. What do you want to know about your applicants and your recruitment process? Start there, before you even look at your data. Lay out the goals for this data project early, and document them thoroughly so everyone on the team knows precisely what they're aiming for.
1. Use the SMART goals rubric to keep things clean and to be sure you have all the aspects covered:
This gives you a framework to operate in as you develop your goals, and a reference point to look back on as you work toward them.
2. Then pick your metrics.
With the plethora of data you have easy access to, it's crucial to know what metrics you actually care about to avoid getting lost in the weeds. We recommend starting small, with a focus on fixing one key metric.
3. Then based on that success, you can expand your reach.
Think about the big categories at this stage: do you want to cut costs? Increase speed? Improve quality?
Next Stop: Repairing Your Candidate Experience with Data
Once you're up and running with goals and have begun looking into the data to see what other areas need attention, let us suggest the candidate experience as a great place to explore. After all, according to CareerBuilder 82% of hiring managers say the candidate experience is of the utmost importance.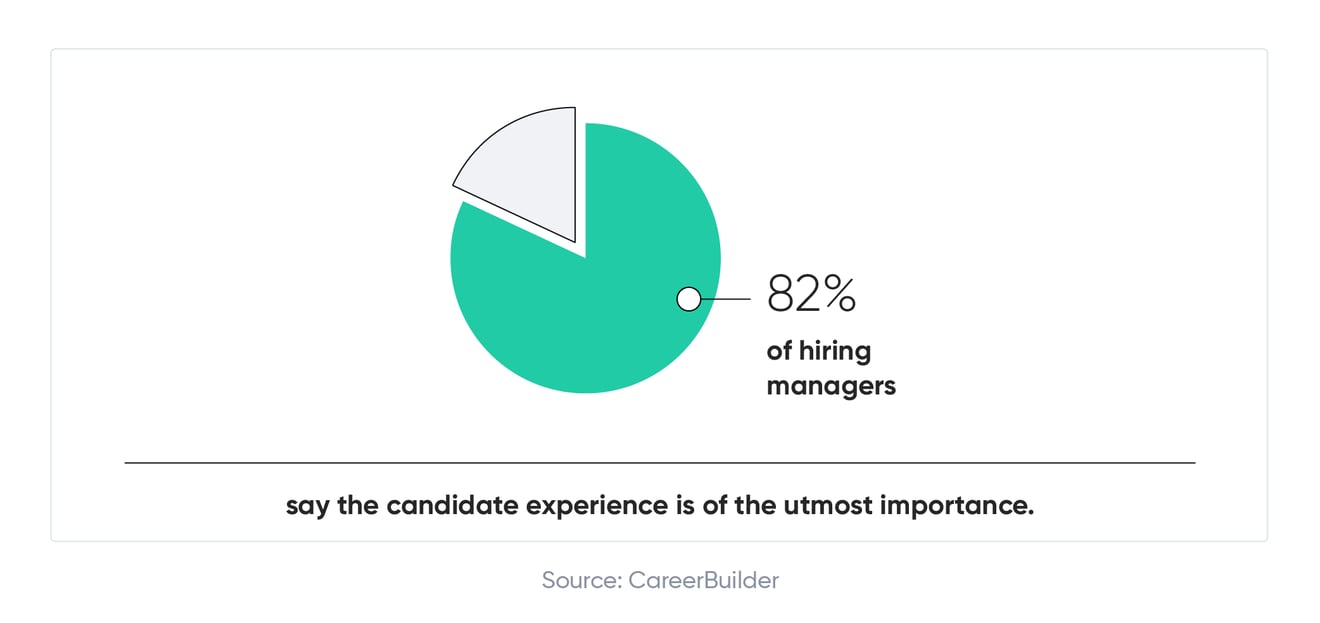 There are plenty of pain points candidates can encounter as they make their way into and through your applicant funnel, and the data generated by your ATS is where you'll find them.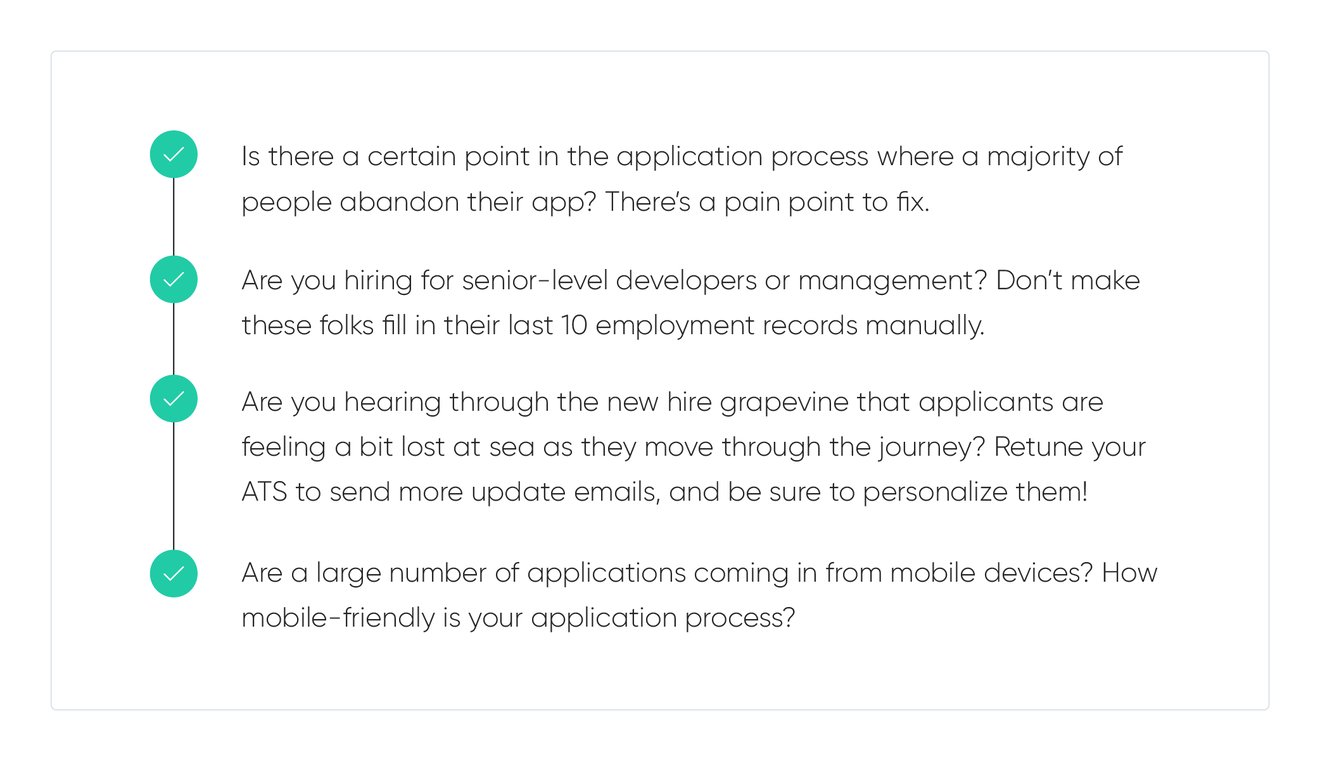 Improving the candidate's journey is sort of the low-hanging fruit of this process. The data will make the pain points glaringly obvious, and the fixes are often quite simple. That said, the impact these fixes can have on your overall candidate journey and the quality of the applications you'll see making it all the way to the end will be exponentially greater.
The Financial Impact: Target Your Budget for better ROI
Now it's time to dig in a bit farther.
- How are your campaigns faring on different channels?
- Are the majority of your quality hires coming from internal referrals rather than Facebook (hint: probably)?
- Maybe it's time to consider a formalized employee referral program to further incentivize that practice.
- How about your social media presence? Is one channel outperforming all the others?
Using the data you've got at your fingertips, run the numbers. You may very well find that one presence can be shut down and the time, energy, and budget better used on a different channel. There's nothing wrong with putting an account on hiatus if it just isn't bringing you the returns you expected.
Because, let's face it, the bottom line is ROI. And with the move toward a more dispersed workforce (35% of the US workforce are already considered "gig workers"), it's even more imperative to have a handle on your hiring processes going forward. Data can show you where the smart investments are, and where the underperformers are. Shift money around appropriately and watch your ROI improve instantly.
Talent acquisition is loaded with data. The key is knowing how to put it to work for the results you need. Experimentation, analytics, and putting trust in the numbers are all critical for success.