HR technology is changing rapidly. According to Crunchbase, VCs invested the equivalent of 700 million USD in recruiting software startups this year alone. The race to define the perfect HR technology ecosystem is on in full force, and there are as many potential answers as there are startups. Even amidst all of these new and exciting developments, one thing remains pretty clear: there are a lot of considerations that go into defining the right technology for any given HR team, and making that determination really requires a deep dive into the way that candidates are attracted, engaged, and converted in the modern era.
A diversity of factors, from industry to blue-collar vs. white-collar to company size and culture, can all help determine the right technology for a particular team. Not to mention performance on specific KPIs:
Speed-based recruitment metrics: time to hire, time to acceptance, time per stage;
Quality-based recruitment metrics: source of hire, applications per job, candidates per hire, retention rates;
Cost-based recruitment metrics: cost per hire, applications per channel, talent pool growth, and advertisement performance.
As the industry changes and evolves, these are the concrete measures that will define success. As such, recruiters and talent acquisition professionals will need to give them due consideration and keep a watchful eye as they grow and evolve their HR tech capabilities.
The Talent Attraction Funnel
Successful recruiting requires more distinct activities than ever before—from posting on job boards to running social media advertisements and automating candidate interactions. This means that the full scope of your ecosystem can be hard to get a handle on.
From our perspective, the best way to visualize your needs here is in the form of a talent acquisition funnel. In an ideal world, your HR software ecosystem should contain software tools to help recruiters, talent acquisition professionals, and hiring managers streamline or automate some parts of the recruitment workflow including functions such as sourcing, selecting, screening, and interviewing candidates. The funnel helps let you know where you already have the capabilities you need and where you still need to make improvements.
Let's go through some of these stages in more depth to give you a concrete sense of what we mean: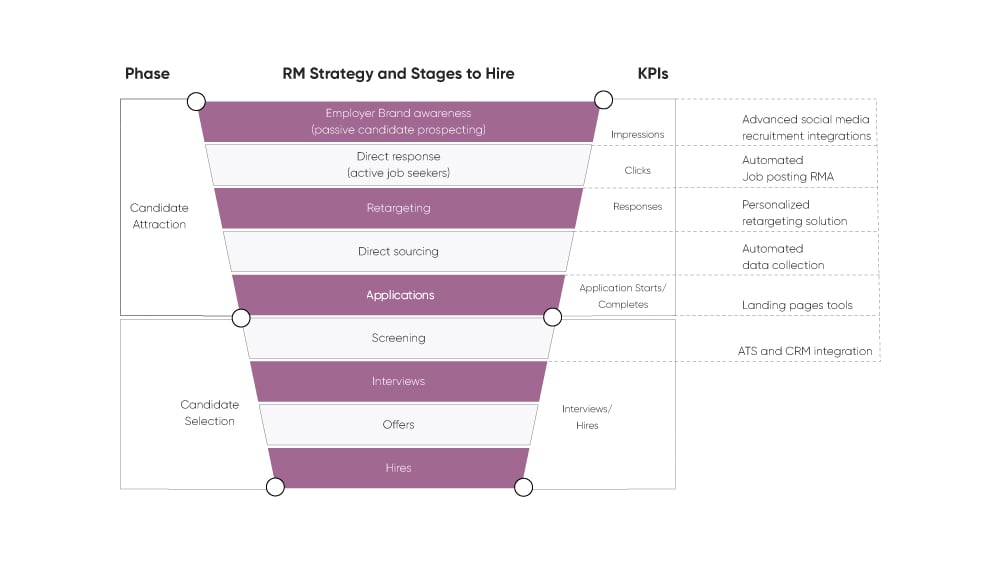 Attract
The online world is vast and sometimes difficult to navigate, which can make the attract stage—in which your goal is to reach as many targeted candidates as possible—particularly daunting. Let's say, for instance, that you're in the following situation:
You need to advertise your EVP in order to drive up employer brand awareness.
At the same time, you have a number of specific open positions that need to be filled.
You know your audience spends time on Quora and Reddit, and many of them are on Facebook and Instagram; but, at the same time, you still want to keep your openings on job boards and LinkedIn for those who are actively seeking new employment.
Here, you're basically trying to target both passive and active job seekers at one time—and this is the right way to do so. But, it's also likely going to be an incredibly fragmented and time-consuming task without any sort of automation. Since this could otherwise become a huge bottleneck, your recruitment marketing solution should be able to help you out with this. Ideally, you could scale RM activities with targeted ads and automated job posting, reducing the effort from hours to minutes. This would leave you with more time to focus on the creative part.
Engage
Once you've attracted candidates, you need to engage them. This is mostly going to take place on social media, which means that a modern recruitment technology ecosystem should have a social media content management tool. This should help you:
Schedule social media posts;
Manage comments from posts and ads;
Keep your entire team in the loop at all times.
Again, by centralizing these activities within one solution you can give yourself more time to focus on the creative side of the equation. Building a sense of community on the web takes time and commitment, so centralizing your social activity in one hub help boost efficiency and make that time more manageable.
Convert
Okay, you've attracted and engaged a number of quality job candidates who match your target personas. Now, you have to convert them into applicants. Statistically speaking, this is often the tricky part; Glassdoor reports that the typical dropout rate for an online job application is around 80%.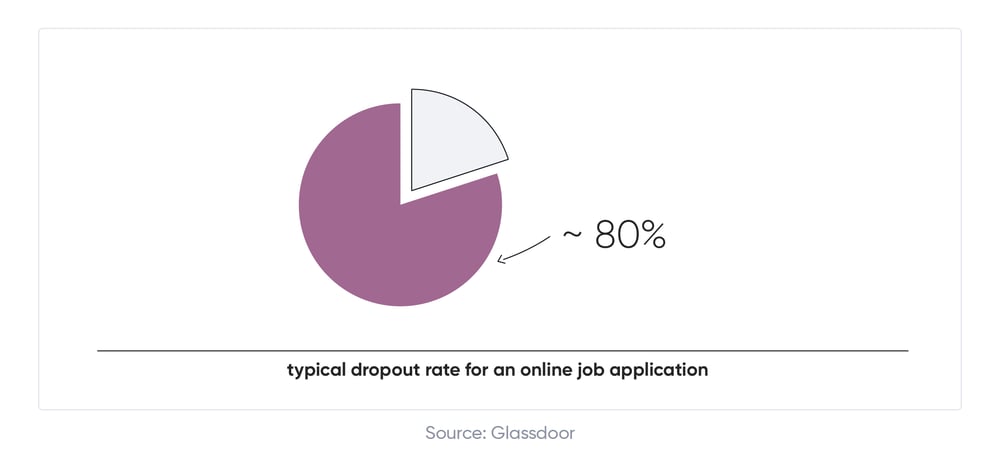 This begs the question: What is it that's making so many people drop out of the typical application process? For starters, a shocking number of applications aren't optimized for all devices. For instance, pop-up menus or non-standard fonts can "break" on mobile. Too much scrolling, pinching, or zooming can also make the application process more cumbersome. And excessively long, multi-step application processes can feel even more drawn out on a mobile device. (http://blog.indeed.com/)
Okay, that's what not to do—but how can your software help make sure that that doesn't happen?
Offering templates for landing pages that drive conversions;
Powering easy, straightforward applications that users won't want to drop out of prematurely;
Integrating with Google Analytics to analyze the behavior of each candidate on your page, with tips for how to optimize.
Traditionally, application processes have been powered by ATF solutions that encourage the creation of long, in-depth application flows. These are precisely the kind of things that recruiters need to avoid, which means they need to find a new element of their software ecosystem to power applications.
Measure
If the various funnel stages that we've discussed so far sound complex, that's because they are. That's precisely why recruiters need to make sure that their actions are driven by data, not just by intuition. Technology obviously can and should help you do that. In building an ecosystem that helps you incorporate data to refine and improve your employer branding and outreach over time, there are a few key pieces of functionality to seek out:
Automated data collection from all your job advertising channels;
Visualization of the entire candidate's journey with attractive dashboards and reports;
Connection with niche channels that lack APIs (potentially using robotic process automation or RPA);
ATS and CRM integration.
Interview
Last but not least, we get to the interview stage. This is another stage that has historically presented recruiters and hiring managers with a challenge. To wit, 56% of candidates do not receive any feedback following their interview (Talent Board). From a pipeline development perspective, this reality only discourages people from applying to the same organization more than once. If you can avoid this, you can retain these candidates for future openings, and thereby gain a competitive advantage.
Unfortunately, sending follow-up emails, making phone calls, entering and editing information in your CMS, and other related tasks can quickly become tedious and time-consuming. Fortunately, nowadays your recruitment marketing solution can help you automate those things. Specifically, you can automate: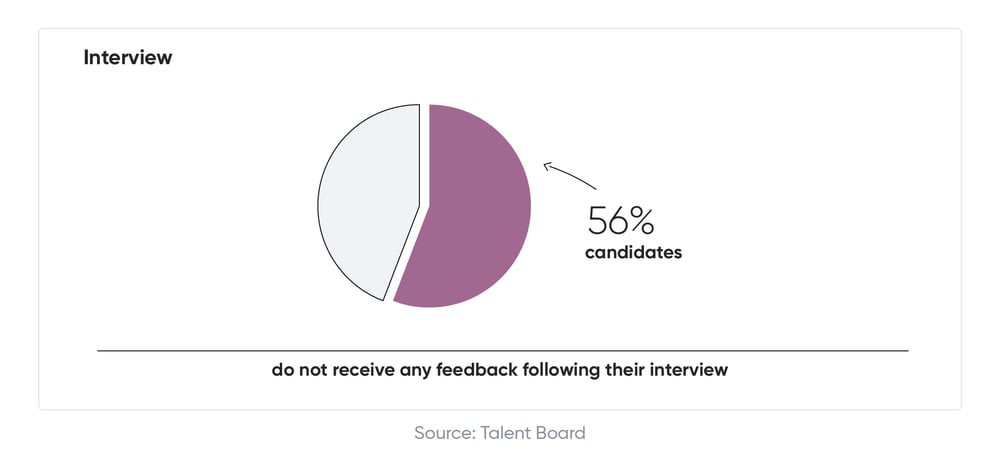 Post-application and post-interview follow-up emails;
Information transfer between ATS, CMS, and RM solutions.
By creating an environment in which data can be shared back and forth between your ATS and your recruitment marketing platform, you can eliminate any potential areas of disconnect between the two functions. This, in turn, makes it easier for you to shepherd applicants through the entire funnel in a way that's visible, efficient, and scalable.