When it comes to SEO, we tend to think of it as a marketing tool that focuses on consumers. You optimize your pages so that you maximize your chances at being discovered by someone doing a Google search, with the hopes of them becoming a customer or client of yours. The thing is that SEO can be just as important for talent acquisition. The basic principles are the same as for consumers: you want to maximize the chances that they'll click on the link to your page in the Search Engine Results Page (SERP).
Website designers and marketers can spend too much time working on SEO for their product pages and landing pages and leave their recruitment marketing out to dry in SEO-purgatory. Currently, online platforms are taking over a greater share of the job recruitment process year by year, with about half of American adults have searched and applying for jobs online. This means that people are finding jobs through online platforms more and more often. It's clear that both the job market and the market for goods and services are following the same trend: online marketing is more and more relevant.
It's also important not to take on-site recruitment pages for granted. Job portals like Indeed are also growing, but with them grows an influx of irrelevant and undesirable applications. Recruiters are also a useful resource, but they can be more expensive than needed for what you are trying to achieve.
If the growth of online marketing is reason enough to work on optimizing your product pages, then you should be doing the same for your recruitment pages. More and more prospects will be going through online platforms to look for new jobs (i.e., by googling for jobs), and it is only by optimizing the recruitment pages that you can hope to get a healthy number of relevant applicants. If online is the future of recruitment, so is SEO.
SEO is a great way of refining the quality of applications you receive. The more precisely optimized your recruitment page is, the better the quality of applications you receive will be. SEO helps search engines understand exactly what your job posting is about, which means that it won't show it to people you wouldn't be interested in recruiting and who wouldn't be interested in your job. So, not only does SEO increase the scope and reach of your recruitment pages, it also refines users down to the exact people you are looking for.
SEO is Important For Recruiting… Now What?
The first question you should ask yourself is, "are my recruitment pages SEO ready?". The easiest way to answer this question is to test your recruitment pages by doing a quick search for a job that you have posted on your website. Keep the search as simple as possible. If you have posted a job for a "Web Designer", all you need to do is search for "Web Designer jobs" on a search engine and see what results come up. You can try adding very small details such as location, industry, and date of posting, but don't do a deep search. Potential recruits will start with general searches and will only add more details to their search if they don't find satisfactory results right away.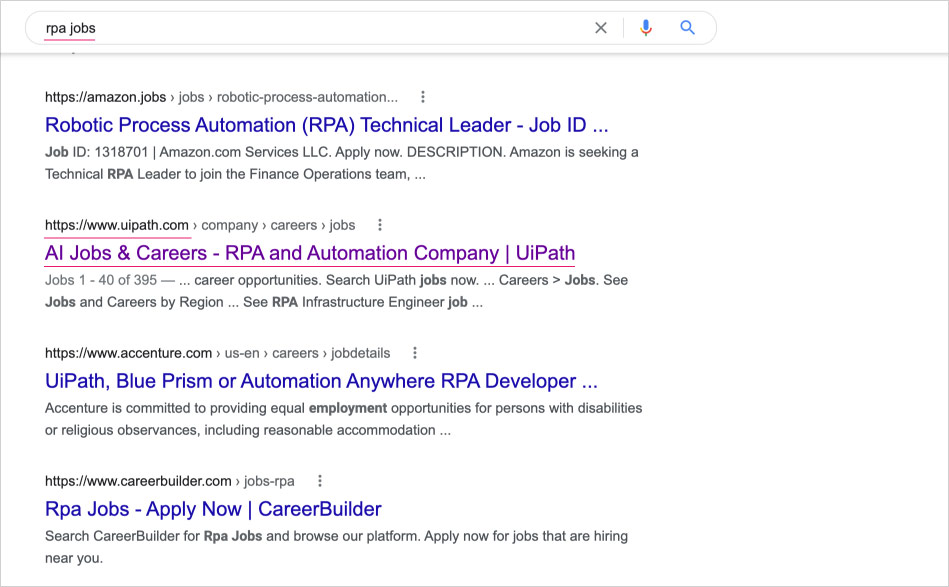 Does your job posting appear at the top of the page? On the first page? At all? The closer your posting places to the top of the first page, the better you'll know how well you're doing in terms of SEO. A study found that the first 10 results - the first page - of a Google search had a combined 71% clickthrough rate (CTR), while the next 20 results (the 2nd and 3rd pages) had a combined CTR of only 6%. This shows how dramatically CTR increases the higher up you are in the results page. For reference, the same study shows that the top result of the first page has a 31% CTR, and every other result has less than 15% CTR. So, getting to the first page is already a big success, but that top spot is really what you're aiming for.
If you can't find your link at all, then you obviously have some work to do in terms of optimization.
One of the first things you can do to start optimizing your pages is to look at the top results of that first search you did. Go see what kinds of pages come up when you search for your job posting, and see what they are doing that is different from your website.
There are too many aspects of SEO to cover in one article, but to start, you can look out for things like:
Keywords. Top-ranking pages will have ranking keywords efficiently placed on their page so that algorithms can easily pick up on everything. You should aim to use industry-specific keywords, but also job-specific ones, and even branded terms (mentioning a specific brand or business by name).
Page specificity. One page will generally have one very specific topic. A recruitment page will be a single job posting, without any other topics explored or discussed directly on that page. Page specificity also helps you keep your pages clean, both visually and in terms of content. If you stick to one topic, it's easier to keep things organized and avoid cluttering your page with too much information or media that will confuse both users and algorithms.
Page Speed. Faster-loading pages perform the best because they are the most user-friendly. If it takes too long to load your page, you'll struggle to rank highly in search engine algorithms.
Interlinking pages. If your pages connect organically and seamlessly to other pages on your website, users will have a better time navigating your pages and will probably stick around longer.
These are all things you can notice by visiting a page yourself. You don't need to have access to a page's analytics to compare these simple (yet extremely important) aspects of SEO to your own pages. After comparing, you'll have a good idea of where to start improving your recruitment pages.
Recruitment SEO is Tough, But There Are Tools to Help
The basics are a great place to start, but given the current state of SEO, they're nowhere near enough to have your page be successful in SERPs. Recruitment-focused SEO is even more complicated than conventional SEO because in general, applicants are harder to come by than customers or simple visitors. Applying to a job takes much more effort than browsing or shopping - it takes a great deal of research as well as administrative work on the part of the applicant - meaning that potential recruits will get fatigued sooner and are less likely to go all the way through SERPs.
Additionally, potential recruits differ in quality much more noticeably than customers do. Customers are generally attractive due to their capacity to spend money, but recruits can be attractive to employers for a number of reasons: expertise, culture fit, experience, notoriety, etc. As an employer, you obviously want to have the best chance at recruiting the absolute best candidates on the market, and you'll be competing with other employers over these elite candidates. These candidates are also looking out for the best benefits a job can provide them: a healthy work-life balance, a top-tier office space, exclusive perks, etc. If you can offer these things to candidates, then you can optimize your pages to highlight them on your careers page and rank them in search engines.
These are all reasons why having a high-ranking career page is more crucial to recruitment than we might think and why it is necessary to go beyond the basics of SEO in these areas.
Trying to manually optimize every single aspect of your career pages can be extremely time-consuming. There are too many pieces to put together, and career pages need significantly more maintenance than other pages on your website, so the work can get overwhelming. Learning about SEO on an in-depth level can seem very challenging at first. There's a lot of information out there, and there isn't really one standard source of knowledge on SEO (but there are some good ones). So all you have to work with is scattered knowledge across marketing blogs. Despite these difficulties, there are always small steps you can take to get better at SEO, and for things that are most difficult to manage, there are automation tools.
Beyond The Basics of SEO: Automation Tools
One way to deal with these issues is by investing in automation tools. Automation tools exist to streamline necessary but time-consuming tasks for you so that you can spend your valuable time on other things. Automation is especially valuable when it comes to recruitment marketing because you are constantly having to go through data and documents and do routine maintenance on your recruitment pages. Common automation tools for recruitment marketing are Google Dashboard and Ahrefs, but also SmartDreamers.
A tool like the SmartDreamers platform allows you to centralize your recruitment marketing efforts into one place, allowing for easy optimization. SmartDreamers connects with other tools such as ATSs (Applicant Tracking Systems) so as to avoid dealing with multiple automation tools at once. With tools like SmartDreamers, you can more easily track your applicants and measure your KPIs across the entire recruitment marketing process. This means that SmartDreamers can also help you when it comes to SEO since it gives you access to data in a centralized fashion.
Contact us to set up a demo today