The way people search for jobs changed in the last years, and Google remains one of the main starting places in looking for a job. This means that your strategy for ranking on google both organic and through ads is ultra important.
Whether we speak of marketing content or career pages are two types of ranking on page one of Google – organic (unpaid) and paid. Search engine optimization (SEO) is the unpaid approach while search engine marketing (SEM), which is the paid ads, is the other method. Whilst it's ideal to use both eventually, you can start with just one.
TIP: Your Google Ads Campaign needs to be part of a well-defined recruitment marketing strategy. 
Building out an organic SEO strategy, however, takes quite a bit of effort, time, and a lot of knowledge. Often, you'll need some extra paid SEO software like Moz or SEMRush and/or pay for a professional consultant to help you out. Even with these resources, it will take time to start seeing results here. Conversely, If you want to move up the ranks faster, you should consider investing in Google pay-per-click (PPC) ads.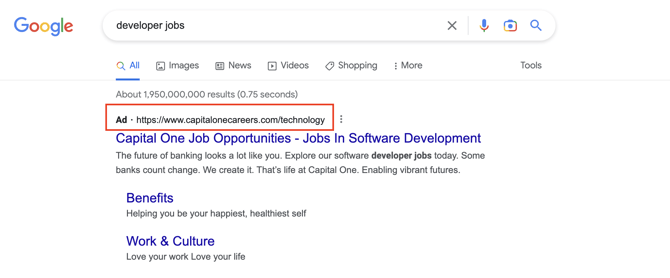 Google ads are a fantastic way of bypassing all the hard work of SEO and getting right to the top of your candidates' search! That's why today, we're sharing how you can build a Google PPC ads strategy to attract qualified talent. But first, let's review what exactly Google PPC ads are.
Note: If you're interested in why TikTok is becoming the hottest thing in recruitment marketing, then this article is for you.
What is Google Ads for recruitment?
Basically, Google Ads is Google's advertising platform, offering businesses the ability to place sponsored posts within Google search results, across the Google Display Network (all of the sites across the web that manage their advertising through Google), and on YouTube. Each of these channels is important, but we're going to save Google Display and YouTube for other blog posts and just stick to Google search ads for this one.
Google ads is an incredibly powerful tool, that directs your ads to search engine results pages (SERPs) based on specific keywords that are relevant to your business. It's a no-brainer that Google ads are a great way to elevate your talent attraction strategy.
Google PPC ads come in different formats (images, text-only, etc.), and these ad units will appear above the organic search results when people use Google to search. The name "pay per click" comes from the fact that you only pay for the number of clicks your ad receives.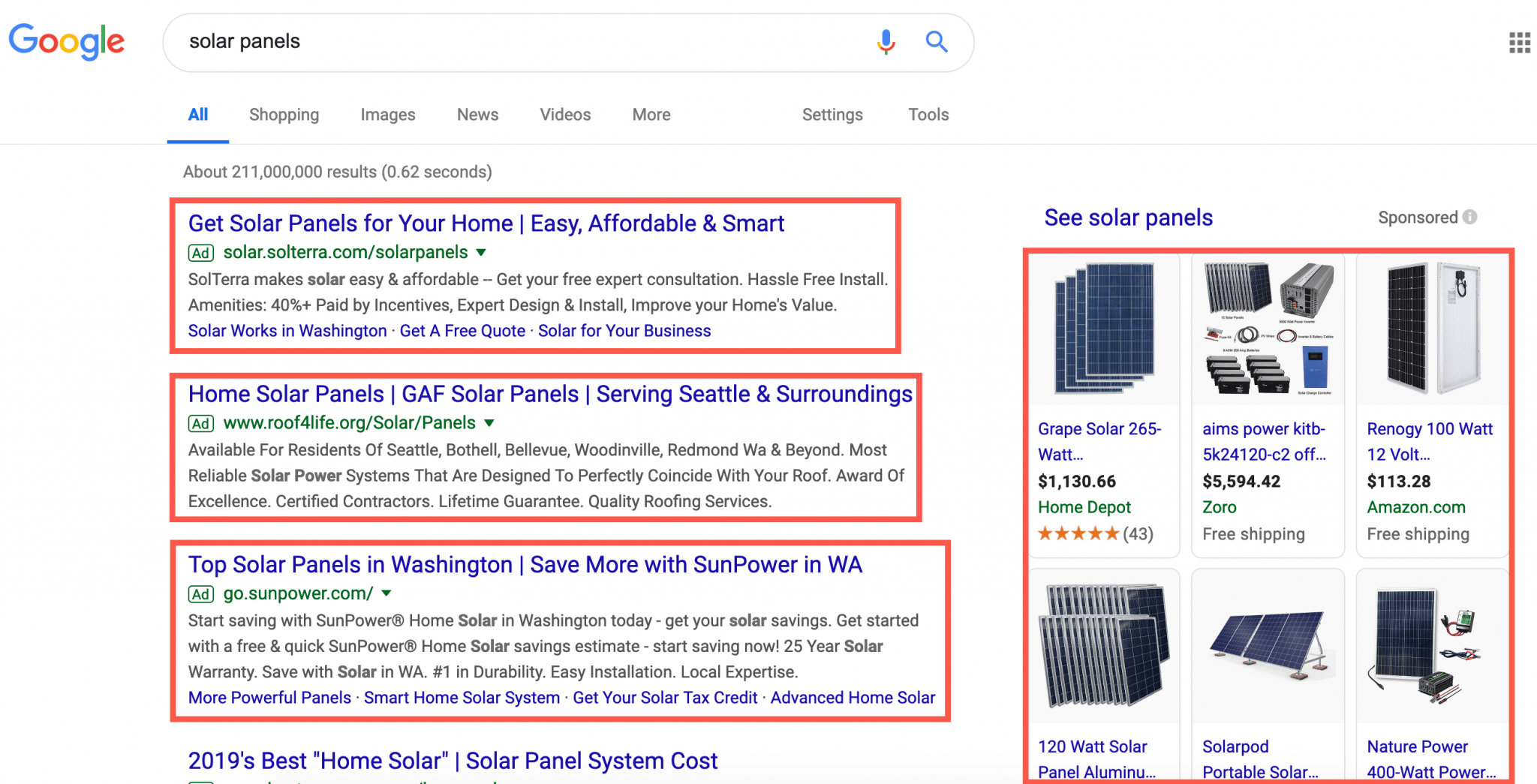 Now, we know what you're thinking. "Sponsored ads in Google search results? No one clicks on those!" This is a common misconception. In point of fact, these sponsored posts often receive a lot of attention. For searches relating to online retail, for instance, people are actually more likely to click on sponsored results than organic ones. Naturally, this is an extreme example, but it should give some indication that people are, in fact, willing to click on these results. The trick, then, is to make sure that your post is high quality and highly relevant to your target audience.
So what do these ads look like? Essentially, you choose a set of search keywords that reflect your recruiting goals (more on this in a minute), and then you set a budget that includes the amount you're willing to "bid" for each click. When someone searches for one of your terms, Google picks a few ads to display at the top of the search based on the bids and relevance scores (more on that in a minute) of the various advertisers who list that search term. These ads are structured to look just like normal search results, except that they are labeled as sponsored posts. Notably, though you're constantly "bidding" for individual searches, Google doesn't actually charge you until someone interacts with your ad.
Why invest in PPC as a recruitment strategy
There are a number of benefits to investing in Google ads for your talent attraction strategy. Here are just a few:
Google PPC ads are fast and efficient. PPC allows you to skip the hard work of developing a long-term organic SEO strategy to build up a brand presence and attract leads faster.
Increases visibility and exposure: PPC ads earn you top placement on the SERPs, putting your brand and jobs in front of highly qualified candidates.
Targeting capabilities: By focusing on specific keywords and demographics, you can find people who are most likely to be interested in your job openings.
Flexibility and quick results: Unlike organic SEO, Google ads offer fast results with minimal effort required. Additionally, you have more flexibility when it comes to adjusting your ad copy or budget as needed. This makes them an ideal solution for businesses that need to ramp up their recruitment efforts quickly.


If you're ready to start running a Google PPC recruitment campaign, there are a few key steps that you'll need to take.
Choosing the Right Search Terms
What's the first step you need to take when you've decided to run a recruitment ad campaign through Google Ads? Deciding on your search terms. This, after all, is going to determine who sees your ads.
So, think about your employee personas: what Google searches are they likely to be making? Crucially, active and passive job seekers will likely encounter you on this platform through fairly different search terms. Thus, if you're hiring developers who are fluent in Haskell, you might expect active job seekers to search for something like "developer jobs Haskell," while your passive candidates might be searching more generally to resolve questions they encounter using that particular language.
Since Google determines which ads to show based on the relevance of your ad to the search term (also known as your Google Quality Score, or GQS), it may be easier to reach active job candidates with posts linking straight to job ads. Passive candidates, on the other hand, might be more inclined to click on a link that sends them to some educational content, like a blog post or a whitepaper.
Once you are clear about your employee personas and their search intent, it's time to narrow down some actual search terms, and Google ads has a special tool for this called: Keyword Planner.
Using keyword planner you'll be able to see which keywords people are using to search for jobs and other career-related information, their monthly search volume, and how competitive they are. Ideally, your keywords should have a decent amount of monthly search volumes – aim for +1,000 searches per month where the competition is low to medium. The competition number refers to the volume of companies that are putting in ad bids for the same keywords.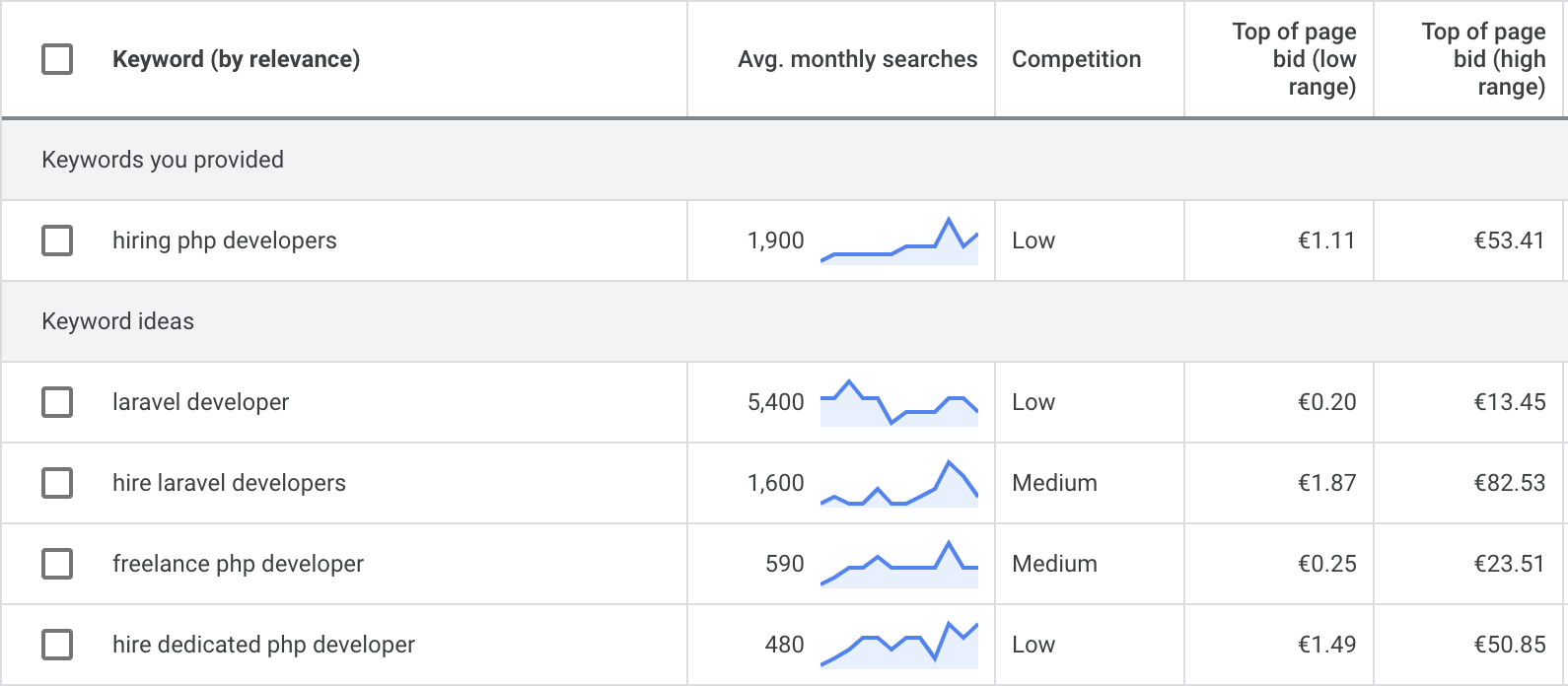 You'll also have to decide whether you want to bid on "broad matches" (i.e. search terms that Google identifies as fulfilling the same intention on the users' part as the search terms you've designated), or "phrase matches" (in which you bid only on searches that utilize the phrases you designate). Broad matches can help you to get in front of a wider audience, but they contain a higher risk that you'll pay for ads that don't reach your target personas.
Decide your budget for google ads
Next, you'll need to decide how much of your recruitment budget you want to spend on Google PPC ads. This involves evaluating the above-the-fold ad placement cost and making a decision based on your bottom line.

We know that budget is a very sensitive topic, which is why we recommend starting your Google Ads recruitment marketing campaigns with a test campaign, so it's more palatable for stakeholders. Using Google Keyword Planner you can see the successful bid range for your different keywords and set your budget accordingly, for the google ads recruitment campaign.
While Google Ads allows you to compete with more prominent companies that have bigger marketing budgets, keeping the cost per click (CPC) low is still a challenge for many people in this industry. The most common reason for this is that they use more popular keywords in their ads. Since popular and competitive keywords cost more than their less popular counterparts, bidding on them can sap your funds faster than you expect.
To avoid running out of funds quickly, a good strategy would be to choose less popular keywords. Also, instead of using broad-match keywords, consider more specific ones. Incorporating long-tail keywords can help, too, especially if you're targeting job seekers in niche industries.
Create killer ad recruitment copy
Now that you have your keywords and budget in place, you can begin creating your ad copy. As with any marketing or recruitment content, it's important to be clear and concise in your messaging, using compelling language that will attract the attention of potential candidates — all while staying within character count limits and other restrictions. Here are a few tips to keep in mind:
Make sure your message is clear and attracts the right audience. Use your keywords strategically though — don't just stuff in as many as you can. An ad that's saturated with keywords likely doesn't convey any message clearly!
Be clear about your

employee value proposition

. Even though you need to keep your copy concise, your ad should still provide a short "what's in it for me" for candidates. For example, if you're looking to hire software developers, then you might say something like "Software Developer Jobs — Remote-Friendly and Flexible Hours."
Call-to-action (CTA). At the end of the day, you're running ads because you want prospective candidates to take a specific action, whether that's applying for a job, signing up for your talent community, or simply visiting your career page. Using an action verb partnered with a time constraint is a compelling approach. For example: "Apply now!"
Improving conversions with top landing pages
The landing page is a vital part of advertising successfully on Google. It is because when determining the search ranking of your ads, the search Google considers not only the content of your ads but also the landing page where they redirect users.
Google will crawl the text of this page as well, so the better optimized it is for the search term, the better. Since this is where Google makes its money off of you, there's also a real incentive to make this page as impactful as possible.
As with any marketing or recruitment campaign, it's important to put just as much effort into optimizing your landing page for conversions as you do into creating killer ad copy.
You should have a specific candidate persona in mind when creating your landing pages. Your copy should take into account their specific motivations, aspirations, and pain points.
Tell them "What's in it for me". People tend to skim content quickly, and they won't keep reading and take action unless you've caught their attention. The "what's in it for me" should be front and center on your landing page.
Use simple words. No matter how smart your audience is, nobody wants to read an academic thesis when they're applying for a job. People don't have the attention span for this, and they'll bounce from the page.
Keep your paragraphs short. It's important to be really direct and keep paragraphs short to help improve readability.

Visuals. People retain 55% more information from copy paired with visuals. This means that candidates are likely to remember your employer brand if you communicate it visually — and even if they're not ready for a career transition now, they may recall your company when the timing is right.

Clear call-to-action!
Measure the results of your campaing
Once you have your campaign up and running, monitor your ads on a regular basis to see how they are performing and make adjustments as needed. As your ads run, Google Ads will collect data and show a graph of your metrics— impressions, clicks, and conversions— over time. If you find your metrics declining, you will need to make adjustments. This is key to achieving the highest results possible with your ad budget.
Pay particular attention to things like click-through rate (CTR), conversion rate (CR) rates, cost-per-click metrics (CPC), cost-per-lead metrics (CPL), and overall impressions.
Conclusion
Running a successful recruitment campaign with Google Ads requires careful planning, effective copywriting, and ongoing optimization. By following these tips, you can create compelling ads that attract top talent to your organization and drive conversions.
SmartDreamers can help you develop and implement a Google Ads recruitment campaign that targets the right candidates and delivers results. Contact us today to learn more!