Recognizing the need for diversity in recruitment is no longer just a trend - it's a competitive advantage. Large and small companies see that building diverse teams can give them an edge over their rivals to help them get ahead.
Since the pandemic, the workforce has gotten even more well-versed in collaborative technologies ranging from video calls to digital whiteboards and more, making us more interconnected than ever. Businesses are making use of this digital fluency to expand their hiring perspectives. The future of work is global.
Technology has created unprecedented opportunities for businesses to access talent regardless of geographical restrictions. Companies can now explore a globally connected marketplace, unearthing the best talents from distant shores and connecting with experts within their niche in any corner of the world.
The move towards flexible, remote work enables people to seek jobs they genuinely love. It also makes taking international positions more attainable than ever before — which also means hiring diverse; international candidates is becoming the norm. Plus, the Great Resignation is impacting businesses in ways that are likely to stay for the long term.
So, what is diversity and inclusion in recruitment? Why is it important, and how can diverse hiring practices benefit a company with a global perspective? This blog post will explore the business case for diversity, equity, and inclusion in recruitment and talent attraction. We will look at the benefits of embracing DE&I and the starting point of being intentional about attracting divers talent. Read on if you want to improve your organization's diversity and inclusion initiatives!
What is diversity recruiting?
Diversity recruiting is the practice of seeking out and hiring candidates from underrepresented groups. This can include people of color, women, LGBTQIA+ individuals, people with disabilities, and more. By tapping into new talent pools, businesses can improve their chances of finding the best possible candidates and create a more inclusive and welcoming workplace.
So, what qualifies as a diversity candidate? Emphasizing DE&I in hiring practices means striving to represent all demographics on your team, such as age, race, ethnicity, gender, religion, disability, sexual orientation, and socio-economic status.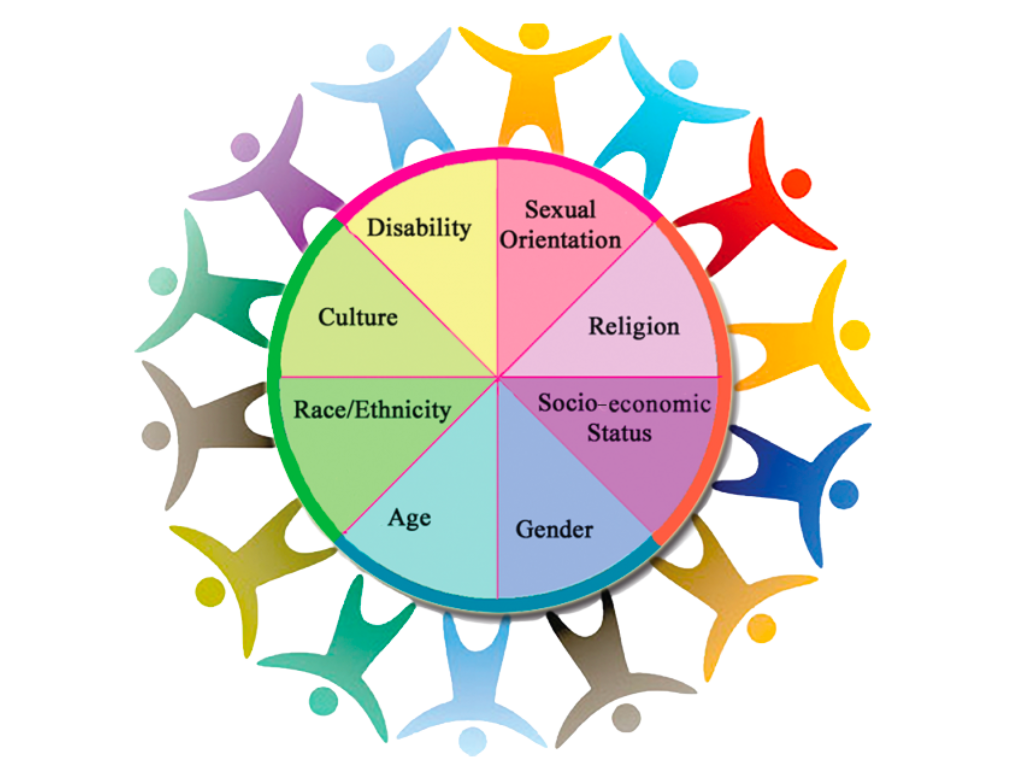 In today's competitive business environment, diversity recruiting is an essential tool for any company that wants to succeed and become an employer of choice. Though it might look like a no-brainer to welcome diverse people onto your team, with no intentional effort to achieve this, many companies still need more diversity. Just look at Fortune 100 companies. Twenty-six of these companies have no ethnic diversity in their high-level executives, and 6 have no ethnic or gender diversity. Each of these positions represents a hiring decision that lessened that company's DE&I (source).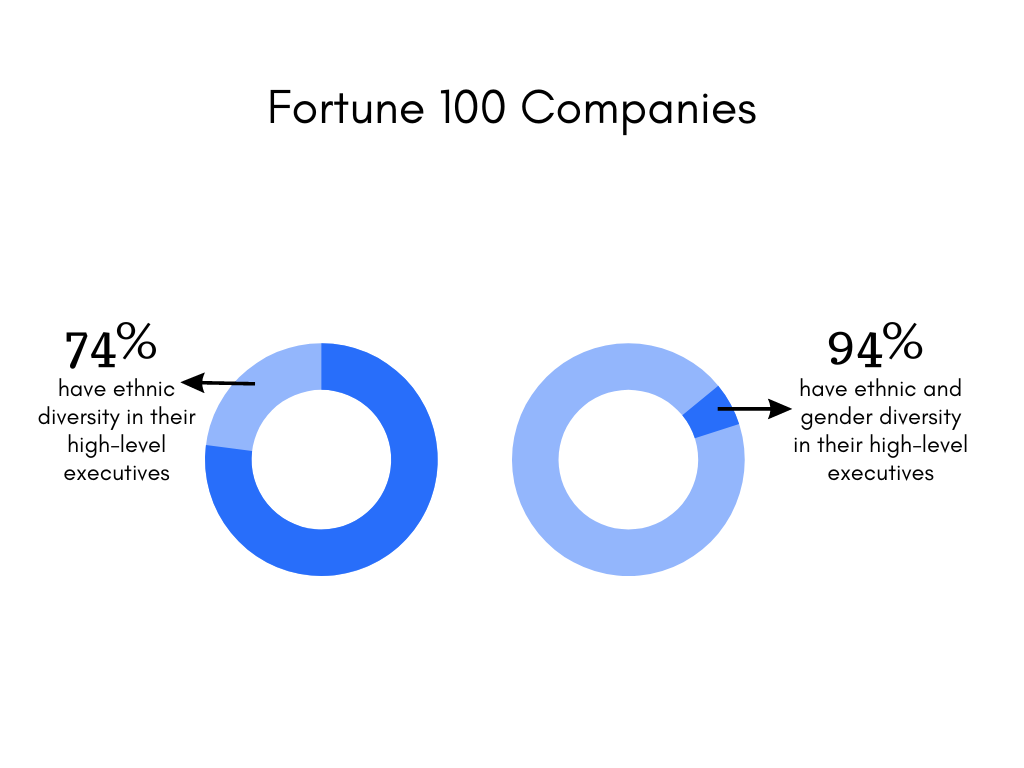 Why is D&I important for businesses today?
With so many companies needing help finding the right talent, expanding your recruitment efforts beyond local boundaries has incredible potential. Harnessing a global talent pool can give you access to more candidates and add greater diversity in experience and skillsets to your team - unlocking enhanced opportunities for growth and innovation.
When it comes to diversity hiring and recruiting, best practices include efforts to broaden your search to include global candidates.
It improves employee happiness, productivity & retention
Catalyst, a global nonprofit whose mission is to build workplaces that work for women, found correlations between D&I and employee satisfaction benchmarks such as retention and productivity.
A work environment that appreciates each employee's unique characteristics and valuable aspects can result in a more successful organization. A team with members from diverse backgrounds, ages, and genders are beneficial to morale and encourages talent retention and increased productivity.
It improves innovation & creativity
Research has shown that companies with gender diversity are 15% more likely to outperform their competitors. Ethnically diverse companies are 35% more likely to outperform their competitors. Inclusive teams outperform their homogenous counterparts by 80%.
So, how do diversity hiring practices lead to these results? The answer is simple: innovation. Diverse teams are more likely to innovate and find creative solutions than homogenous teams.
People of varied backgrounds and perspectives can create something extraordinary by joining forces. Drawing on various experiences yields exciting possibilities that would not be available if we worked in isolation - resulting in innovative perspectives, thinking, and enhanced collaboration between team members.
It's positive for your employer's brand
This seems obvious; a diverse team and brand go hand-in-hand and is similar to why diversity hiring leads to a larger talent pool. Right now, it's a candidate's market. That means if people feel they won't be welcomed, they won't choose to work for you.
If your employer's brand is known for its diversity, it will appeal to many different customers, candidates, and potential business partners.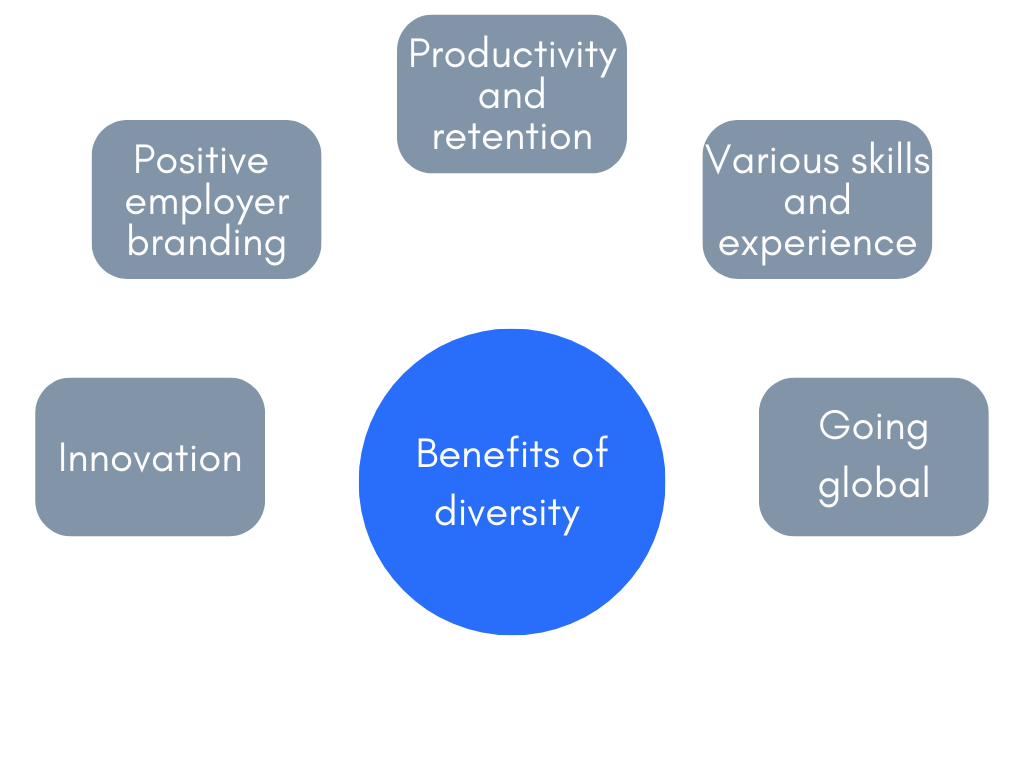 It increases your workforce's range of skills, talents & experiences
Another benefit of hiring a diverse team is the opportunities for various skills, languages, and cultural exchanges it creates. Your team members will be able to learn from each other, bringing their heightened sense of cultural awareness to each project they tackle in the future. The global marketplace is as diverse as the people in our interconnected world. Bringing diverse, global team members on board can help you understand, target, connect with, and design solutions for a diverse world. Reflecting that diversity in your team is a powerful path to finding success.
The more diverse your workforce is, the greater the chances are that your employees will be able to cater to individual customer needs.
Diversity, equity, and inclusion should always be a priority in your hiring practices. Not only does this show prospective employees that you value people, but it also creates a more equitable and representative workplace.
If you're wondering how to hire a diverse team, begin by making your team one that diverse candidates would be eager to join.
How to get started with diversity in recruitment?
Be intentional about diversity recruitment. For example, you can start by making sure your application process is equally accessible to all candidates, including those who may use accommodative technology like a screen reader.

Assess your current recruitment practices and find ways to create an inclusive environment to ensure everyone feels welcome. This can include revising job descriptions, updating hiring policies and processes, creating effective recruiting strategies, and using diverse sourcing channels.

Ensure that your team has the necessary training for unconscious bias awareness to be mindful throughout talent acquisition.

Give voice to the diverse team members you already have in the recruitment process. Work to understand their values and priorities in finding a new coworker, and aim to show them their voices are being heard.

One of the most impactful diversity and inclusion hiring practices is to focus your recruitment efforts on global candidates. Working from home and collaborative technologies make this easier than ever and can even provide unique benefits by spreading your team out across the world.

Create a strategy for recruiting diverse. When crafting a diversity hiring plan, consider the reasons for promoting DE&I in your workplace. The goal is to make up for deficiencies in existing diverse representation. In addition to making your team stronger with various skills and perspectives, choosing underrepresented candidates for positions is also an effective way of lessening these disparities.
Conclusion
Talent acquisition teams should have a people-driven heart for finding the right candidate. Your team is a massive part of what makes your company great. Focusing on improving your team's diversity is a powerful way to show your people-first values while still moving towards your goals. Diversity in hiring is essential for reasons like:
Diverse teams are more financially successful

DE&I initiatives improve talent acquisition and retention

Diversity leads to greater innovation and performance
At its core, diversity hiring is about tapping into the valuable resources that come with different viewpoints and experiences, leading to greater success in today's ever-changing business landscape. By taking a DE&I-driven approach to recruitment, companies can create an open and inviting environment for all candidates. This fosters greater collaboration and encourages the exchange of new ideas from all angles.
SmartDreamers, not only values and embraces diversity itself but helps leading companies attract diverse top talent through their recruitment marketing platform. If you need help developing diversity recruitment strategies or want to increase your talent acquisition conversion rate, we are here to help; one click away.